A mystery Motorola device showed up at the FCC today (ID IHDT56PK2), a phone that is starring in a bunch of documents that we are still browsing through to hopefully find specifics on what it might be. Engadget seems to think that it is the Nexus 6, but we haven't found anything yet that really leads us to believe that this is it. It could be – we aren't saying that this isn't it. Here is what we know so far. (We will be updating this post as we have more.) 
The device sports the exact same (seriously, exact same to the one-hundredth of a millimeter) dimensions as the DROID TURBO (aka "QUARK") that is the new DROID on its way to Verizon. From what we know, the DROID TURBO will have a 5.5-inch QHD display, with capacitive navigation buttons sitting just below the display. It seems odd that the new Nexus would match those exact dimensions if it were to use a 5.92-inch display with on-screen buttons. Then again, maybe those on-screen buttons take the display from 5.5-inches to 5.92-inches. That could very well be the case here. I am still a little surprised to see the height and width of the phones match up so perfectly, though.
Outside of the size details, we know that this particular phone sports LTE bands 2, 4, 5, 7, 17 and GSM bands of 850, 1700, and 1900. That looks like an AT&T phone to me, not a global-ready multi-band beast that Google typically puts out when it releases a Nexus phone.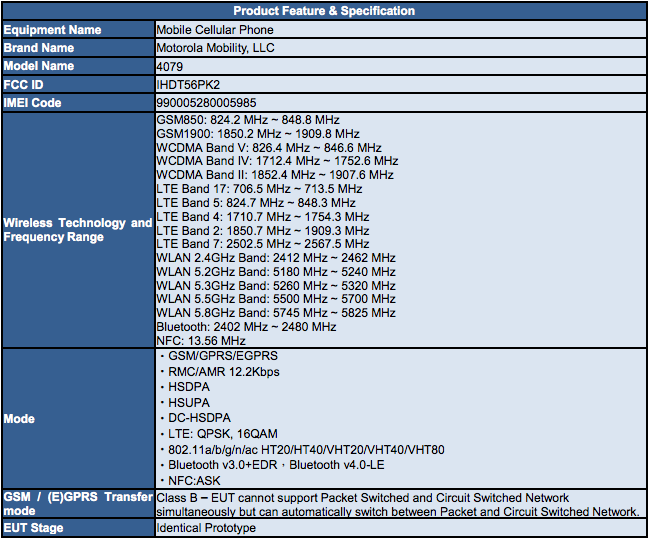 The device also has Bluetooth 4.0, NFC, and 802.11ac WiFi.
As of now, this looks to me like the DROID TURBO that has potentially been rebranded for AT&T. A Moto Maxx name has surfaced here or there over the past couple of months; maybe that's what we are looking at.
Update:  This phone has the exact same battery as the TURBO, model number EQ40. Keep in mind that we still do not have confirmation on the size of that battery, but last year's DROID MAXX used a battery under model number EU40, suggesting that the EQ40 is of similar size. We are seeing support for Motorola's Turbo Charger and wireless charging as well.
Update 2:  As was pointed out in the comments and on Android Face, the documents actually say that this is basically the equivalent of the DROID TURBO. In fact, they specifically reference the DROID TURBO FCC filing, noting that this is both electrically and mostly physically equivalent, including in design and topology, electrical components, physical layout, factory tuning, and physical characteristics.
Will update as we have more.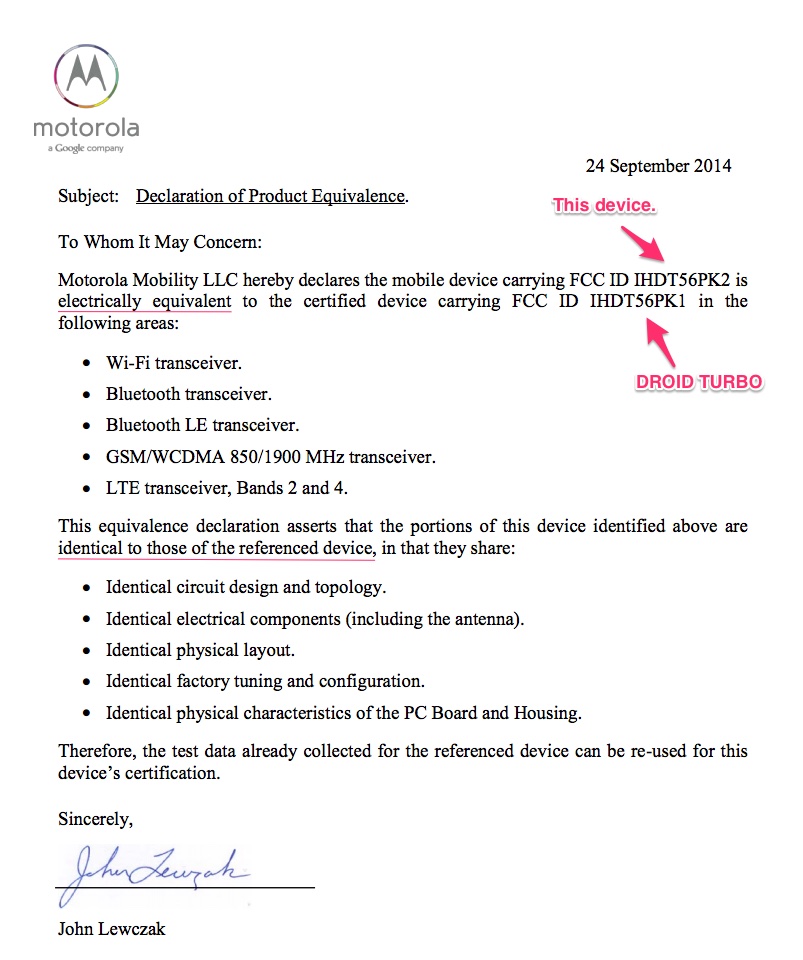 Cheers Tom!