Verizon officially launched Advanced Calling 1.0 this morning, which is an odd way of saying that their VoLTE and HD Voice services are now live. Talk about over-branding. Anyways, Advanced Calling 1.0 is Verizon's suite of calling features for Voice over LTE (VoLTE) that includes HD Voice calls and Video Calling. The software suite comes as a part of an over-the-air (OTA) update for devices, with the Galaxy S5 and LG G2 currently sitting as the only two supported. You can find all of the launch details at this report.
Advanced Calling 1.0 is a free add-on for your line of service, as can be seen in the opt-in screen below. Once added, nothing else on your account changes, so no, Verizon won't be using Advancing Calling to try and squeeze you out of your unlimited data. 
With Advanced Calling 1.0 on your device, you will be able to place HD Voice calls, 1-way or 2-way video calls, use voice and data services at the same time (not new for Android users), and participate in 6-way conference calls. All of this takes place in the stock dialer and contacts apps on your phone, you won't need to use a new 3rd party app, like Google is asking us to do with the Hangouts Dialer. This is the future of voice calling, we just need more devices to gain support.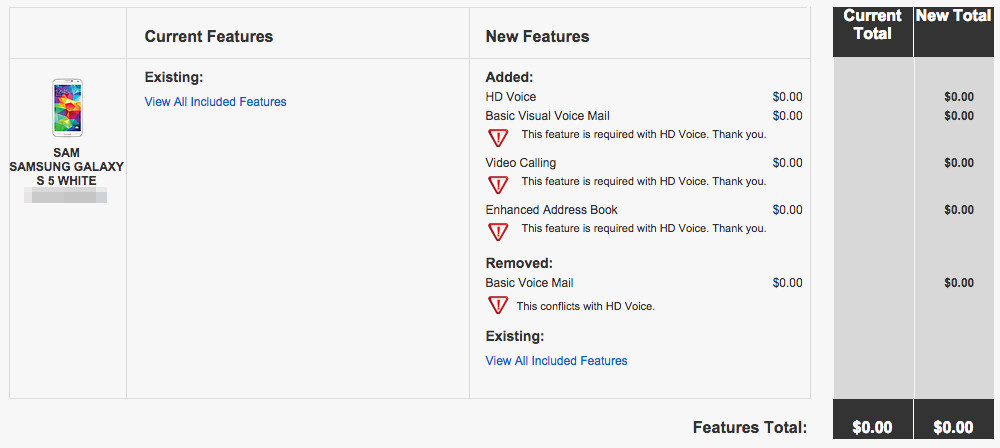 To opt-in to the service, you will need the latest firmware installed on your Galaxy S5 or LG G2. The updates rolled out last week (G2 update, Galaxy S5 update), so if you own either device, be sure to check to make sure you are current. Once you are updated, head over to the Advanced Calling 1.0 page on Verizon's site and click the big "Get Advanced Calling 1.0" button to add it to your account. From there, make sure the option is enabled on your phone, which will be found in Settings>More networks>Mobile networks>VoLTE Call on the Galaxy S5, and in a similar location on the G2.
With your phone updated, Advanced Calling 1.0 added to your account, and VoLTE enabled, you are ready to place a call. HD Voice and VoLTE Video Calling can only occur between devices equipped to handle such a feat. In other words, at this time, you will only be able to place HD Voice or VoLTE Video Calls between friends who own either a Galaxy S5 and the G2 – both parties have to have one of these two phones. And don't forget that you have to be in a VoLTE area (which should be almost anywhere that Verizon has 4G LTE).
When getting ready to call, you can see in Contacts>Groups a new group called "Video Calling" that lists out everyone capable of handling an HD Voice or VoLTE Video Call with you. Should you place a call to someone in that group, your contact and in-call screens will look as they do above, with quick buttons for toggling on or off video modes, including one-way camera.
As we see new devices gain support, we will be sure to pass the info along.