The LG G3 Stylus, a device that LG accidentally unveiled a couple of weeks ago at the end of a promo video, is now official and will finally make a public appearance next week at IFA. Initially, most thought the G3 Stylus was a Galaxy Note competitor, but the world quickly realized that it was more like the LG G Vista that is available at Verizon, a mid-range yet oversized phone. 
The G3 Stylus sports a 5.5-inch qHD display, 1.3GHz quad-core processor, 1GB RAM, 8GB internal storage, micro SD card slot, 13MP rear camera, 1.3MP front camera, 3,000mAh battery, and 3G connectivity.
As the name suggests, the G3 Stylus also includes a stylus that LG is calling the Rubberdium stylus pen. This special pen is said to be comfortable in any hand and perfect for "endless jotting, doodling, and sketching with precision." LG loaded the G3 Stylus with a handful of apps that can take advantage of the Rubberdium-ness.
The G3 Stylus carries much of the G3's software suite as well, including QuickMemo+, Dual Window, Smart Keyboard, Gesture Shot, and Knock Code.
LG will begin selling the G3 Stylus in Brazil in September, followed by countries in Asia, Middle East, and Africa. In other words, this phone is not coming to the US, ever.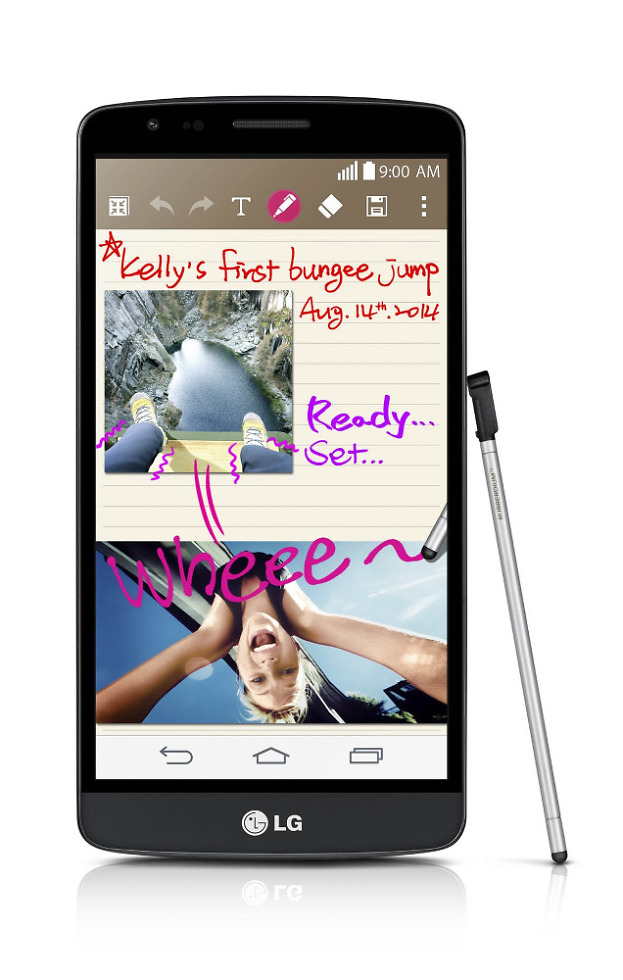 LG G3 STYLUS TO DEBUT AT IFA BERLIN

Latest G3 Variant Offers Large Display and Stylus-enabled
User Experience at Exceptional Price

SEOUL, Aug. 26, 2014 ― Following the recently introduced G3 Beat and G Vista, LG Electronics (LG) today announced another new device with DNA borrowed from the acclaimed LG G3. The LG G3 Stylus is a pen-enabled smartphone that offers a large display and many of the premium user experience (UX) features of the G3 all in a fairly-priced package.

The G3 Stylus comes equipped with an expansive 5.5-inch qHD display and boasts the same Floating Arc tapered edges, thin bezels and metallic skin design first introduced in the LG G3. The proprietary RubberdiumTM stylus pen feels comfortable in any hand and is perfect for effortless jotting, doodling and sketching with precision. Pre-loaded programs and apps for both productivity and entertainment also lets users seamlessly switch between work and play.

In a category all its own, the LG G3 Stylus offers users many of the smart, simple yet premium features of the LG G3 at a fair price without compromising quality. The device is equipped with LG's proven 13MP camera that carries over many of the UX features from the G3, such as Touch & Shoot, Gesture Shot, and Front Camera Light. With its large capacity 3,000mAh removable battery, LG G3 Stylus owners can be confident of an extended multimedia experience.

Key features that make users enjoy more the G3 Stylus include:

QuickMemo+ combines Quickmemo, Memo and Notebook apps for simple content capture and sharing.
Dual Window divides the expansive screen into two separate windows for easy and effective multitasking.
Smart Keyboard intuitively adjusts to users' typing patterns for faster input with fewer mistakes, reducing errors by up to 75 percent.
Touch & Shoot lets users simply touch anywhere on the display to focus and shoot, reducing a two-step process to just one.
Gesture Shot allows users to take easy selfies by simply opening and closing one's hand in front of the lens to start a three-second countdown before the shutter is triggered.
Knock CodeTM unlocks the device in one easy step with a personalized "knock" pattern for both convenience and security.

"With its exceptional hardware and exceptional price that can't be beat, the LG G3 Stylus is in a category all by itself," said Dr. Jong-seok Park, president and CEO of the LG Electronics Mobile Communications Company. "The LG G3 Stylus is the perfect tool for consumers who don't want to be bogged down carrying a laptop, tablet and smartphone. It gets things done and lets you have fun while doing without having to compromise on quality, style or user experience."

LG will roll out the G3 Stylus in 3G markets starting in Brazil in September followed by countries in Asia, Middle East and Africa and CIS. Prices and details of availability will be announced locally at the time of launch. Visitors to IFA are encouraged to come see the LG G3 Stylus for themselves at LG's booth in Hall 11.2 of Messe Berlin.

Key Specifications:

Chipset: 1.3 GHz Quad-Core
Display: 5.5-inch qHD IPS (960 x 540)
Memory: 8 GB / 1 GB RAM / MicroSD slot
Camera: Rear 13MP / Front 1.3MP
Battery: 3,000mAh (removable)
Operating System: Android 4.4.2 KitKat
Size: 149.3 x 75.9 x 10.2mm
Weight: 163g
Network: 3G
Colors: Black / White / Gold
Other: Stylus Pen

# # #