We are expecting to get official Moto 360 launch details when Motorola hosts press at a September 4 event in Chicago, but Best Buy may have gone ahead and let us in on all sorts of details early. According to a listing on Best Buy's site for the Moto 360, we could end up paying $249.
The device is also listed as having a 1.5-inch backlit LCD touch screen, with a 320×290 resolution, 205ppi, and Corning's Gorilla Glass 3. Matching up to what we learned from a leak a week ago, we are also seeing mentions of a heart rate monitor, water resistance (up to 3.3 feet for up to 30 minutes), and an ambient light sensor. On a specs tab, the listing suggests that there is 512MB of RAM, Wireless N connectivity, and a Texas Instruments processor inside. 
The size of the watch is 1.8×1.8×0.4-inches and it weighs 2.1oz. The device itself is a combination of stainless steel and plastic, just like we thought.
The listing only mentions that the device is "coming soon." It falls under SKU 8307143 and model number 00419NARTL.
Here are the listed features:
Compatible with most devices with an Android 4.3 or later operating system
For wide-ranging use.
Bluetooth 4.0 technology
Enables wireless syncing to select devices for hassle-free connectivity.
Voice activated
Allows you to use spoken commands to operate the smart watch via the built-in microphone.
Vibration alert
Discreetly notifies you of important events.
1.5″ backlit LCD touch screen
With 320 x 290 resolution and 205 ppi makes it easy to navigate features and provides easy-to-read visuals. Corning Gorilla Glass 3 construction offers durability, and the adjustable brightness allows custom use.
Built-in optical heart rate monitor (PPG)
Helps you achieve or stay within your ideal heart rate range.
Built-in pedometer
Measures the number of steps taken, so you can easily monitor your fitness progress throughout the day.
Digital watch interface
Provides crisp, clear readouts of the time and date. Built-in alarm and calendar features help you stay on schedule.
Waterproof up to 3.3′ for up to 30 minutes
So you can safely wear the watch while swimming or engaging in other aquatic activities.
Stainless-steel case and plastic case back
Offer durability. The adjustable-length Horween leather band and metal buckle closure deliver a secure, comfortable fit.
Built-in lithium-ion battery pack
Provides long-lasting operation. The battery-strength indicator lets you know when the battery needs to be powered via the included dock and charger.
Texas Instruments processor
Helps ensure fast, efficient performance.
How does $250 sound? Be sure to vote in our poll and tell us if you are buying at that price.
Best Buy Link
Update:  Best Buy pulled the page, but thankfully, we saved it for you below.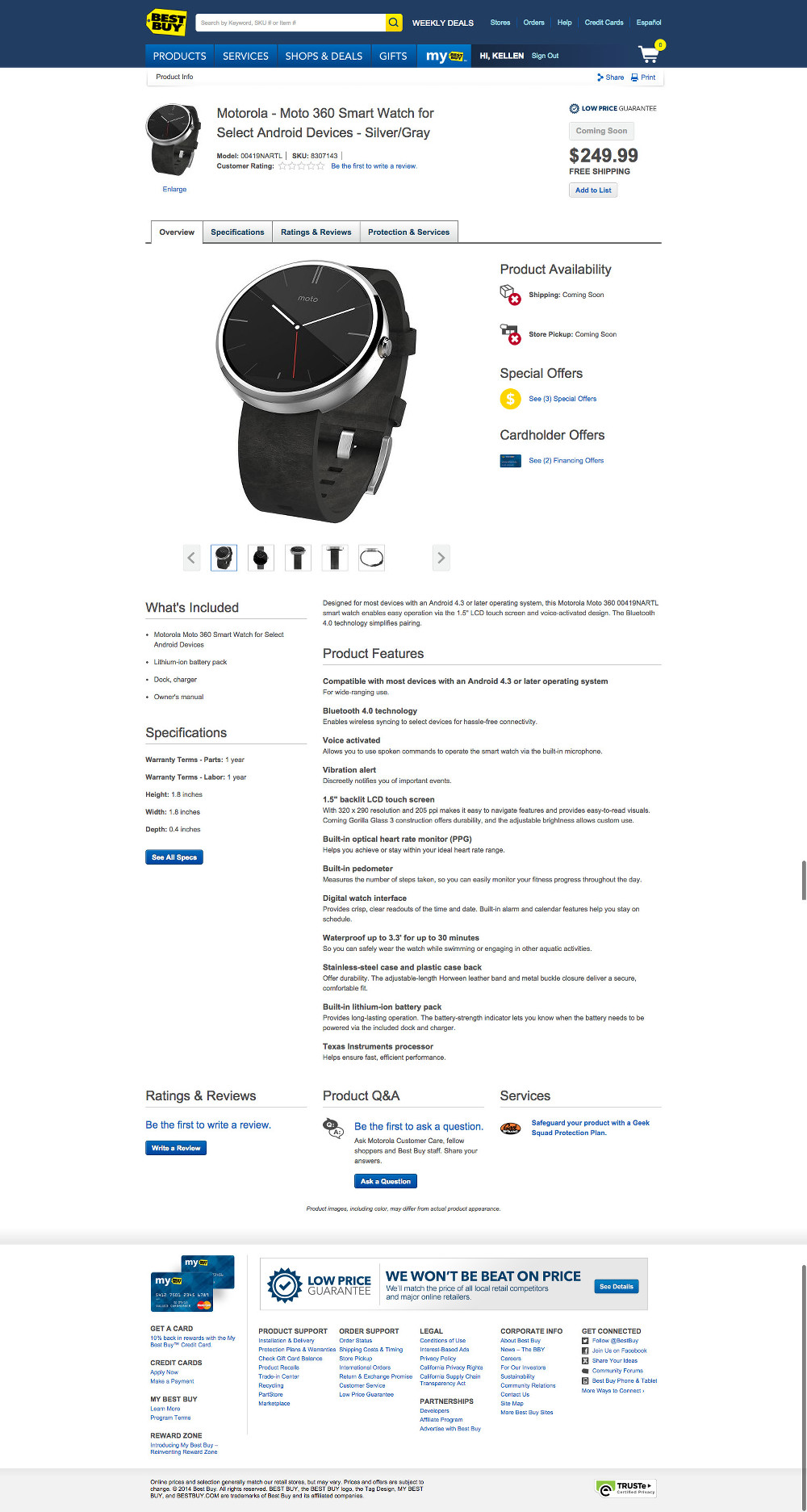 Cheers Richard!