Quad HDs. Lasers. Floating Arcs. Q all the things. LG has filled its new G3 flagship with so many keywords and flashy marketing terms that you can't help but give it a look. And you know what, you would be a fool not to give it more than a look.
LG has slowly been rebuilding its reputation over the last couple of years, partly with the help of Google and the Nexus brand, but also thanks to last year's G2 and some of its recently released tablets. The Korean company has even tried to become the alternative to Samsung and those looking for something different. LG wants to be taken seriously, so they are playing with design ideas (rear buttons), testing out new materials (self-healing backs), and of course, pushing out new display types often (think of the curved panel in the G Flex).
The LG G3 feels like the culmination of all that LG has worked for. It introduces new technologies, its accompanying marketing plan is taking direct shots at Samsung, and they finally have people truly excited about one of their products. It's time to take a long look at whether or not LG has ultimately succeeded.
This is our LG G3 review.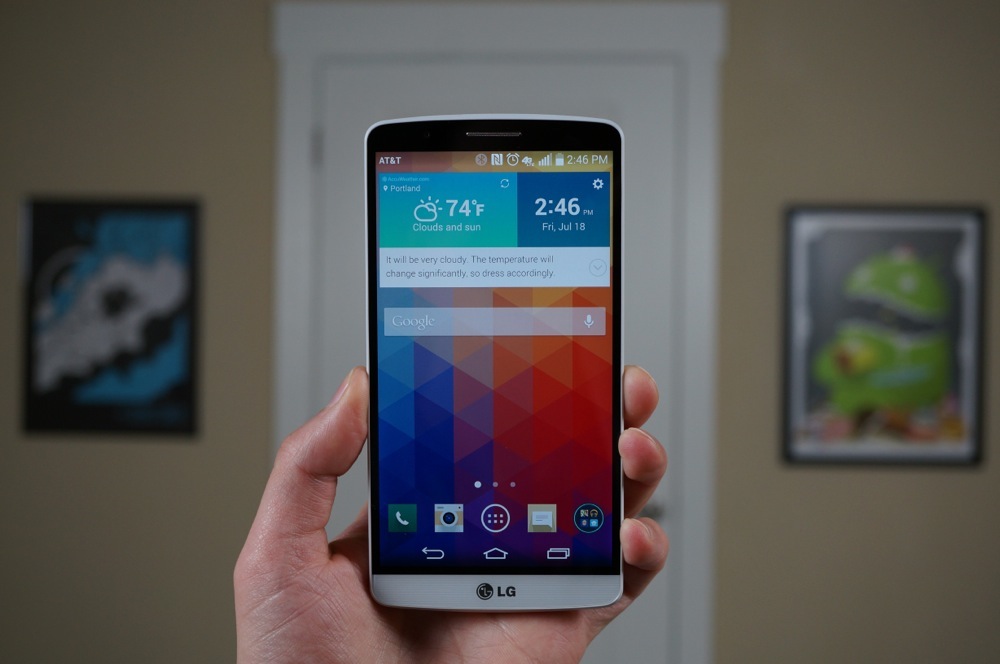 Note – Tim and I both tackled this review, so you will see our initials at the end of each section that we specifically provided feedback on.
The Good
---
Display
Quad HD displays are going to be the new thing eventually, but when a new technology is introduced, someone has to bite the bullet and be first. LG is one those companies that tends to lead, whether it be with a new processor, use of self-healing material, glass design lasering on the back side of a phone, or through a next-gen display. The G3 introduces the world to Quad HD displays in smartphones with resolutions of 2560×1440 and well over 500ppi. If that seems like overkill, that's probably because it is. Full HD (1080p) displays were pushing boundaries when they were first released onto phones – QHD has told the world that it hates boundaries and is now stomping all over them.
With that said, the big question that will more than likely remain to be answered even after you read this review is, "Do you need a display with this high of a resolution on your phone?" The answer will vary depending on the person. Personally, I can't say that I necessarily need it, but now that I have it, I won't complain. There is no chance you are going to see a pixel at all during your time with the G3, performance on the G3 is good enough even with all of those pixels, and color reproduction and accuracy isn't bad by any means.
But if you were looking for the ultimate display, this probably isn't it, at least when compared to those featured in the Samsung Galaxy S5 and HTC One (M8). That's not to say that it is bad, in fact, it is still good. It's definitely good enough. Sure, videos and games (assuming you can find some that were optimized for a high enough resolution), will have amazing detail, but when you compare the QHD in the G3 to the FHD in the Galaxy S5, for example, the colors just aren't as accurate. The brightness doesn't get as bright. The viewing angles aren't even close to being as good. It comes off a little warm at times. You can see that in the images above.
The problem with those comparisons is probably that you are comparing a first-gen QHD display to two well-established FHD panels. We know that Samsung has already created what has been deemed the best mobile display ever in the Galaxy S5, and LG has never come close to making the best display on any phone, so that's where you should stop and try to put things into perspective. The G3 display is good. It's not the best, but it's good. I don't think anyone will complain at having to stare at it on a daily basis. -K
Macros for fun.
Specs
The G3, being LG's 2014 flagship, comes with quite notable specifications. Of course, these specs are highlighted by the phone's 5.5″ QHD display, featuring a resolution of 2560 x 1440. The phone also features a Snapdragon 801 quad-core processor clocked up to 2.5GHz, 32GB of onboard storage, 3GB of RAM, rear-facing 13MP camera with Optical Image Stabilization (OIS) and laser auto focus,  microSD slot (up to 128GB), front-facing 2.1MP camera, removable 3,000mAh battery, NFC, 4G LTE, Bluetooth 4.0, weighs just 149 grams, and runs Android 4.4.2 out of the box. The device comes in either Black or White, but can also be purchased in Gold through Sprint.
When compared to the Galaxy S5 and One (M8), other flagship devices of 2014, the G3 is right on par with the competition. The only real exception would be its QHD display versus the 1080p norm that other companies adopted this year, and of course, the 13MP shooter easily beats out HTC's UltraPixel camera.
Interestingly enough, even with all of this power, the G3 won't necessarily blow you away in terms of performance. Sure, you can handle any mobile game or application you can throw at it, but basic navigation through the phone sometimes feels a bit hindered. Whether this is LG's custom skin they throw on top of Android or the processor and GPU trying to push that many pixels, it's hard to point the finger. However, with that said, the G3 still features class-leading, top-of-the-line specs for 2014, and the phone will easily handle any task you ask of it. – T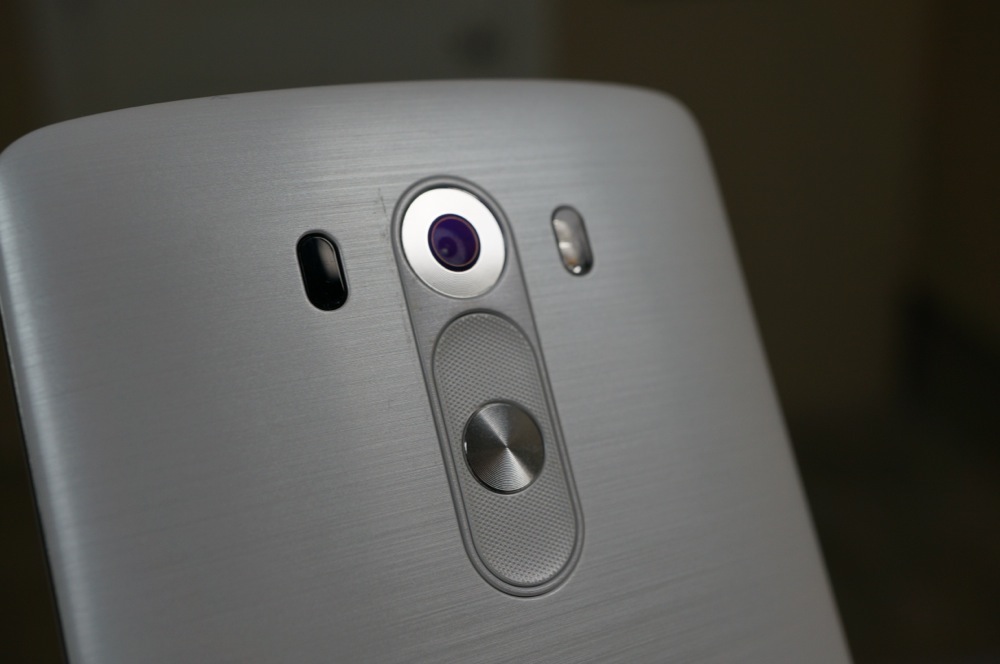 Camera
The LG G3 features a 13MP rear shooter with OIS+, which is LG's take on optical image stabilization. It is quite capable, to say the least. With its laser auto focus and ultra minimal UI, you can be up and snapping beautiful high-res images within seconds. LG built in a quick shortcut for launching the camera, which involves long pressing on the rear volume-down button for a second or two. You can also add a camera shortcut to the lock screen if the rear button action seems out of place.
Outside of launching the camera, the UI in a default state, may shock you with its lack of buttons. Out of the box, LG leaves the camera in tap-to-shoot mode, which means there are no buttons on the camera screen other than a back button (to get you out of the camera), menu in the top left corner (to give you more options), and shortcut to gallery (once you take a photo). Otherwise, you tap on the screen wherever you want it to focus and then watch as it takes a picture. It's very fast.
If you want more out of the UI or hate tap-to-shoot, you can hit the menu button to bring up your standard shutter buttons and extra settings toggles. Unlike Samsung, LG has trimmed the G3 down to four shooting modes (auto, Magic Focus, Panorama, and Dual) and given you very little manual control outside of resolution, HDR on/off, grid on/off, and save location. For advanced camera gurus, this may be disappointing. For those who just want a camera that works, there isn't anything to get in your way.
What about picture quality, you ask? Back in June, Tim ran through a massive camera comparison of the LG G3 to the Galaxy S5, iPhone 5, HTC One (M8), and Nexus 5. If you take a look at all of the samples from that shoot (along with some new ones below), it should be clear that the G3 is on par, if not better than almost all of those shooters. The G3 manages to capture landscapes with accurate colors surprisingly well for a smartphone camera. I have seen some images get washed out here or there, but for the most part, the G3 has been very versatile. From shooting macros to people to beer on ledges to low light situations, I rarely have had to take multiple shots to find one I like.
If you ask me, the Samsung Galaxy S5 and iPhone 5s finally have some true competition in the smartphone camera race. -K
Battery Life
I have been pleasantly surprised with the battery life on the LG G3. When I think of a phone having a Quad HD display, I tend to have two immediate thoughts – 1) Why does anyone need all these pixels? 2) The battery life is going to be terrible. Thankfully, the battery life is not something I am worrying about as I sit here telling myself, "Why don't I need all these pixels!"
In my time with the G3 (the AT&T model), using a mixture of data and WiFi in both Montana and Portland, OR, I regularly find myself plugging the phone in at night with over 30% of the battery remaining. So we are talking at least 15 hours of usage, with over two hours of screen-on time, yet no need to plug-in the phone at all during the day. The only other phone I have ever used with battery life like this, is the OnePlus One, which seems to be a master of life in the battery department. Over the past week, the G3 has only had to warn me at the 20% mark two times. And so you know, at 20%, Battery Saver kicks in to make sure that your last 20% lasts for hours until you can find a charger.
If you are more of a power user than I, keep in mind that the removable 3,000mAh battery is something that can be swapped out for a fresh one at any time during the day.
Removable Battery, SD Card Slot, and Wireless Charging
The trend of 2014 seems to be for all major phone manufacturers to include micro SD card slots. You may remember that Google tried to kill them off a couple of years back, with some manufacturers buying into the idea. But since Samsung stuck to them throughout and sold phones in record numbers, plus customers seem to really like taking storage from one place to another, we are seeing everyone adopt them again. The LG G3 supports micro SD cards up to 128GB, so after taking to the 32GB of internal storage you get out of the box, you should have no problem finding enough space to hold all of your favorite HD games, music collection, and beautifully taken photos.
LG seems to also be following the footsteps of Samsung with their decision to make the battery in the G3 removable while also adding in optional wireless charging. The 3,000mAh battery should be enough to get you through a day and then some, but should the power users in the building need a back-up for those late evenings, you will have the option to hot swap batteries. As far as wireless charging goes, the G3 can take advantage of wireless charging, though you will have to buy optional accessories in order to activate it. You see, the US carriers want to take as much money as possible from you, so selling you $60 wireless charging cases instead of building the tech in makes a lot of sense to them.
We should point out that the AT&T G3 is different from the others in that it only supports PMA wireless charging, which is the standard that almost everyone else in the wireless industry has ignored. All other variants support Qi charging. Qi charging backs and chargers are found all over the place, often times an incredibly affordable prices. PMA wireless charging accessories are not as easy to find. -K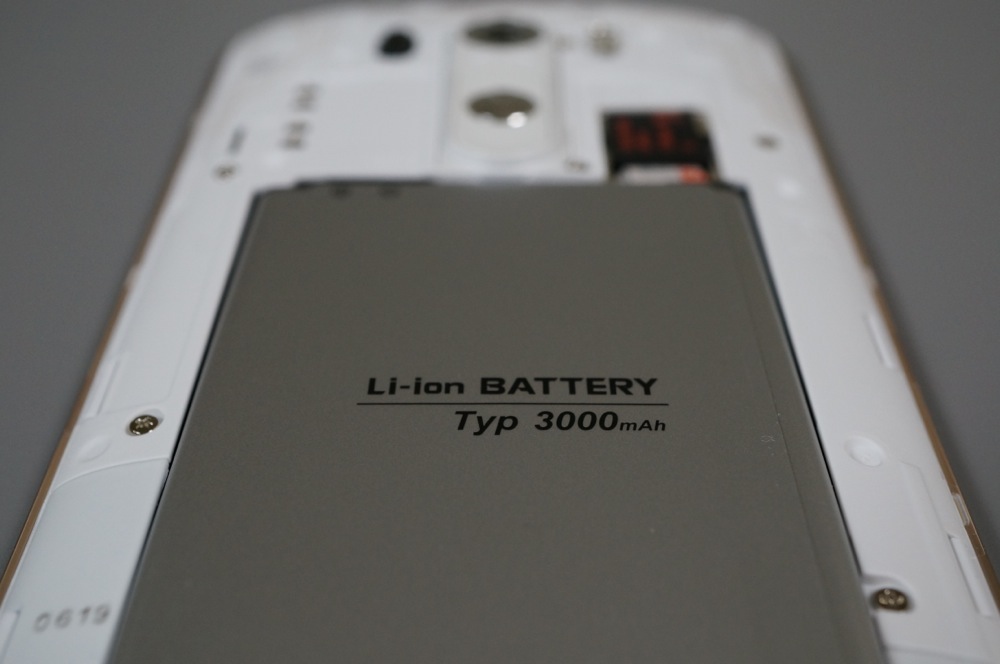 Design
LG continued its trend of rear-facing keys on the G3, just as they introduced on the G2. To us, the rear-facing keys feel natural, given that our fingers are usually on the backside of the phone anyways when on a call or playing mobile games. For those worried about always having to touch the backside of their device, LG baked in KnockOn software, meaning that whenever you need to turn on/off your display, you can simply tap on the screen two times.
As for volume, you will be surprised at how quickly your body can adapt to using the backside of the device to control sound. Allow me to give you a use case. When walking around town with headphones connected to the phone, instead of having to pull the phone out of my pocket to use the side keys, I can easily press on the backside of the phone to control the volume output, as the keys are facing outwards from my body. If music is too loud or soft, I just reach down and tap on my leg. For me, it works really well.
Of course, not everyone feels this way. We have heard from many people who just can't stand the idea of having rear-facing keys on their phone, and to them, just give it a try. As stated previously, you will be surprised at how quickly your brain can adapt to rear-facing buttons over side keys. While I wouldn't label the introduction of back-facing buttons as innovative, it is something different. And sometimes, different is good.
Thanks to the rear-facing keys, LG was able to keep the body of the G3 very thin, which allows your hand to grasp the device very firmly in your hand. Even with its 5.5″ display, the phone really doesn't feel all that big in your hand. LG is dubbing this design as Floating Arc, which is finished off with a brushed metal plastic exterior. While the device is made of plastic, it does not feel cheap. Every time I handed the phone to someone for them to try out, they were pleasantly surprised at the overall weight and feel of the device. To me, that labels the G3 a winner in the design department. To see LG throw in such a massive display in this manageable frame, we hope they continue this trend of bigger displays, smaller bodies. – T
Software Features:  KnockOn and Knock Code, QSlide, QMemo, etc.
As you will see in my comments about LG's take on Android below in the "Skin" section, I often feel like LG is doing too much. What I mean is that they are trying to pack so many features into a phone, that you almost feel as if you can't possibly utilize it all. With that said, they do offer some very useful tools like KnockOn, Knock Code, QSlide, QMemo, and even Dual Window. I will talk about these all briefly, but you can see each one in action in our 25+ tips and tricks clip in the video section of this review.
KnockOn – The best feature you never realized you needed, but won't be able to live without once you start using it. KnockOn allows you to double tap your phone to wake it, for checking the time or notifications or to avoid having to find the power button on the backside of the phone. You can also double tap it again to put your phone back to sleep. I know this move sounds like something that doesn't matter, but trust me, it is game changing in the way that Motorola's Active Display is – you really won't want to live without it once it becomes a part of your life.
Knock Code – Similar to KnockOn, LG took its screen tapping feature to a secure level with Knock Code. Knock Code allows a user to program a series of screen taps in quadrants on the display that will unlock it similarly to a PIN or password. The pattern can be tapped without the screen even on, so again, you can get things done on your phone without ever touching a button.
QSlide – LG wants you to be able to multi-task in a number of ways. One of those options is through QSlide, which is a group of LG apps that can be launched into floating windows that hover above your current task. For example, you could be in Chrome on droid-life.com, but realize you need a calculator. QSlide allows you to open the built-in calculator in a floating window on top of Chrome. To take it to another level, LG lets you open more than one of these windows at a time and even adjust their transparency. The apps here are limited, but the phone, messaging, calendar, calculator, file manager, and stock email apps are all included.
QMemo – Have you ever needed to jot down a quick note or maybe even take a screenshot of your location on a map and then share it with a friend? QMemo is your option. On the G3, you can quickly take a screenshot of your current screen or pop-up a blank colored note to draw or make notes on, before eventually saving it for later or sharing your results.
Dual Window – Like Samsung's Multi Window, LG also has a feature that allows you to launch two apps at once in windows situated above and below each other. The app list is limited, but you can do things like load Chrome and YouTube at the same time, get directions in Google Maps while having a conversation in Hangouts, or pull up photos from the gallery while polishing off an email in Gmail. It's a decent effort, but probably not quite as fully featured as what Samsung is doing.
Overall, LG's suite of apps provides you with more features than you will know what to do with, but in most situations, that's not always a bad thing. Options are good, right? -K
Availability
Being a flagship, the G3 is available on all major carriers here in the US. Priced at $199 on a new two-year agreement, the G3 is somewhat of a deal. At the time of this writing, Verizon is actually offering the device for just $99 on-contract, so if you have already made up your mind (and don't mind being on VZW), then that's probably the best deal around for this phone. Off contract, the device can be purchased from multiple e-retailers including Amazon for $579.99. Of course, most carriers are offering monthly payment plans for the device, usually around $25-$30 added to your monthly bill until it is paid off. Here in the US, you should have no problems finding a G3 if you really want one. – T
Somewhere-in-the-Middle
---
LG's Skin
The skin that LG puts atop Android is one of those that I would never call "great" or "bad." It really is somewhere in the middle. LG offers all sorts of customizable elements, from using custom icons to providing lock and home screen options that are typically only found in 3rd party apps. But they also can overdo things at times, similarly to how Samsung does. There are far too many settings to try and manage, cheesy tap noises throughout, and a finicky keyboard that is both good and frustrating at times.
The skin has gotten better over the years and now looks much flatter and current than ever before. The icon set features squares and long shadows, the notification area is accented by pretty blues, and there are eye-catching animations on the lock screen. But you also have inconsistencies with icons in the settings menu, a dialer that looks like it was created as an after-thought, and an app switcher that has three different layouts, though you probably wouldn't know how to access them without someone explaining it.
LG's skin on the G3 isn't my favorite of all the Android skins, but it is far from the worst. -K
Size
While the design of the phone is lovely, the size can be seen as cumbersome to a few users. It is a big phone. While it has a smaller footprint than the Galaxy Note 3 and OnePlus One, people with smaller hands might have issues handling the G3 with just one hand. One-handed operation is a major concern for a lot users, so we wanted to make sure to address the size of the phone. Skinny jean wearers might also find a bit of trouble pulling the phone in and out of their pockets, but for anyone coming from a smaller 4.5″-5″ device, the extra size is worth it in our eyes.
Thanks to the design, which we highlighted above, the phone features a massive 5.5″ display in a 5″ phone's body, thanks to the limited amount of bezel the screen features. To sum it up, if a phone that is easy with one-handed operation suits your lifestyle better, you many want to avoid the G3. However, if you are willing to adopt a larger phone, the G3 should be on your shopping list. – T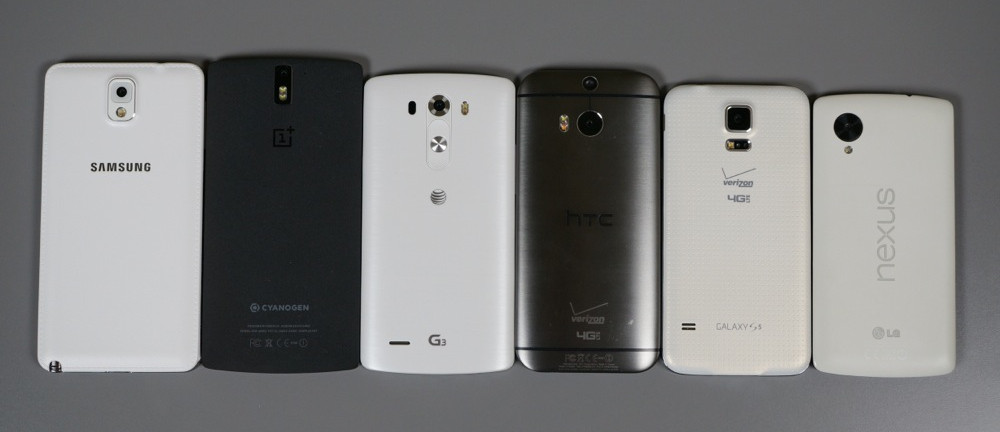 Performance
For me, performance is a touchy subject, as the G3 was somewhat inconsistent in this category. Let us say, a phone with a Snapdragon 801 quad-core clocked at 2.5GHz with 3GB probably shouldn't stutter. And even if it stutters, it should never lag or feel "janky." At no point did the G3 feel extremely bogged down by processes, but during window and transition animations, the phone seems rather slow. Compared to say, an iPhone with perfect rotation animations, the G3 and most other Android devices still have a ways to go to catch up when switching between portrait and landscape animations.
As for gaming and multi-tasking applications, the G3 does well. When playing a game, you will probably never experience any stutter or lag, unlike the experience we had with the Galaxy S5. To test the gaming, I played a bit of Deus Ex, Smash Hit, Leo's Fortune, Need for Speed: Most Wanted, and other minor gaming titles. During my time, I had zero issues while gaming. For me, as a big time mobile gamer, that's important.
Since gaming seems fine, even with the processor and GPU pushing the QHD display, any type of stutter during operation leads me to believe that LG's skin is the culprit for any type of performance issues. This is exactly the conclusion we came to when reviewing the Galaxy S5, so the only thing we can ask is that OEMs begin toning down their skins with the chance of boosting performance across the device. TL;DR version – Performance is great, but you can expect a few stutters here and there across the device's user interface. – T
The Not-so-Good
---
Not Water and Dust Resistant
Smartphone innovation has matured and slowed over the last couple of years, so manufacturers are now trying their best to add additional value without having to invent anything, like new camera sensors or display types or magical charging mechanisms. Making a phone water and dust resistant is one of the areas of focus for companies like Samsung and Sony that has actually added some value to devices. Both of their new flagships carry fairly substantial resistance to the elements, but LG chose to put their money elsewhere with the G3 (likely in the display and camera). So if you are looking for the G3 to survive a toilet or dishwashing drop, don't expect a guarantee from LG that it will. Sure, you can look around the internet and find wild testers willing to drop their G3s in water for periods of time, claiming all the while that it can handle a dunk or two, but understand that the phone isn't rated for that type of treatment. Proceed at your own risk there.
For many of you, water and dust resistance isn't a make or break feature, but if you were looking for an area that LG could improve, this would be it. -K
Video
---
Unboxing
[responsive_vid vid_url="tL1f34S1IKA"]
25+ Tips and Tricks
[responsive_vid]
vs. Galaxy S5 and HTC One (M8)
[responsive_vid vid_url="ad_uMvqTMNI"]
Gallery
---
The Verdict
---
The LG G3 is the best phone you can buy right now.
Its camera is as good if not better than other flagship phones from competitors. Battery life will surprise you, even with its Quad HD display. The size isn't going to bother most of you, and that's coming from the guy who hates massive phones. The display is something you can brag about to friends, just remember that Samsung's AMOLED tops it in many ways. LG's skin isn't terrible. You have next-gen specs that will last the life of a contract, easily. There are a number of useful software add-ons to make you a multi-tasking pro, but won't get in your way if you want a minimal experience. You can add an insane amount of external storage to it if needed or carry replacement batteries around if you are a power user.
LG created a hell of a phone in the G3. This should be on your radar. Actually, it should currently be topping your list.
---
Links:  LG G3 deals at eBay | Amazon