Android's current implementation of multitasking is serviceable, but hasn't substantially changed since Honeycomb. With the Android L release, the team at Google has radically redesigned the Recents menu's UI and framework to make switching between apps faster and easier. They've succeeded. 
The new interface is by far the biggest difference between multitasking in Android 4.4 and L. Accessed by tapping the square-shaped soft key, apps' states are captured in stacked "cards," rather than squares. Like the tab interface in Chrome for Android, the "deck" is scrollable, and each app can be swiped away or opened by a tap. Nowhere is Material Design more evident than in the new Recents: the cards have depth and shadows, and the titlebar at the top changes colors depending on the app's theme.
Beyond the obvious, behind-the-scenes changes allow apps to tap into Recents and provide faster access to ongoing activities. At I/O, Google demonstrated individual Chrome tabs appearing within Recents rather than a single card for the entire app. It isn't hard to imagine how the functionality might extend to other programs – we could see cards for Gmail drafts, Facebook timelines, Twitter pages, office documents, and music albums. The possibilities are virtually endless.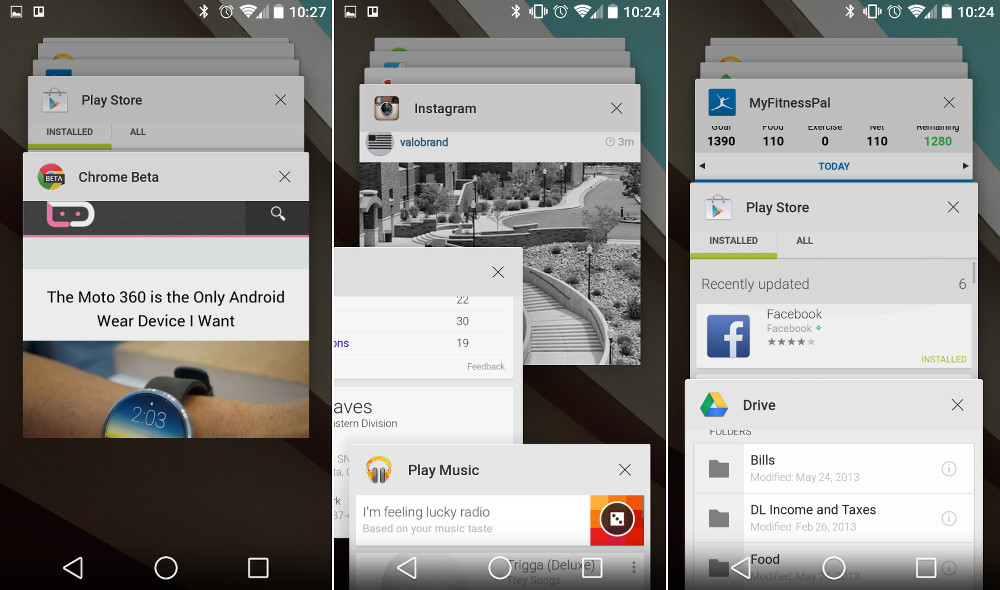 Recents sorely needed an overhaul, and Android L delivers that and then some. We're excited to see how apps use the new framework to make jumping between tasks more efficient.