Samsung took the wraps off a brand new variant of the Galaxy S5 this evening in Korea, one that will surely disappoint and excite many of you at the same time. The new variant is the Galaxy S5 LTE-A, which means it supports LTE-Advanced and incredible data speeds. But that's not all that is different. No sir, this is the model that you have all been dreaming of.
The Galaxy S5 LTE-A sports a QHD Super AMOLED display (2560×1440), 2.5GHz Qualcomm Snapdragon 805 processor, 3GB RAM, 16MP camera, 2,800mAh battery, and runs Android 4.4 "Kit Kat." It is waterproof, dustrproof (IP67) and supports LTE speeds up to 225Mbps.
I don't know if we should assume this is the "Galaxy S5 Prime" that headlined rumors for months, but it sure sounds like it is. The regular Galaxy S5 sports a FHD Super AMOLED display (1080p), 2GB RAM, and Snapdragon 801 processor, so you can see how this new model has been upgraded substantially.
Again, this was announced for Korea, so we have no idea if it will ever come to the US. The device comes in Black, White, Blue, Gold, Pink, and Red (pictured).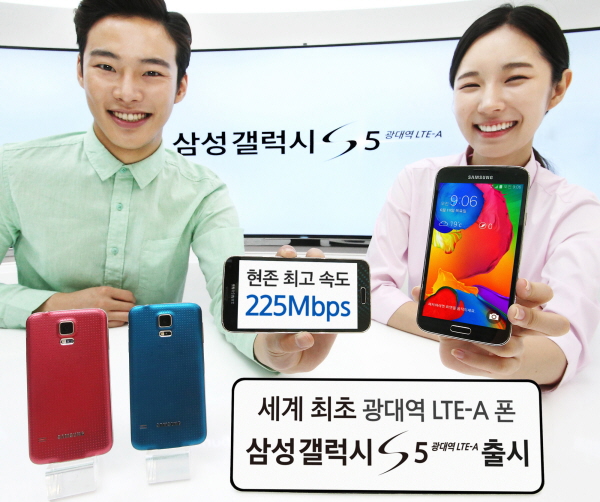 Specs
Display:  129.2mm (5.08-inches) WQHD Super AMOLED (2560×1440)
Processor:  2.5GHz Qualcomm Snapdragon 805 (quad-core)
RAM:  3GB LPDDR3
Dimensions:  142.0 x 72.5 x 8.1mm; 145g
Platform:  Android 4.4 "Kit Kat"
Camera:   16MP rear, 2MP front
Battery:  2,800mAh
Network:  LTE-A
Key Features:  Geo News, anniversary reminder, waterproof, dustrpoof, heart rate measurement, health care, deep sleep, fingerprint scanner
Colors:  Charcoal Black, Shimmering White, Electric Blue, Copper Gold, Sweet Pink, Glam Red
Press Release (translated)
Top of existing specifications seonboyida broadband LTE-A smart phone Samsung Galaxy S5 broadband LTE-A 'release

The world's first smart phone broadband LTE-A supports the implementation of new technologies
Up to three times faster than LTE download speeds to 225Mbps
For best viewing experience ◇ 'Super AMOLED WQHD' display with
Excellent color reproduction and four times clearer than conventional HD resolution (2,560 × 1,440) Implementation
innovation from the consumer to maximize ease of use and is equipped with the latest technology
Strong performance of the 16 million high-resolution camera, a quick autofocus, such as waterproof and dustproof function

Samsung Electronics is the world's first smartphone 'broadband LTE-A' to implement new technologies Galaxy S5 broadband LTE-A 'and announces authentic.

Galaxy S5 broadband LTE-A 'is the highest specification of existing LTE smartphone smartphone more than three times faster than traditional' broadband LTE-A 'and world's first support for mobile service.

In other words, the existing theory, consumers 'LTE' 225Mbps speeds three times faster compared to 10MB one side of the music video can be downloaded in just about 0.4 seconds to showcase at an alarming rate.

Samsung Electronics in 2011 for the first time in Korea LTE smartphone Galaxy S Ⅱ LTE ', 2013, there nation's first LTE-A smart phone' Galaxy S4 LTE-A 'releases and this time the Galaxy S5 broadband LTE-A' to launch a global To further consolidate its position as the leading brand was.

In addition, Samsung is looking eyes express more surprises "Super AMOLED WQHD 'and' Galaxy S5 broadband LTE-A 'is equipped with a viewing experience that always makes the best.

'Super AMOLED' Adobe RGB color standard to represent more than 90% of the color gamut (Color Gamut) 0.01ms excellent by 20% of the LCD response time, 100,000:1 contrast ratio to provide a display of color, expressive presence It is the most outstanding feature, HD resolution four times clearer than WQHD (2,560 × 1,440) by applying a smart phone boasts the highest quality.

Galaxy S5 broadband LTE-A 'from the consumer for innovation and the latest technology to maximize ease of use was also inherited.

AP with 2.5GHz Quad-Core 3GB RAM, powerful features industry-leading 16 million acclaimed high-resolution camera, a waterproof and dustproof IP67-rated summer useful functions and exercise the heart rate check, and you can manage for themselves, such as heart rate monitor existing S5 Galaxy as they applied to the innovative new features.

Samsung Galaxy S5 broadband LTE-A 'smart buyer targeting for Life offers a variety of premium global app package, and 10 films every month until the end of September benefits.

Galaxy S5 broadband LTE-A 'is 19 days, SKT launched the first through to the next through KT and LGU + will be released.

Cooper is a luxurious gold color (Cooper Gold) Color Charcoal Black Borders on existing (Charcoal Black), Shimmer White (Shimmery White), Electric Blue (Electric Blue), Copper Gold (Cooper Gold) including four suites with a pink back Color is added to a glam red color through SKT will be added. Chulgoga is 940,500 won.

Samsung Electronics said, "the world's first LTE-A phone broadband era product leadership, Samsung's mobile market once again proved to the world" and "will continue to reflect the needs of a variety of consumer products, serves a global market leader out plan, "he said.