Famed developer, geohot (with help from some friends), has done it. The Samsung Galaxy S5 on AT&T and Verizon has been rooted. So before we dive into this, I'll just note that the bounty for achieving this task was well over $18,000. If you pledged some cash, it is time to pay up.
With that said, yep, root has come, my friends. The long wait is over. Freedom on some level is now a part of your Galaxy S5. Flip the bird to whoever you would like to at this point, because the good guys have won again. I should say, the guys who paid hundreds of dollars for a phone who want to feel like they actually own that phone, have won. 
The root method is an .apk file that when run, gives you root within about 15 seconds (following a reboot). There is a single button to press and you have root. I don't think I have seen a root process this easy in…I truthfully cannot remember.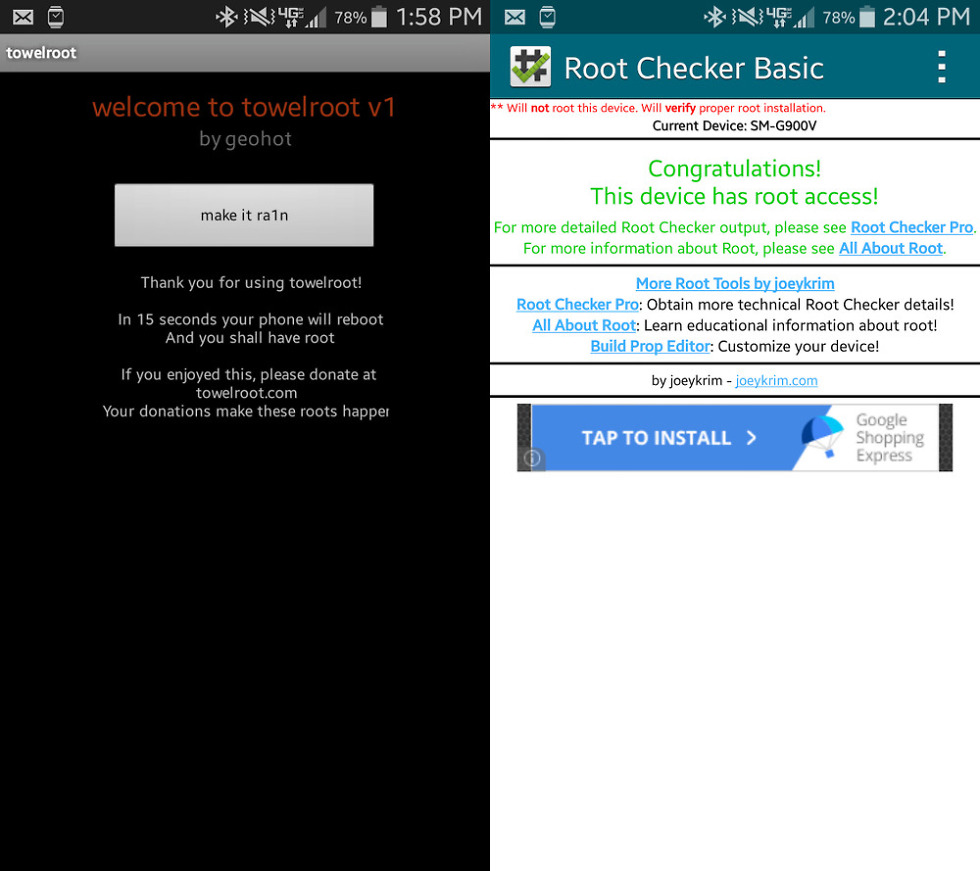 So, how do you root your phone? Download the towelroot.apk file from the towelroot site below. Open that file, install the app, open the app, press the "make it ra1n" button and then sit back and wait. Your phone should reboot within 15 seconds, root included.
What phones are supported? The official phone list includes the AT&T Galaxy S5, Verizon Galaxy S5, and AT&T Galaxy S4 Active. However, the root method may work for almost any Android phone with a kernel build date earlier than June 3. Many Galaxy Note 3 owners, along with RAZR HD and RAZR M owners seem to be having plenty of luck (with a bootloader unlock too).
Ready? Be sure to donate if you can.
Cheers Mike, Daniel, Ben, Aaron, Tim, William, and the other couple of dozen people!