Finally, after weeks and weeks of leaks and hypebeasting, the LG G3 is official. Kellen and I were on hand in San Francisco, where we were able to spend quality time with LG's latest flagship device. Naturally, we have had a lot of people asking for our thoughts on the device, so here they are in one big post.
With its 5.5″ QHD display, 13MP OIS+ camera with laser auto focus, and a ton of sweet proprietary software from LG, you would think the G3 is the phone of the future. Well, it most certainly could be.
Have a look below to read Kellen and I's initial impressions on the LG G3. 
---
Tim:  I have been very open this year about my optimism for the LG G3. I adored last year's G2, with its slim body, awesome camera with OIS technology, and the outstanding performance delivered from the Snapdragon 800. It was easily the year's most underrated device, and didn't receive as much praise as it should have, thanks to the Moto X taking all of the 2013 glory.
Putting my fondness for the G2 aside, I must say that the G3 from LG doesn't look to disappoint. We spent a few hours with it at LG's press conference in San Francisco, where they live streamed the London event which was taking place simultaneously. Afterwards, we were allowed to play with the G3, however, they were all Korean and overseas variants; no American carrier models were on hand.
My takeaway from the phone is that I am very excited for LG to release this device to the public here in the US. A few people are saying it is either too big or that they had hoped to see a Snapdragon 805 processor inside, but I feel that once people have the device in their hands, they will instantly fall in love with the phone. With a 5.5″ display, Kellen and myself were turned off at first based solely on the number, but with LG's design and the overall ergonomic feel of the device, I don't think I will mind this size of a device for my daily driver one bit.
With the QHD display (2560 x 1440), it was as if I was looking at a crispness of display I had never experienced before, which is always a plus for me, since I spend a lot of time with the latest and greatest devices from all other OEMs. To see a company try something different, and to show that the massive display shouldn't hinder overall performance of the device (or battery), I am hoping that other companies will look to incorporate the QHD technology into their devices.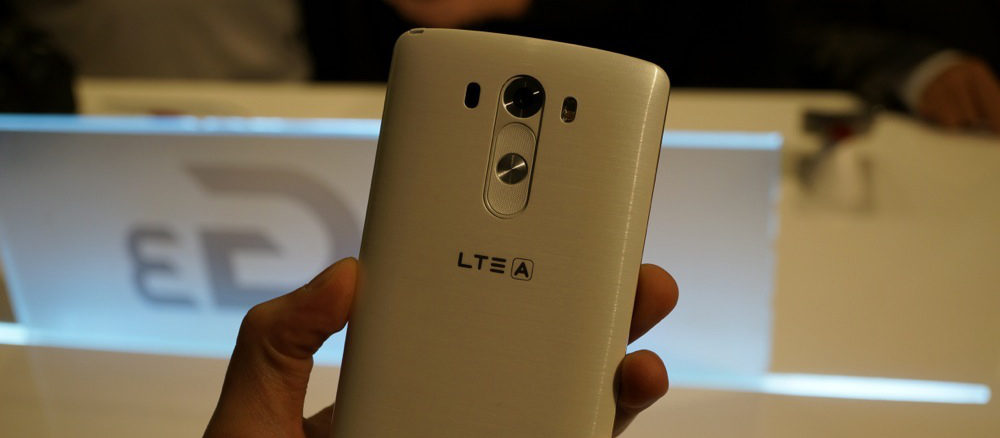 The top thing I am looking to really test out is the camera. From the time we spent with it, I have very high hopes. The auto focus was just as responsive as they marketed in the livestream, which was actually quite surprising. No idea how photos taken on this phone will translate into social networks such as Twitter and Instagram, though, both of those services destroy picture resolutions when uploading from an Android device. Given the quality of the photos you can take on the G3, folks may have to start looking into sharing their masterpieces elsewhere.
As for the custom skin that LG bakes in, I would place it close to Samsung's TouchWiz in terms of scale. It seems quite refined, probably the most appealing skin from LG I have seen to date. While it sometimes seems a bit overwhelming, I usually find myself installing a third party launcher which fixes all of those issues for me.
---
Kellen:  As you all know, I'm not a fan of the current smartphone trend of bigger is better. Manufacturers seem to think that the only way they can innovate is by making phones that are larger than their predecessors. It sucks. My hands are done growing; they quit stretching long ago. Yours probably did too. Phones, though, may not have even reached a peak yet. So when rumors for the LG G3 started popping up over the last couple months, with talk of the device featuring a massive 5.5-inch Quad HD display, I immediately became concerned. I like what LG has done recently, especially with the minimal bezel job they performed on both the G2 and Nexus 5, but 5.5-inches of glass? That's scary. And then today, I had a chance to play with the G3.
While I only spent around an hour with the phone (review units are coming much later), I can tell you right now that I'm ready to give it a legitimate shot. In fact, I want this phone, in white. I can't exactly explain why either. It's huge. It's a big phone – bigger than the HTC One (M8) and Galaxy S5, two phones I told you were too big. It goes against everything I have ranted about to the DL community. So why the G3 then?
Well, it has almost zero bezel. When you hold it, it is as if it does not feel as big as it really is. Its curves hit your palm gently, you can almost reach the top of the display without much of a shimmy, and it does not come off as slippery or uncomfortable. There is no wasted space – this phone is all display, but with a slight chin. It doesn't have the massive chin/forehead/unnecessary-black-bar combo of the One (M8) or the added all-around bezel of the Galaxy S5. LG did not mess around with this phone's design. It is gorgeous.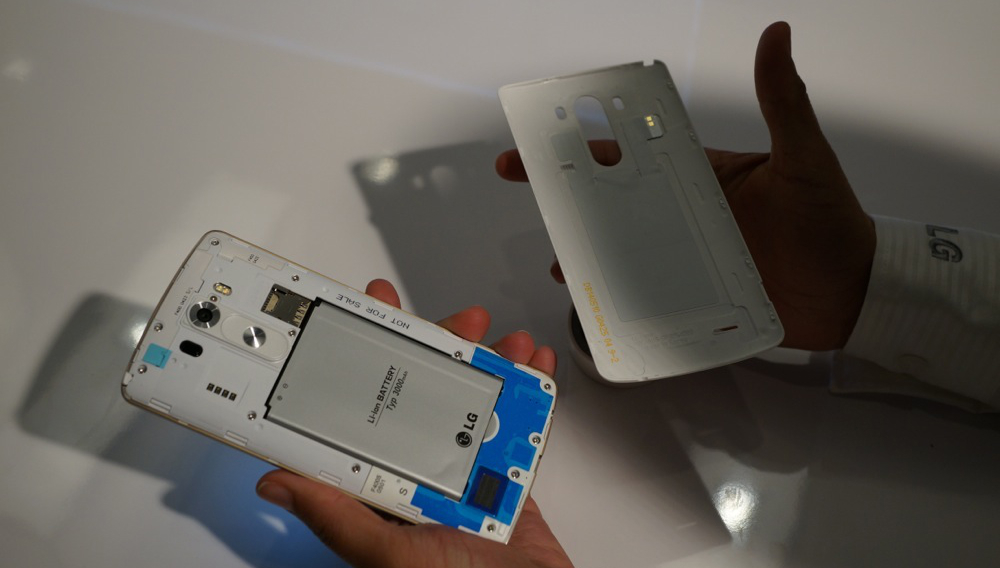 With that said, I am still a bit skeptical. Large phones still frustrate me, but if done properly, which the G3 may be, I would hope that I could adapt to one. I'm not making any guarantees, but this phone is looking very promising.
Outside of the size, the rest of the package is super exciting. The QHD display is absolutely stunning. The 13MP camera with its laser autofocus might be game-changing. Plus, you have a micro SD slot, 3GB RAM, a removable battery, and a brand new LG UI that doesn't look terrible.
Give me one now, LG. I need more time with the G3.
---
If you have any questions about the G3, please don't hesitate to drop it below in the comments section.