It has been almost a month since we last gave you a handful of fresh icon packs to get busy with, so here are another five. You do need new packs to check out, right? In the Android customization game, a true pro never stays still for too long. A home screen change-up is necessary on an almost-weekly basis. OK, that might be overkill, but the icon addicts in the building know exactly what I am talking about.
In this month's batch, we have some with long shadows (the trend still lives!), one with a round and colorful palette, another that is dark and simple, and others that are their own category.
Here they are, five fresh new icon packs to check out.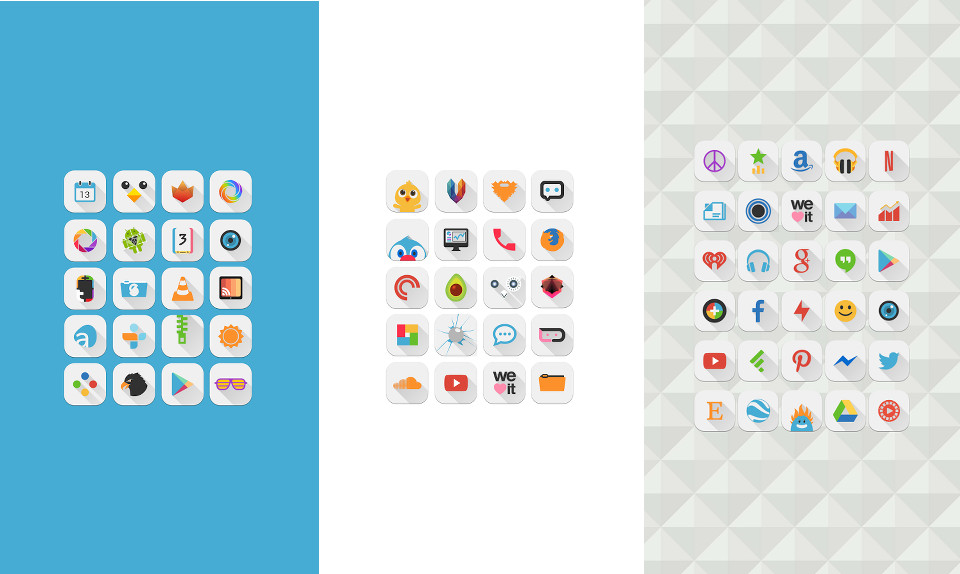 Ivory
As you can see from the images above, Ivory does indeed include the popular long-shadow styling of so many icon packs before it. But I really like Ivory because of the combination of its white (or is it ivory?) base and colorful icon identifier. The white icons pop on almost any background, especially those muted with something like Muzei. There are over 1,700 icons in total, a handful of HD wallpapers to match the pack, and an icon mask that helps with icons that need theming on the fly.
Ivory supports all of your favorite launchers, has a well-built dashboard-like app for applying wallpapers or full themes, and lets you request missing icons.
Play Link ($1.99)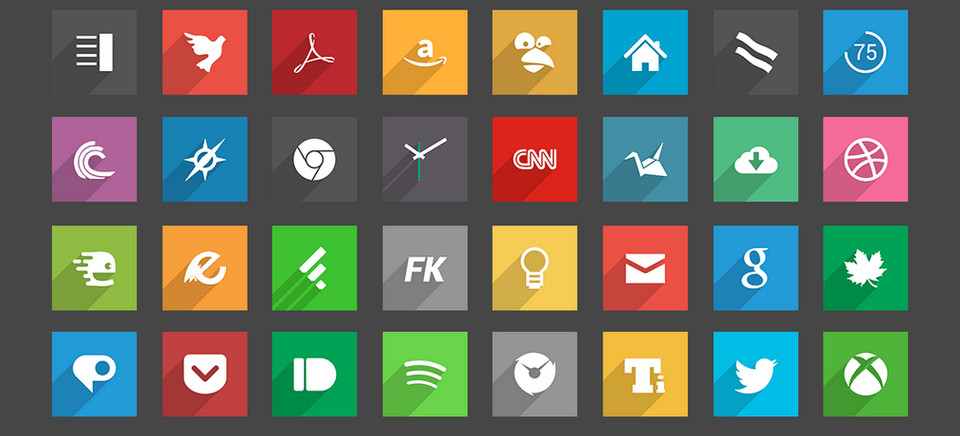 Voxel
Voxel is another icon pack that shows love to the long-shadow, but its strong colors, simple white icon identifiers, and perfectly square styling makes it ideal for almost any setup. There are almost 700 icons in total, 11 HD wallpapers, and support for all of your favorite launchers.
Did I mention that it's free?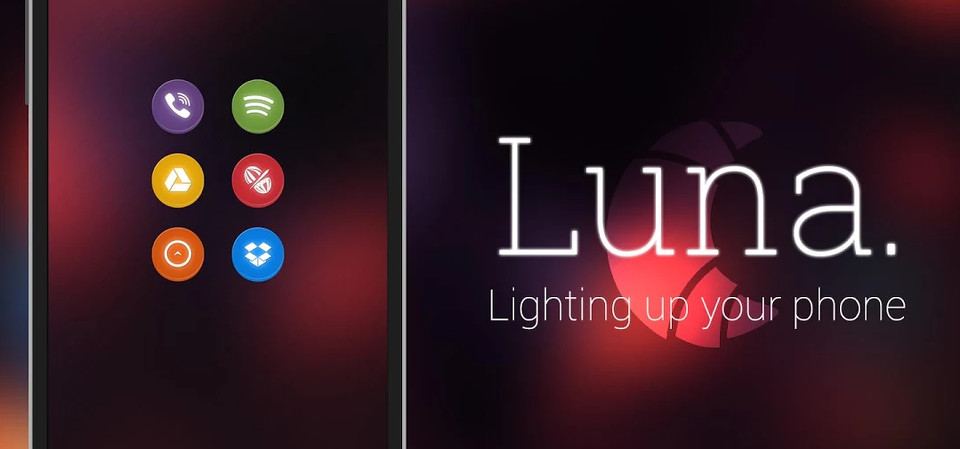 Luna
Moving out of the long-shadow realm, we have Luna, an extremely colorful set of round icons that all have a subtle glow. As the developer mentions, you won't have any trouble finding an icon. The icons are also given a bit of dimension, thanks to a lower bezel.
With almost 900 icons and five HD wallpapers, plus icon requests, you are looking at another icon pack worth exploring. As you can see from the image above, that glow goes beautifully with darker, softened photos. All of your favorite launchers are supported.
Play Link ($2.02)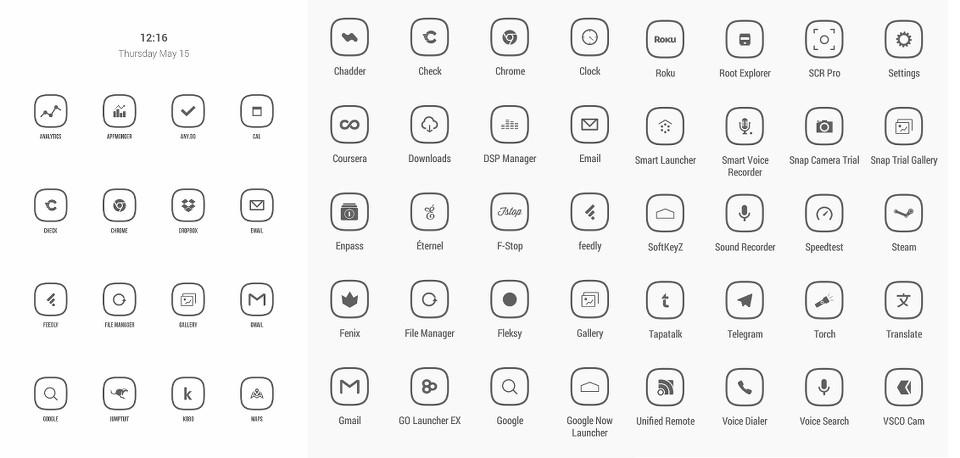 Banded Dark
Banded comes to us from Alex Miller, the man behind other popular icon packs like Influx, which we have featured in the past. I really like Banded because of its simplicity. There aren't complex colors or shadows or depth, it's a simple dark icon identifier with a rounded square. They work beautifully on any light wallpaper or could give you a mysterious look if you kept it semi-dark.
The icon set comes with a dashboard app, custom HD wallpapers, Muzei and major launcher support, and a custom analog clock widget.
Play Link ($1.99)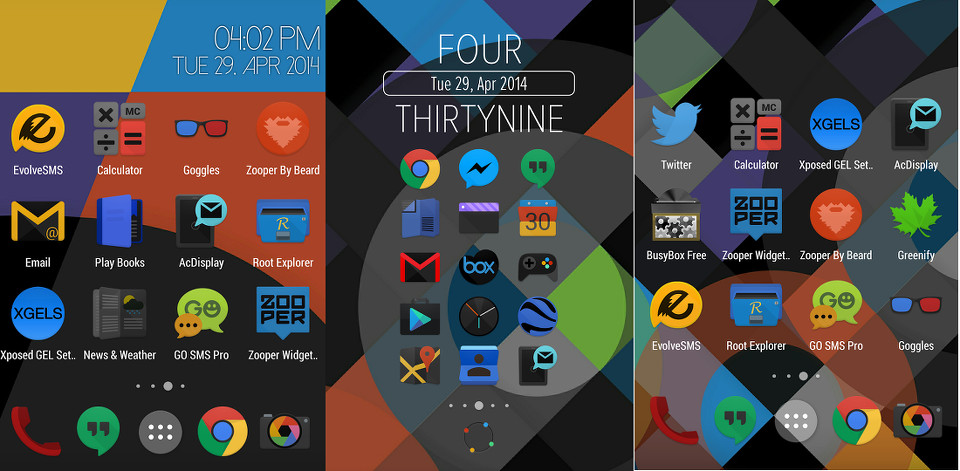 Black Moonshine
The final icon pack on our list is called Black Moonshine. It's different, that's for sure. It's colorful, yet plenty dark. There are shadows with some icons, but not with others. The icon set is actually based off an upcoming rumored Android icon overhaul which has reportedly been dubbed "Moonshine." In other words, these are a take on what could be the next set of official icons, only they have a much darker tone to them.
There are over 500 custom designed "Moonshine" icons, multiple color options of individual icons, 56 custom HD wallpapers, a custom designed clock widget, an icon requester, and more.
Play Link ($1.00)