The leaks can finally be put to rest, as the OnePlus One is now entirely official. The "Never Settle" smartphone is now confirmed to have high-end specs such as a Qualcomm Snapdragon 801 processor at 2.46GHz, 3GB of RAM, a 1920×1080 Full-HD 5.5″ display, and a 13MP camera capable of 4K video recording.
First, let's give the design a quick peek. The device has an entirely flat front, and OnePlus takes pride in the fact that no logos are found on the front of the device. The bezel is crazy small, coming in at just 4.6mm, so 5.5″ shouldn't be too unwieldy.
In terms of specs, this phone is right around where the Samsung Galaxy S5 is at. We have the same processor and GPU, though the One features an extra gigabyte of RAM and the S5 a camera with a higher megapixel count.
Speaking of megapixels, the OnePlus One's 13MP Sony Exmor IMX214 sensor should allow for great pictures, even in low light, and 4K video capture support.
Finally, if you've been wanting some StyleSwap back covers to go with your One, they won't quite be available at launch. The One also will have personalized textures: Bamboo, Wood, Denim, and Kevlar.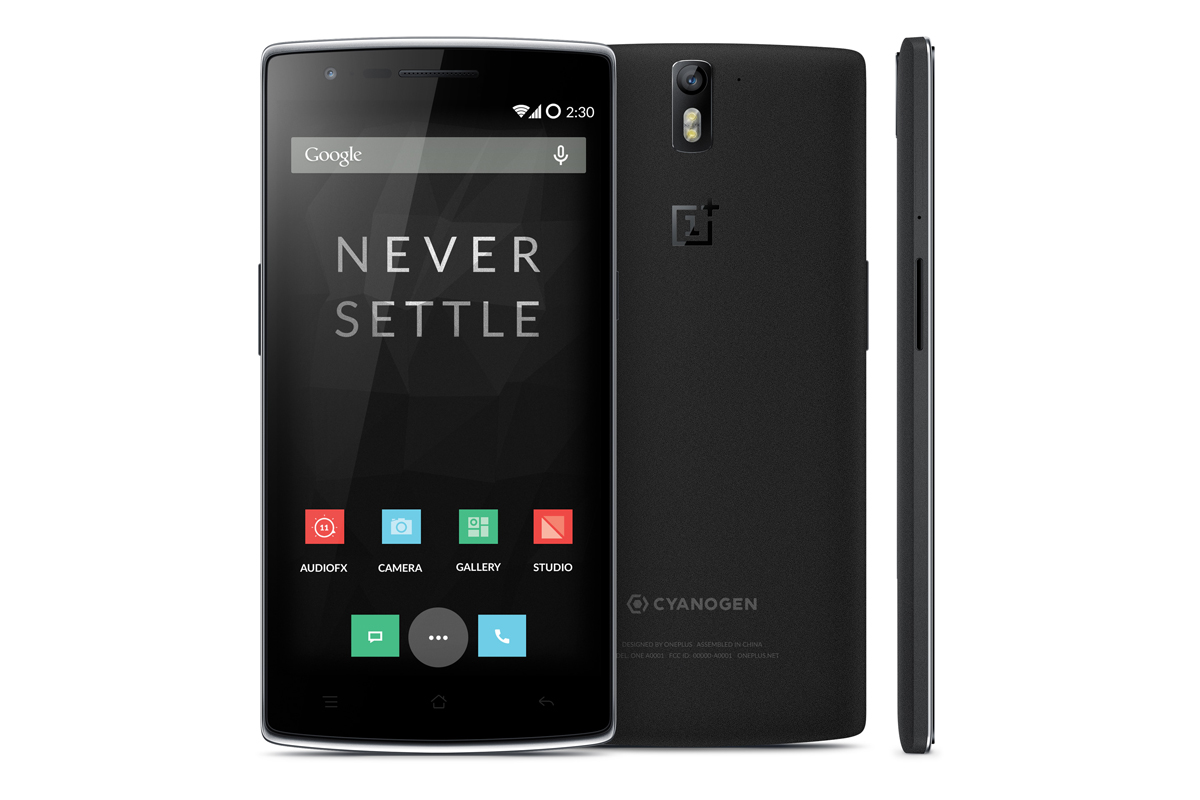 On the software side of things, the OnePlus One is packing a custom flavor of CyanogenMod 11 atop Android 4.4, Kit Kat. CyanogenMod 11S adds nifty features such as a custom theme engine allowing the One to maintain a unique look, but users will be able to customize to their liking.
Steve Kondik, the CEO of Cyanogen Inc., is quoted as saying the Cyanogen team has "brought out the full potential of the hardware and complemented it with innovative new features," most notably in the Moto X-inspired voice activation features. Another new feature is the ability to draw gestures on the screen while it is sleeping to launch a specific apps (reminding us of the HTC One (M8) and Oppo Find 7).
The OnePlus One will be available in Austria, Belgium, Canada, Denmark, Finland, France, Germany, Hong Kong, Italy, Netherlands, Portugal, Spain, Sweden, Taiwan, UK and the USA. The 16GB Silk White model will run you $299, while the 64GB Sandstone Black model will run users $349.
OnePlus will be selling the One, however, on an invite-based system. On April 25, the first 100 buyers will get a $1 One if they smash their phone — full details here.
We don't yet know when the One will be ready to be purchased, but we do know that OnePlus will be going on an invite system to determine who gets phones first. It's unclear at the moment how users will be able to obtain tickets without destroying their current devices.
We'll keep you posted as more juicy One details become available.
Update:  Here is the OnePlus One official specs list.
Update 2:  Here is the official OnePlus One promo intro video.