The hype train is always fully fueled when it comes to new phones, and with a new year beginning, the hype is bigger than ever. LG announced the G Flex  late last year right after Samsung announced the Galaxy Round, a device which we thought looked like a complete abomination. The G Flex however is curved the correct way, supposedly allowing for a perfect fit on your face (or butt), while still delivering a phablet experience for those who enjoy large phones. It was initially introduced for international markets, but has now come to the U.S. for 2014.
We had hands-on with the G Flex at CES, but now that we have had one in our own possession for about a week, we can give a detailed opinion this monster of a device. Is the curved display just a fad? Are back buttons here to stay? Is 720p a viable option for a device with a 6″ display in 2014? Let's find out together.
This is Droid Life's review of the LG G Flex. 
The Good
Specs
The G Flex ships with a very handsome list of specs. Powering the device is a quad-core Snapdragon 800 processor with 2GB of RAM, a processor that was the top tier silicon in 2013. Also inside the device is a 3,500mAh battery, a 13MP rear-facing camera, NFC, Bluetooth 4.0, 32GB of internal storage, a 2.1MP front-facing camera, self-healing backside, and 4G LTE radios. The biggest spec on the sheet is the device's 6″ P-OLED curved display with a resolution of 720 x 1280. Yup, it's only HD and not Full HD, which is sort of a bummer. All of this adds up to a device that runs very well, lasts a full day and a half on its big battery, and can impress the neighbors with its curved display. All in all, it's a very nice package of a phone.
Design
In my opinion, the look of the device is right up there with any other sexy phone to come out recently. It's subtle, but when up close and in your hand, the device packs a serious aesthetic punch. Upon first turning it on, you almost feel completely immersed in the 6″ curved display. And even though the display is massive, the curve really helps to handle the phone with one hand if need be. Just like the G2, the G Flex features control keys on the backside and none on the sides of the device. Since I have played with a G2 plenty of times, I am quite used to this setup and actually find it quite enjoyable. Because the phone is so large, and the way your hand must grip the phone, your index fingers lines up perfectly on the backside to control volume and power the screen on. To sum up the design, I love the curved aspect to it and in no way do I find the looks to be "gimmicky" or a fad.
Battery
Besides the gorgeous overall design of this phone, the battery on the G Flex is ridiculous. Out of habit, I always hook up my devices next to my bed to let them charge, but I was easily skipping nights of charging with the G Flex. It could be thanks to the 720p display or its massive size at 3,500mAh, but either way, we love long battery life.
Speaker
For only having a single speaker, we have to give LG props to what they threw into this phone. It's loud. Sure, it's not front-facing HTC BoomSound loud, but it still packs a decent punch for being on a smartphone. Compared to the Nexus 5 or the Moto X where the speakers are pretty weak, it's been a nice change. As someone who enjoys walking around the house and listening to tunes streaming from my phone, I give it a solid B+.
Performance
Thanks to LG's inclusion of a Snapdragon 800 processor and 2GB of RAM, the G Flex flies. While multitasking and editing photos with Snapseed, the G Flex doesn't let up. Unlike other devices that feature a Snapdragon 800 (hint hint Galaxy Note 3), LG's skin doesn't slow down the device's opening of the camera app, whipping through homescreen's, playing processor-intense games, or browsing the web. I mostly judge performance on whether a device can handle my top favorite games. Those games include Assassins Creed Pirates, Deus Ex: The Fall, and Sonic the Hedgehog. The phone had no issue playing these games, so I was a happy gamer. For those hoping to see benchmarks and a full technical breakdown of the quad-core CPU's performance, you will have to look elsewhere.
Availability and Connectivity
So far, three of the four major carriers in the US have announced availability of the G Flex, with those three being T-Mobile, Sprint, and AT&T. No word on if we could see the G Flex hit Verizon's 4G LTE network, but it would surprise us at this point. On each of the three carriers listed the device runs a whopping $299.99 on contract or buyers can choose to sign up for a monthly payment plan. Those plans usually have you paying around $25 to $35 a month. The variant we have is on AT&T, and so far, there has been no connectivity problems and calls have been crystal clear.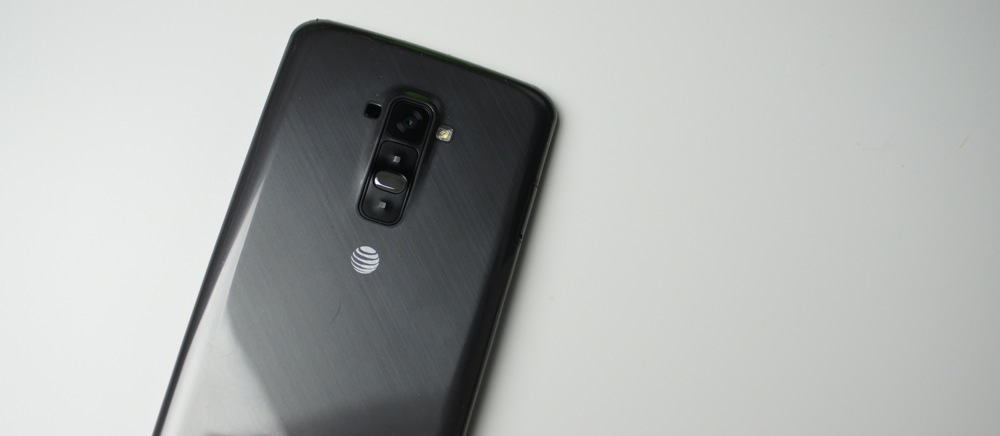 Self-healing Backside
LG introduced a self-healing back on the G Flex, a feature which gained quite a bit of attention after MKBHD posted a video on his channel testing it. I myself wasn't able to test it since this is a review unit and you shouldn't attempt to damage the phone, but if your backside ever gets lightly scratched or scuffed, the material should actually heal itself and hide any blemishes the phone picks up. Scratches from keys and other objects should be able to come right out, and for anyone who usually ends up scratching their phones often, then this should be labeled as a miracle. We hope they continue with this feature addition moving forward with newer phones.
Somewhere in the Middle
Size
While a certain group of folks will stand by he bigger the phone the better," there are still plenty of those who will write off the G Flex immediately due to its massive size. The G Flex, thanks to its curve, actually feels quite nice in hand and is pretty manageable with just one hand. Although, if you really need to get things done, two hands would be best. If the device's display wasn't curved, I'd be quite turned off by it, since reaching up the notification bar while holding the phone with one hand would be quite the challenge. It still has somewhat of an issue when coming in and out of the pockets, but that's something you just get used to after time.
Display
Over the course of my week with the phone, I have had a serious love/hate relationship with the display. At times I love the curved aspect of it, and at others, I can't stand viewing the lower resolution when compared to the Nexus 5 and Galaxy Note 3. Due to its lower resolution, wallpapers get blown up on homescreens, pictures look funky, and the 6″ size makes it so pixels are quite viewable. What the display does have going for it are the viewing angles. You can hold this phone sideways across from your face and still see what's going on while it is completely tipped, which is a major plus. And since it's curved, multiple people sitting at different angles can all watch the same YouTube video at the same time with no issue, which I did a few times while at a local Red Robbin. Yum. People seem to really like the curved aspect of the display, but if only the device was a tad smaller, it'd be perfect.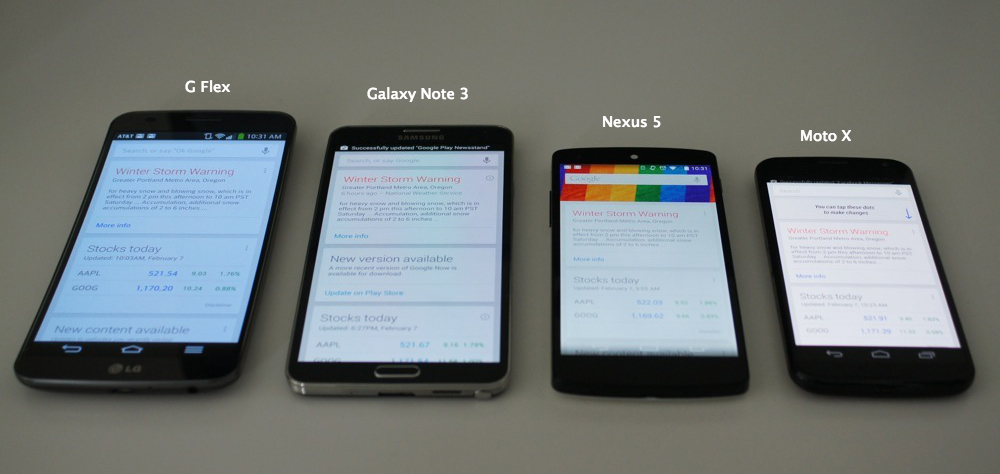 Price
As mentioned in the availability section, the device is priced at $299.99 on a new two year agreement. For me, this is unjustifiable. As I touch on right below this, the camera doesn't live up to such a high price tag, and neither does a 720p display; I don't care much they curve it. It is much more of a $199.99 on contract device, given it doesn't even come with a ton of proprietary software like the Galaxy Note 3 does. And yes, we do talk down a lot on the TouchWiz bloat, but at least it adds a type of value, right? If you think paying $300 on contract for a device that features standard 2013 flagship specs, with its one major highlight being the curved HD display, then go for it. My recommendation would be to wait for the price to come down to the $249.99 or $199.99 range. And after a few months of it being on the market, it will happen.
Camera
When first opening the box of the G Flex, I was reminded how much I was looking forward to using the device's camera, since it uses a beefed up 13MP sensor. And if you know much about the LG G2, you will know that it has unarguably one of the best cameras to ever launch with an Android phone. To my disappointment, the G Flex is nothing like the G2 – yes, it is 13MP, but the camera does not feature OIS (optical image stabilization), and for some reason, it just takes really lackluster shots. There is no color. There is no vibrance. While in the right lighting conditions, you will have no issues taking a good shot to share with friends and family on your social networks, but if you were hoping for the same experience as you find on the G2, you will need to look elsewhere. The software on both devices is the exact same, but LG definitely doesn't seem to have put in as much work as they did on the G2.
Here are some camera samples. All have been resized and that's it.
The Not-so-Good
Screen Ghosting
Since the curved and large display is the G Flex's main selling point, and it's the part of the phone you look at all day every day, it's a shame that the G Flex has a rather alarming ghosting issue. With most ghosting issues in monitors and displays, the brightness setting will be your best friend. The symptoms of ghosting can be counteracted by setting the brightness on the display to a higher setting, but I actually like to keep my screens quite dark. With the G Flex, which I kept on a low brightness setting throughout most days, I was always shaking my head while still seeing my homescreen widget's outlines while in other apps. Another time it was very apparent when after typing out a text message and then going back to the home screen, the outline of the keyboard was still on my screen. I'm not very technical about refresh rates and the ghosting issues that monitors and displays can have, but I felt the need to address this since it's something I have never encountered at such a level on a smartphone. I recorded a video and placed it below to try and show what exactly I'm talking about.
[responsive_vid vid_url="kwM_xkvvrd4″]
Launching with Android 4.2
Oh, I'm sorry, I thought this was 2014. That's my bad! When a new flagship device launches, you usually expect them to be running the latest version of the Android OS (Android 4.4, Kit Kat) or at least, be running the second to latest version (Android 4.3, Jelly Bean). Instead, the G Flex comes out of the box running Android 4.2.2, which in my book, is a surprise and a complete no-no. With a company like LG, who isn't exactly known for pumping out updates to devices (G2 still doesn't have Kit Kat), this is bad news. With no word from LG on when we can expect to see an update to either 4.3 or 4.4, it's hard for an Android lover to get excited about running this device.
LG's Custom Skin
While the inclusion of a semi-transparent notification bar and navigation button area are bonuses, those two sexy touches can't help bring LG's custom skin to a tolerable level. It is much like Samsung's TouchWiz, but to continue harping on the fact that it's only running Android 4.2, there are a lot of things that LG could do to simplify the layout. Menus and settings are at times confusing, plus a few features like QSlide are hidden with the average user not knowing how to access it. It will be interesting to see if OEMs start toning down the skins after Samsung and Google work out whatever deal it is they are working on.
Random Negatives
Music bug – Whenever listing to music on Google Play Music, you can bet money that at some point within the first 10 minutes, the app will all of a sudden stop working. I don't know exactly why the app cuts out, but it's quite annoying when you have to pull out your phone, reopen the app, and press play again.
No microSD slot – For anyone who cares about extra storage, you won't have any here.
Holy bloatware, Batman! – The G Flex comes preloaded with 20 (twenty) AT&T bloatware apps. Luckily, all can be disabled if you so choose.
LG's keyboard – Once you get a G Flex, head to Google Play and pick up a third party keyboard. The stock keyboard is one of the more frustrating experiences I have ever dealt with. After two days, I was done with it. The fact that once you select a word to be inputted through swiping then can't delete the whole word and have to individually delete the word letter by letter is painful. Google's stock keyboard or SwiftKey will be your best friend.
Fingerprint magnet – The backside of the G Flex will have fingerprints on it immediately and will continue to rack them up. Yes, you can wipe them off whenever you want, but they'll just come back. Another weird thing is that the G Flex seems to be a dust and lint magnet. Whenever you pull it out of your pocket there is always dust stuck on it. Anyone with OCD should prepare themselves.
Video
Unboxing and hands-on
[responsive_vid vid_url="dGZn8ObrOIs"]
4K video recording test
[responsive_vid vid_url="IcCFqtIsdBU"]
Gallery
The Verdict
The G Flex is a good phone, but not one I would want to have for two years on contract. The display can be a real eye sore, the price is too high, the camera leaves a lot to be desired, and the software is old and dated. As an Android lover who is constantly looking for the perfect experience, this just isn't it. With Samsung launching the Galaxy S5, HTC launching the successor to the One, and a possible successor to the G2 coming from LG, the G Flex is just too little, too late.
The phone does have upsides though, with its self-healing back (I never got to test it since I don't drop my phones), good performance, and gorgeous looks, but with a full lineup of devices coming in 2014 that are supposed to be awesome, this phone just can't keep up with the hype.