Industry leak-machine, @evleaks, dropped another Samsung home UI image over the weekend that could give us a look at Samsung's plan to take on Google Now in the near future. The image (found below) shows a card-style UI with contextual information that you may be familiar with if you use Google's service, though this is much more photo-forward.  
As you can see in the image, this appears to be on a phone with the length of the screenshots seemingly giving the impression that the UI will be vertically scrollable. We are seeing cards for controlling home temperature, workouts, favorite team sports scores, flight information, package tracking, dinner reservations, concerts you may be interested in, where your friends are located at the moment, socially shared items from friends, and recent purchases, potentially from using a mobile wallet product. The UI also shows your current location at the top, a G+-like profile image, voice search button, and current weather.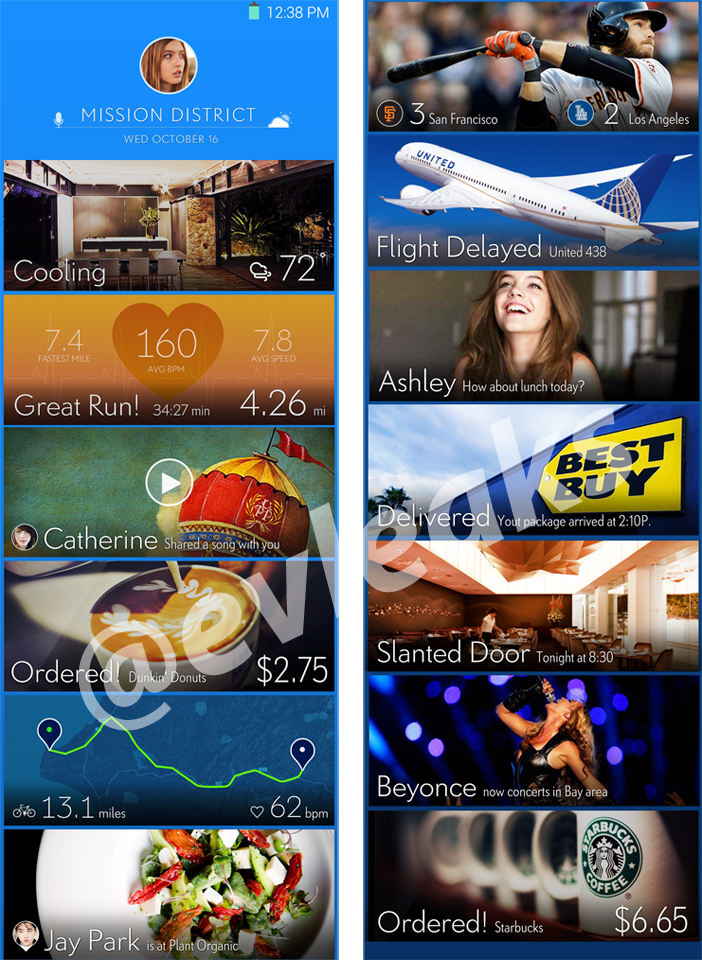 The information is presented cleanly, but not quite as minimal as what you find with Google Now. Each card displays a big beautiful image, while also telling you important information. Again, it appears to be a lot like Google Now, but we don't know how Samsung will implement it, if they have built a special app for it, or if this will take place of their new Magazine UX on phones. Will it be accessed with a swipe or gesture? Will it work with apps that aren't Samsung-branded? Is it simply pulling from Google Now somehow?
One thing I will say, is that I like the simple styling of the top portion, with profile picture and search. If Samsung can take that UI and push it throughout to give TouchWiz a full makeover, I could be on board.
Thoughts?