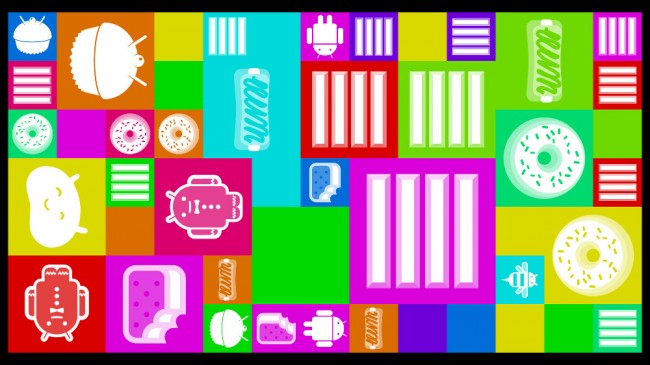 A reader of ours was cruising through the systemui folder after decompiling a Kit Kat ROM this morning to check out the latest Easter Egg and found all of the .png files that make up the beautifully colored Android collage pictured above. The collage itself isn't new, but some of the pictures clearly show Google's well-documented sense of humor. They can be seen in the actual Easter Egg, assuming you look closely enough. 
In the first set of icons, you'll see all of the standard images for each named version of Android from cupcake to donut to Ice Cream Sandwich to Kit Kat. But in the second set, we've got icons named "donut burger," "zombie gingerbread," and "dandroid." The Dandroid logo may look familiar. You'll also recognize the Jandy Cane that can be seen floating around inside the Jelly Bean Easter Egg, and the previously used KeyLimePie icon before Kit Kat took over.
Fun stuff; just thought we'd share.
Here are the official icons:
And here are the random icons that were tossed in:
You can download a .zip file containing them all here. The files are all 512×512.
Cheers Brian!