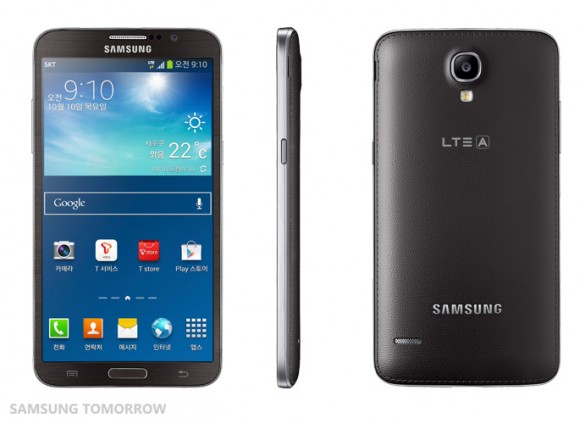 We're only hours removed from a leak of Samsung's first device with a curved display and the company has gone ahead and made it all official. The device is officially called the Samsung Galaxy Round and is available in Korea in "Luxury Brown." No international availability has been given, but Samsung has said to expect new colors in the near future. 
Sporting a 5.7-inch Full HD Super Flexible AMOLED display that is curved, the device weighs in at just 7.9mm thick and 154g. In terms of other specs, we're looking at a Snapdragon 800 processor clocked at 2.3GHz, 3GB RAM, 32GB of internal storage (with SD card support), 13MP camera, LTE, 2,800mAh battery, and Android 4.3.
From a software standpoint, the Galaxy Round features special software that can take advantage of its curves. For example, you could tilt the phone to check to see if you have missed calls, the time, or battery life. This sounds exactly like the air gesture baked into the Note 3 and Galaxy S4, which we would prefer over having to actually touch your phone. You'll also be able to tilt the device from side to side to change tracks while music is playing or manipulate the phone through one-handed operation.
In other words, this is a Galaxy Note 3 (faux leather stitched back included), but with a curved display and a couple of extra gimmicky features. We still aren't seeing a point. But hey, curved display! Roll me!
Press Images
Hands-on Photos
Video
http://www.youtube.com/watch?v=UIEExKSjWi4
Specs
Press Release
Samsung GALAXY ROUND Pioneers the Curved Display Smartphone Experience

New device presents world's first commercialized full HD Super AMOLED flexible display

Seoul, Korea – October 9, 2013 – Samsung Electronics Co., Ltd. today introduced GALAXY ROUND, the world's first curved display smartphone. Samsung has been a mobile display innovator by introducing color TFT-LCD, AMOLED, and Super AMOLED flexible display for its mobile product. With this pioneering curved display technology, GALAXY ROUND blends the latest smartphone screen innovations with unique design features. The sleek and thin Samsung GALAXY ROUND whichequipped with a 5.7" Full HD Super AMOLED with 7.9mm thick and weighs 154g offers a comfortable hand grip feeling to user, and exclusive experiences of curved display.

As a result of its unique curved design, users can take advantage of round integration experiences like the Roll Effect that enables user to check information such as date, time, missed call and battery easily when home screen is off, and the GravityEffect for creating visual interaction with the screen by tilting the device. For music, the Bounce UX enables users to control their music. When the GALAXY ROUND's display is off while the music player is running, a short press to the left of the device will play the previous track while a short press to the right will play the next track. For pictures and videos, the Side Mirror feature enables users to gain access to list of the album content with a left and right tilt.

The large screen size of the GALAXY ROUND provides additional benefits to users. Useful One-Hand Operation features bring a user's most desired controls closer to a preferred side of the screen. The device enables enhanced multitasking capabilities that allow users to fully utilize the larger screen through Multi Window, a feature that enables users to open more than one application on the screen, run simultaneous multiple instances of the same application or to easily share content between applications.

Samsung GALAXY ROUND is available in Korea with Luxury Brown, and more color will be available soon.

* All functionality, features, specifications, and other product information provided in this document including, but not limited to, the benefits, design, pricing, components, performance, availability, and capabilities of the product are subject to change without notice or obligation.

About Samsung Electronics Co., Ltd.

Samsung Electronics Co., Ltd. is a global leader in technology, opening new possibilities for people everywhere. Through relentless innovation and discovery, we are transforming the worlds of televisions, smartphones, personal computers, printers, cameras, home appliances, LTE systems, medical devices, semiconductors and LED solutions. We employ 270,000 people across 79 countries with annual sales of US$187.8 billion. To discover more, please visit www.samsung.com.
Via:  Samsung Tomorrow [2]