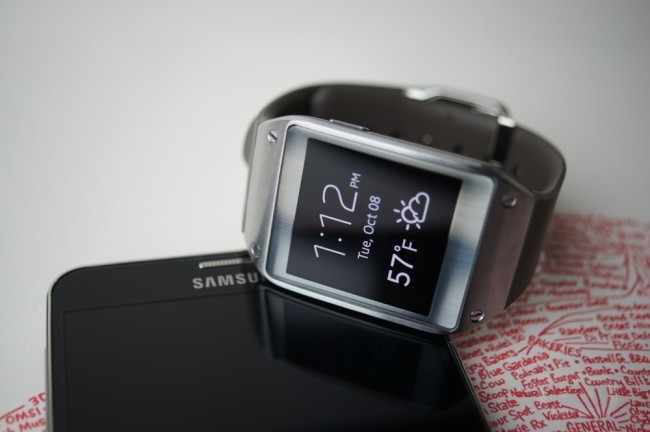 The Galaxy Gear smartwatch from Samsung is the company's first attempt to enter a market in which the industry has adopted as the next opportunity for growth. There isn't anything on the market that is quite like this device when compared to other smartwatches, as it runs a full-color display, has a built-in camera, and supports 70+ third party applications out of the box. It's a brave attempt at breathing new life into a growing market, but did Samsung hit it out of the park? We are about to find out.
This is our full Galaxy Gear review. 
The Good
Design
In this reviewer's opinion, the best thing the Galaxy Gear has going for it is the overall looks and design. I have argued this point with a few people, with the minority of them feeling that the large-looking device is just a plain ol' eye sore. I couldn't disagree more intensely. From the subtle grooves on the silicone band, to the polished look of the metallic bezels, the watch oozes sex appeal. Unfortunately for the device, beauty is in the eye of the beholder and of course there will be plenty of folks not picking one up simply because they dislike the looks. Although, there are even a few things about the watch's design I would have changed including the nipple camera placement. Either Samsung will need to figure out a way to thin out the sensor in the camera to make it more flush with the band, or they will have to scrap this idea altogether, since fear of scratching the camera's glass in everyday circumstances was a real issue while wearing the device. Besides that though, I loved wearing the device and more times than not, I loved looking at it. To me, a smartwatch that I want to look at and want to touch is paramount. This is something I haven't found with any of the Galaxy Gear's competitors such as the Pebble or Metawatch.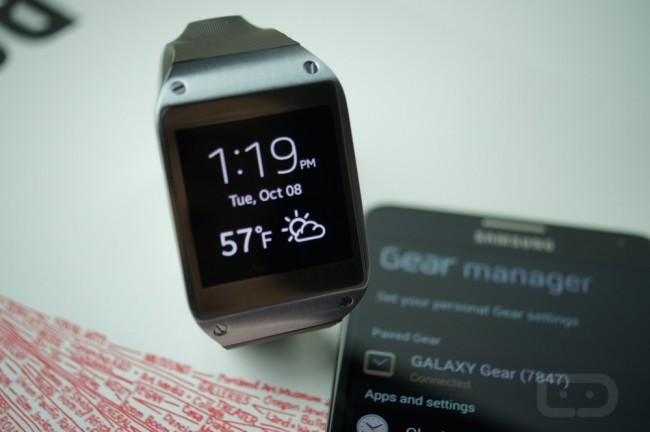 Device Integration
Thankfully, the one thing this device has to do, which is connect to your smartphone (Galaxy Note 3) wirelessly via Bluetooth 4.0, is done flawlessly. Upon initial connection, you simply tap the back of your Note 3 to the charging cradle of the Gear, and it automatically pairs. No insertion of codes or passkeys needed. Once connected, every change you make through the Gear Manager app on your smartphone takes place instantaneously on the watch; whether that be changes to the clock face, application favorites, or anything along those lines. Another way the integration is highlighted is through the camera application. After snapping pictures on the watch, you can easily transfer the photos taken via Bluetooth to the Note 3 for instant uploading to either Instagram, Facebook, or wherever else you feel like posting them. Keep in mind, the camera takes perfectly square photos, so IG addicts take note. Wink wink.
With that said, keep in mind that future support for the Galaxy S4, Galaxy S3, and Galaxy Note 2 is on the way. The devices will need to be updated to Android 4.3 in order to utilize the Bluetooth 4.0 radio found inside of them. It's a funky process, and completely limits the sales of the Galaxy Gear, but Samsung insisted on growing its own ecosystem instead of allowing non-TouchWiz users to use the watch. For this simple reason, we are looking forward to seeing Google's take on a smartwatch – one that will hopefully be compatible with all Android devices running a certain version of the OS. Take note, Samsung; this is Android and not iOS. As a community, we don't really take kindly to closed ecosystems.
Somewhere in the Middle
Hardware
As of late, most of the smartphones we have reviewed this year all feature some fantastic specs – with quad-core processors, 2GB+ of RAM, high-res 1080p displays, and the list goes on. None of those are necessary when creating a smartwatch, but when it's priced at $300, you better be getting more than what comes with the Galaxy Gear. This device features a 1.63″ Super AMOLED display (320 x 320 resolution), an 800MHz Exynos processor, 512MB of RAM, 4GB of onboard storage (non-expandable), a 1.9MP camera capable of 720p video recording, Bluetooth 4.0, two microphones, one speaker, and an insanely small 315mAh battery. While the device operates just fine with these specs, and you will probably never notice any "lag" or "jank," is it bad to say we want more? This is after all a $300 device, and you will be lucky to get a full days use out of it when putting it through its daily paces. On top of the small battery, Samsung opted for a full color Super AMOLED display (which also eats at the battery) that you can't view very well in direct light, a camera sensor so small it's practically worthless, and only 4GB of storage that will get filled up in no time if you like snapping lots of pictures and downloading applications.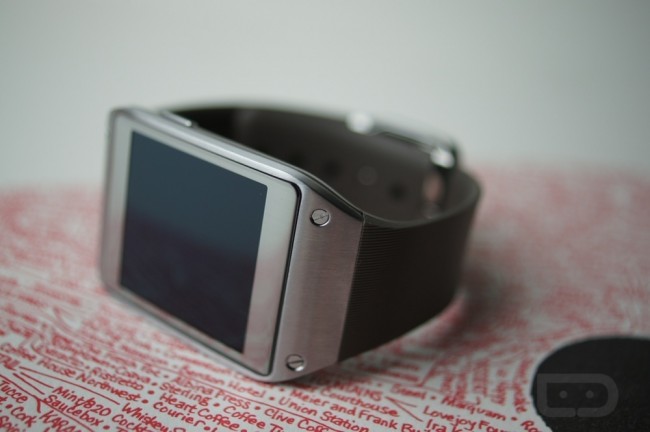 Camera
Since the camera is here, and it's not like we can remove it, we might as well get some use out of it. When used, the camera is a bit funky, but does get the job done just fine. The shots are what you would expect from a 1.9MP shooter (max resolution of 1392 x 1392), and it should really only be used as a last resort. If you can utilize the Note 3's 13MP camera at the time, then there is no reason to use the shooter on the Gear, since every photo taken needs to then be synced to the Note 3 for uploading to sites and social networks. With that said, if you want to take photos using the watch, then you can expect some lackluster shots to be the result. It features an Auto mode and a Macro mode. Both produce dull and somewhat colorless images, but for some reason, we can't really knock the device for this. It's a camera inside of a watch. For that reason alone, we have to place it in this section and not in the negatives. When you want it, it's there and does work when you need it to. Some samples can be seen below.
Device Interface and Interaction
Samsung did a fairly good job at making interaction with Galaxy Gear simple and easy to learn. The entirety of its interface and control is based on gestures, with swipes and taps commanding your backs and selections. When on the homescreen, you simply swipe either left or right to access favorited applications and modes, then there is also an "app drawer" that carries all of the apps found on the device. When inside of an app or menu, all you have to do is swipe from the top of the screen to the bottom, and it takes you to the previous page. For instance, when you are inside of the camera app, just swipe down from the top and you are returned to the homescreen. If you are on the homescreen then swipe from bottom to top, you are met with the Gear's dialer, which will then allow you to make phone calls through the device via the Bluetooth connection.
In addition to simple swipes to navigate, you can also two finger double tap on the display and be met with your battery status, as well as quick controls for the device's brightness and sound volume. If you two finger long press anywhere on the device, you are met with a multitasking interface that all Android users should be familiar with. All of this works great, but the reason it isn't marked in the "Good" section is because sometimes the device doesn't recognize your taps or swipes, forcing you to retry. It's sort of a pain and you must always make sure your gestures are firm and direct. It's a great interface, but could use some more tweaking to make it more sensitive to your finger's movement on the display.
The Not-so-Good
Existing Application Compatibility
The smartwatch is supposed to be the perfect extension of your existing smartphone experience. You should be able to view incoming emails and text messages, then be allowed to reply to them using the watch without having to touch your phone a single time. In my opinion, that is the watch's true purpose. Given that this is Android, you have to assume that most users are going to be using Gmail for their email needs, and not Samsung's proprietary email application. This idea must have gone completely over their heads, as neither Gmail or Google's Hangouts application is supported on the device. I would say about 90% of the notifications I receive throughout any given day are not supported on Galaxy Gear. For this reason alone, I find the watch to be more useless than useful, and that's a real problem when met with a $300 price tag. If I can't view my Gmail, and I can't view my incoming instant messages, then what's the point? Future compatibility might come, but there is no word on support from Samsung or Google. For now, when those notifications come in, you must "view on device" which then automatically turns on your phone's display and opens up the application that has a notification. Again, this is the Note 3 we are talking about, so pulling that thing out of your pocket is more of a risk than anything else. And isn't the point of a smartwatch to make you less inclined to pull out your phone for everything?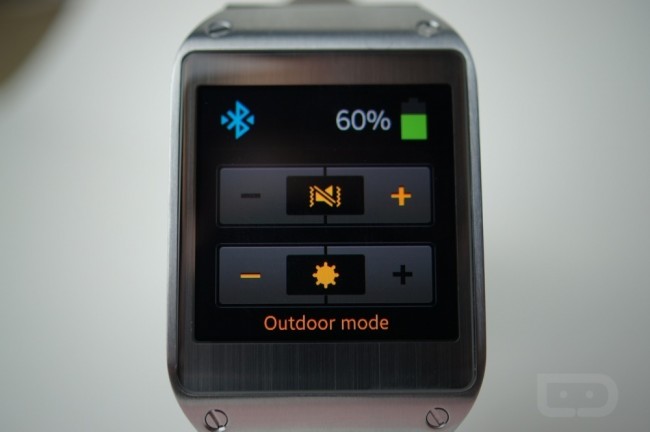 Battery
The Galaxy Gear features a 315mAh battery, capable of holding a charge for a single day of usage. If you want to use the Gear as a daily device, you will need to keep its charging cradle plugged in right next to your bed, as there is no way it will last you any longer than that. The Super AMOLED display is easily the cause of most of its drain, plus the addition of its always-working sensors to notice movements of your wrist. You can disable its sensors, but then you lose even more functionality of the device, as you then have to hit the power button to turn the display on. Thankfully, there aren't many apps available that would also eat up your tiny battery, but still, most people have expressed that they don't want their smartwatch to die after only a single day of usage. At least give us a week or something more than 24 hours. It's just too easy to place the watch down, let it die, then never charge it again.
Application Ecosystem
Samsung announced at the time of unveiling that the Galaxy Gear would launch with around 70 applications. We should have assumed that most of them would be completely useless, only to get used by a very niche crowd. That pretty much sums up what you have to work with when it comes to application availability, with a few good apps and big names thrown into the mix. For starters, it does have some good productivity apps like Evernote and Runtastic, but the majority of apps you see in the Samsung Apps store are just boring. There are plenty of third party clock faces, Snapchat, a Spin the Bottle app, and Path, the only social network app that is currently available and probably will ever be. Will Facebook and Twitter spend valuable resources to produce apps for this platform? We think not. It would have been much nicer to see some great apps launch with the device, but again, if you want good apps then you might as well just be using your smartphone and not a watch.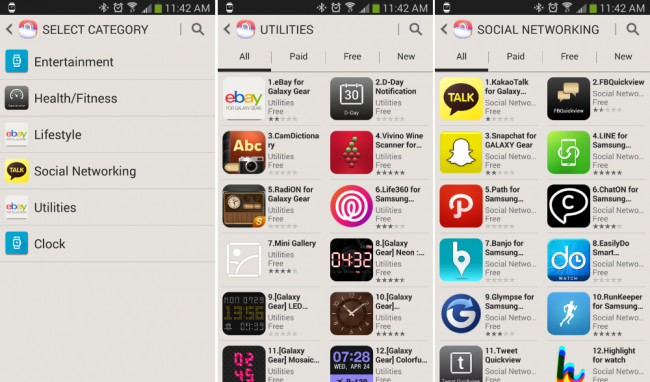 Price
$299.99 is the price tag placed upon the Galaxy Gear. After the time we have spent with the device, there is no way to justify such a high price point, especially since you could previously buy a Nexus smartphone for the same price on Google Play. Heck, you could even spend the same amount of money and get yourself a portable gaming console like the NVIDIA SHIELD for that matter. With what the watch currently offers in terms of functionality, usefulness, and overall usability, the price would be more suitable around $149.99 in our books. Sorry, Samsung – you were way off on this one.
Device Compatibility
As of right now, the Galaxy Gear is only compatible with a single smartphone on the market – the Galaxy Note 3. If Samsung was looking to sell out of their inventory, this doesn't seem like the best move. While we understand Samsung's want to get people using its smartphones and invested into its ecosystem, for everyone else that might want a Galaxy Gear, they are out of luck. Future support is coming to the Gear for the Galaxy S4, Galaxy Note 2, and Galaxy S3 thanks to software updates to Android 4.3, but there is no official timeframe for those as of right now. In terms of what phone you can use this device with, everyone but Note 3 owners is currently S.O.L.
Gallery
Videos
Apps available for Galaxy Gear
Overview
Verdict
Should you buy the Galaxy Gear? If you are the owner of a Galaxy Note 3, or a device that is soon to be supported thanks to updates to their firmware, then it's an interesting decision. Sure, the device looks cool and offers a few neat functions, but none of them add up to $300. No way. Then again, if you enjoy adopting first-gen hardware, and companies' attempts at being first-to-market with devices, then go for it. I have to say, if you pay full retail for this device, you will inevitably end up disappointed with your purchase.