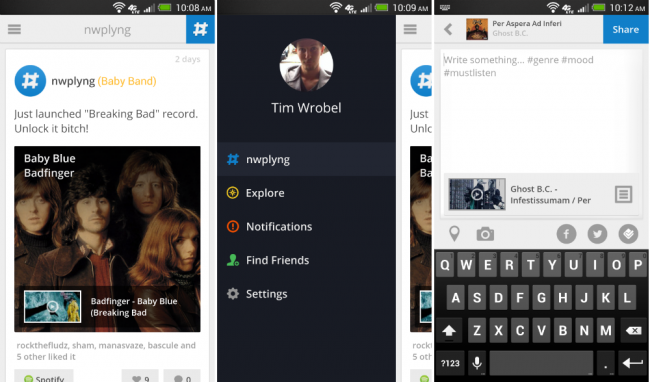 Like to push your musical taste upon your friends and their Facebook/Twitter accounts? Nwplying is the new app for you. With Nwplying, you can take any song you are listening to and post it publicly to your social networks, making sure all of your followers know exactly how you get your groove on. 
From my time with the app, it appears that the service posts the most relevant content to the song, and not an actual mp3 or file on your feeds. Instead, it will post a YouTube video or something legal and shareable instead. For example, I attempted to post Drake's new song "Too Much" on Facebook, and the service wanted to post a live performance of the song he did on Jimmy Fallon. Not the best representation of the song, but it gets the point across.
You can pretty much find any song you are listening to on the app, as long as there is a recorded version of it up on the Web that you can share. It's a great way to help your friends find new music and then maybe, once they download it too, they can return the favor.
The app is free to download, and so far, accounts on Facebook, Twitter and Foursquare appear to be supported; possibly more down the road. Until then, give it a try if you are the sharing type and let us know what you think down below.
What are you currently listening to?
Play Link