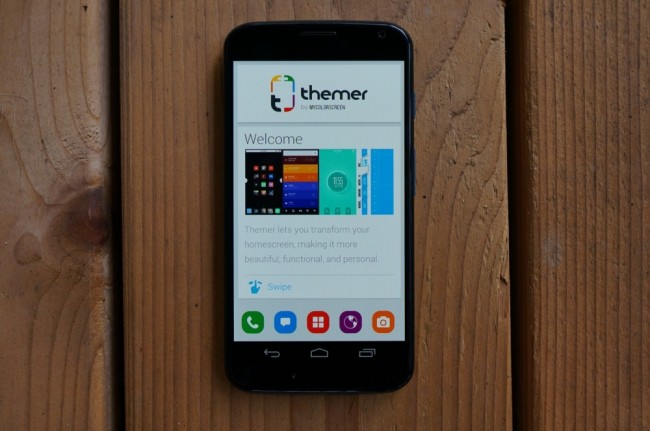 MyColorScreen's Themer is now available on Google Play for those of you interested in the design sharing site's take on an automated theme application. As of now, it's still in closed beta, meaning you have to sign-up to receive a code that can unlock the app's capabilities. It's also free, so you may as well download and sign-up to get your name on the list. Thankfully, we received a code this morning and have since filmed an entire tour of the app and its features. You'll find all of the details, including that video below. 
Before we begin, you should probably understand what Themer is, which is a third party launcher that can quickly download and apply themes to your phone in a matter of seconds. In a way, it's similar to what we saw with Buzz Launcher in that it has a store of sorts, which you download and apply themes from. So Themer won't wipe out your Nova Launcher setup – it will instead run as a completely separate launcher.
The themes can be marked as a "favorite," previewed, and applied with a couple of simple taps. Each will need to be downloaded upon first application, but they are then stored in a "Downloaded" section in case you want to go back them later. There aren't a ton of themes at this time, but remember that this is a beta. We'd be surprised if there weren't new themes added quite regularly.
The app really is incredibly simple to use, but it also delivers immediate results that I think you'll appreciate. For those who love advanced settings, it has an area in Settings for you as well. You can tweak grids, add or remove docks, hide notification bars, and move things around until you are completely satisfied.
Again, you can grab the app today from Google Play, but you'll have to sign-up and hope that an unlock code arrives shortly.
Play Link