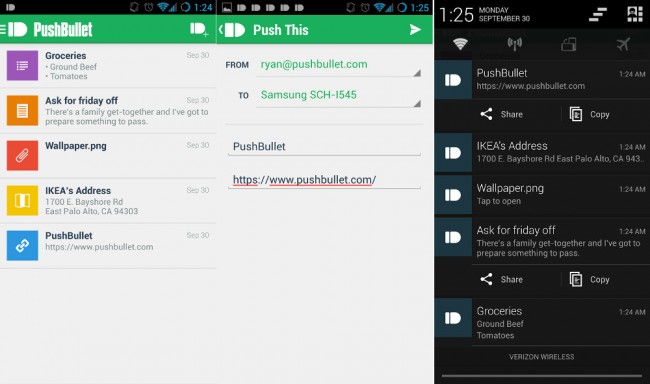 PushBullet, one of our favorite producitivity apps, received a major update today to version 11.1 which introduces a UI makeover and all sorts of new features. For those not familiar, PushBullet originally started out as an app that allowed you to instantly send information to your Android device from the web. You could send a quick list, an address, note, link to a website, or even a file. It has grown over the last year, now allowing you to send information from one mobile device to another, assuming you have multiple Android devices. 
In today's update, though, you get a brand new UI that turns the app into a modern Android app with hamburger menu (slideout navigation), a way to browse all pushes from any device, and new widgets that work on both home and lock screens. The changelog also says that you can push files with the app, but I have yet to figure that one out unless they mean links and messages. Edit: Pushing of files needs to be initiated from the file you want to share. For example, if you want to send an image, you need to be on that image, then press the Android share button, and choose "Push This." You can then send files through the app.
If you aren't using PushBullet and own multiple Android devices or constantly move from computer to phone throughout the day, you should be using PushBullet. Don't forget to pick-up the Chrome extension as well to make the experience that much more seamless.
What's new:
Completely redesigned and improved UI!
You can now push files with the app
Check out the new homescreen and lockscreen widgets
Browse all of your pushes from any of your devices
Improved push reliability
Added options to send us feedback in the app
And more!
Cheers Adam!