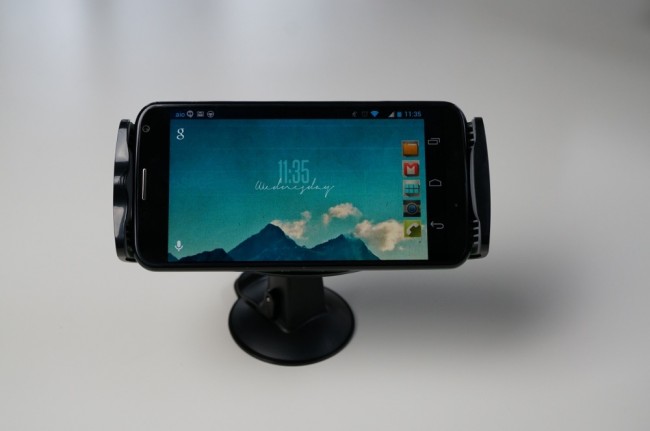 You have already seen our quick hands-on with the Griffin PowerDock for the Moto X, but not all of you sit behind a desk all day and potentially need something a little more mobile. Enter the Griffin Vehicle Dock, which also runs $39.95 from Motorola (assuming they have it in stock) and is technically the official Moto X dock since it carries "Made 4 Moto X" branding on it. 
This is your typical car dock with mount, suction and adhesive properties, and swiveling head piece. You'll find an opening for the headphone jack on one end with a microUSB plug on the other. There is a microUSB charging port centered underneath, rubber grips to hold your device in place, and no included cable. That's right, if you want to actually charge your phone while driving, you'll need to supply your own power plug.
The quality seems good enough. The plastics used are quite thick and not necessarily cheap feeling. Assuming the plastic holds up over time from swapping your phone in and out, this dock should secure your device firmly and is a reasonable option.
In the video below, you'll see it all in action.
Video
Gallery