At this point, its no secret to us that HTC is looking to hop into the oversized device game with what we believe will be called the One Max. We have had some pretty clear images leak of the device up to this point, but nothing to really judge its large 5.9″ screen against fairly. Today's latest leaked picture puts it (allegedly) up against the Galaxy Note 2 and Note 3 so we can get a better estimation of its size.
As you can see from the picture, the One Max is enormous, even compared to the newly announced Galaxy Note 3. It looks both taller and thicker than Samsung's latest tablet-phone hybrid offering. How big is too big? We're pushing Galaxy Mega size here, aren't we?
Other than the new comparison that we saw above, nothing new was learned from this leak other than that it scored a 26417 on the AnTuTu benchmark scale, which points towards a Snapdragon 600 processor packed inside, not the 800. The specs that we saw in the last leak seem to be true, with the 5.9″ 1080p screen being the main attraction. Sense 5 is definitely on-board with a suspected 2GB of RAM, Android 4.3 and a 3,300mAh battery as well. But we also did get another shot of the fingerprint scanner on the back, for whatever that is worth.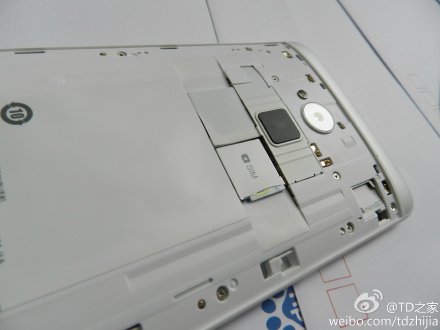 Any interest in the One Max at all if it hits the States?
Via: Phone Arena | SIMOnlyRadar