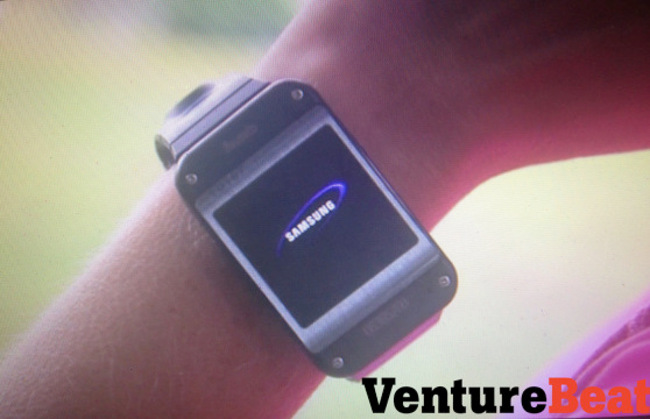 According to VentureBeat, that right there is the new Samsung Galaxy Gear smartwatch that will be unveiled next week in Berlin. As you can tell from the pictures, which VB claims to have been snapped from a promo video of the new wearable gadget, the watch is quite large, possibly weighing in with a display at around 3-inches. That large size is likely due to all of the tech that Samsung managed to pack in, all of which we'll try to get through below. 
In terms of size, this report claims that the Galaxy Gear is every bit as big as it looks from these shots. In fact, Christina Farr mentioned that the prototype of the watch that she was able to play with didn't come close to fitting on her wrists, saying that it "dwarfed" them. The watch she used came in black and grey, and was "clunky and masculine."
In terms of specs, we're looking at a watch that can last around 10 hours, features a 3-inch display, 4MP camera, WiFi, and Bluetooth. On a software front, you can expect heavy S Voice and S app integration, along with social networking connectivity, fitness apps, and potentially even the option to initiate calls from your phone through the Galaxy Gear. There is a chance that the Gear will be able to connect to any Android device, though this report doesn't specially hammer that point home.
The drawing below gives you an idea of the button placement, including the camera.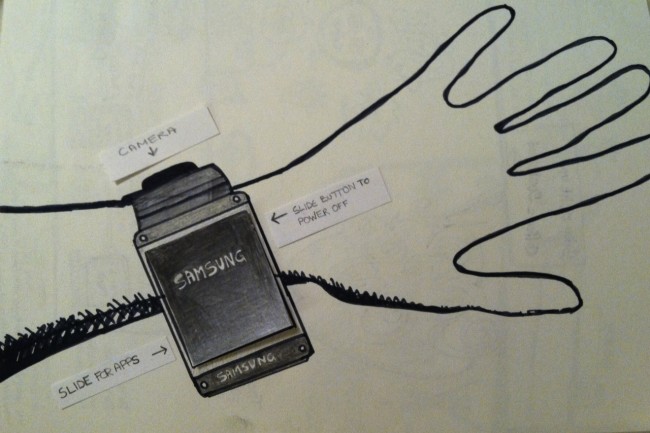 Below, you'll see some additional shots of the UI, which looks quite colorful. There are icons for the camera, fitness activities like heart rate and step counting, and even a gallery icon. The watch is more than likely navigated through using swiping gestures, similar to an iPod Nano (the old square style) or even the MotoActv.
From this report, it's pretty clear that Samsung is going to push fitness with the watch to not only compete with fellow smartwatches, but to also take on Nike and Fitbit.
No word yet on pricing, but we should know that in a couple of days.
What do you guys think?
Via:  VentureBeat
Cheers Justin, Daniel, and Epyon!