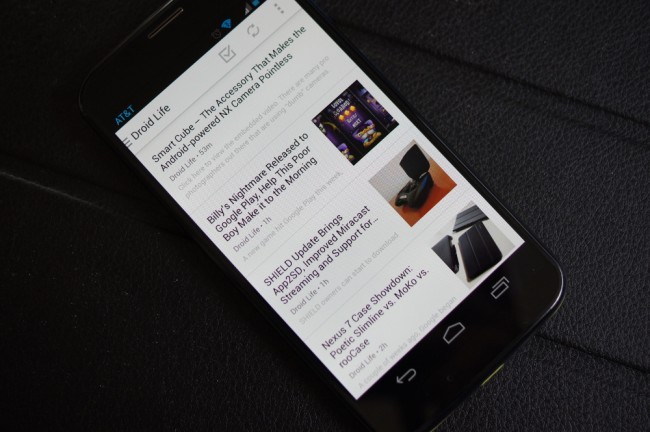 Digg released their new Android app this afternoon, bringing yet another RSS reader to the table for those looking for the best Google Reader replacement. At first glance, it's hard to argue against it's beautiful design. It (mostly) follows Android design guidelines with its swipe gestures and side navigation menu, is as clean as you can get thanks to the white and black theme, and runs incredibly well. This should definitely give Feedly a run for its money, assuming it can continue to update with features. With that said, for a first launch, this is a solid start. 
Notable features:
Quickly swipe back and forth through Digg's Top Stories, as well as through any feed or folder in Digg Reader. Choose from either the web view or the parsed text view.
Digg or save any story;  send it to Instapaper, Pocket or Readability (automatically upon save, if you choose);  and share to Facebook, Twitter, Google+, LinkedIn, Tumblr, WordPress, Buffer, Dropbox, Google Drive, email, text or any other sharable app on your device.
Search Digg Top Stories.
Sort your Digg Reader items by popularity to quickly see which of your items are the most talked-about on the social web.
Log in to Digg Reader with your Google, Facebook or Twitter account.
Search for and add new feeds. Create, organize and delete folders.
If you so choose, post your diggs automatically to your Facebook timeline.
Play Link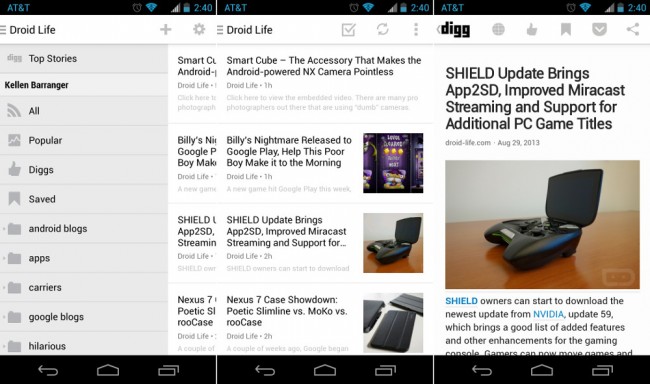 Via:  Digg