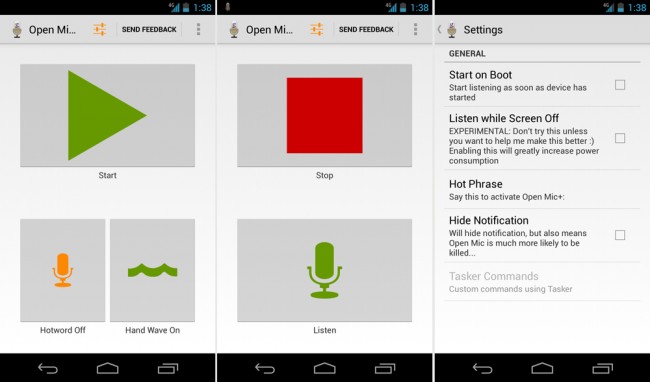 When we posted about Motorola's Touchless Control app hitting Google Play yesterday, there were many readers that were a little disappointed that it only worked with the new Moto devices. However, Android developers always love to step up and make our days so if you are looking to get some voice control action on your new phone, Open Mic+ is something you need to check out.
Booting up the app for the first time, you can either start the app listening manually, or you can set a hotword to activate the app. The default phrase is "Okay Google," but this can be changed to whatever you want. The settings menu isn't large, but very helpful. You can set the app to start when your phone turns on and you can set the app to listen constantly even when the screen is off. Be forewarned though, this will eat up battery like you won't believe. The only way that the Moto X avoids that battery drain is thanks to that low-power CPU core they have dedicated to listening. Did I mention you can pair this app with Tasker to get some really cool stuff going on?
Overall the app is fairly consistent. Using the hotword to get to Google Now works most of the time, but sometimes the phone just doesn't respond and it takes a few times to get it going. The developer is looking to put a lot of time into this, so expect bugs and kinks to be worked out pretty quickly. And the app is completely free, only caveat is that your device must be Jelly Bean or up for it to work.
Play Link
Cheers Open1Your1Eyes0!