Based on newly leaked high-res photos from Sony Alpha Rumors, you won't have to worry about the pixel wars or camera comparisons when buying your next smartphone. What you are seeing above is the Sony Lens G or "Lens Camera," an attachable accessory for Android (and iOS) devices that brings the same sensor found in the well-liked RX100 Mark II to your smartphone. Seriously. After connecting the lens wirelessly (NFC or WiFi) to your phone, your device acts as the view finder, allowing you to take some classy selfies. 
According to this report, there will be two Lens G products – the QX100 and the QX10. The QX100 is the higher-end of the two, which as I just mentioned, will include the same sensor/lens combo as the RX100 Mark II. The QX10 on the other hand, is more in line with one of Sony's CyberShot products, meaning it will likely be more affordable and compact.
Pricing has not been revealed, but you'd guess that Sony would give you some type of discount if you are using your phone as the viewfinder and to help facilitate the photo taking experience. The RX100M2 is currently priced at around $750 – maybe we'll see the QX100 drop to around $600? Tough to tell.
No matter what, these two products give serious photogs options without having to carry a full-sized camera. Since we all already carry around smartphones, maybe an attachment is all we need in the end? Well, assuming that either of these Lens G products can fold up or compact in size for easy packing. I can't imagine that the world is ready to carry around an awkward lens attachment that runs a half-dozen Benjamins.
Would you mind strapping one of these things to your phone/tablet?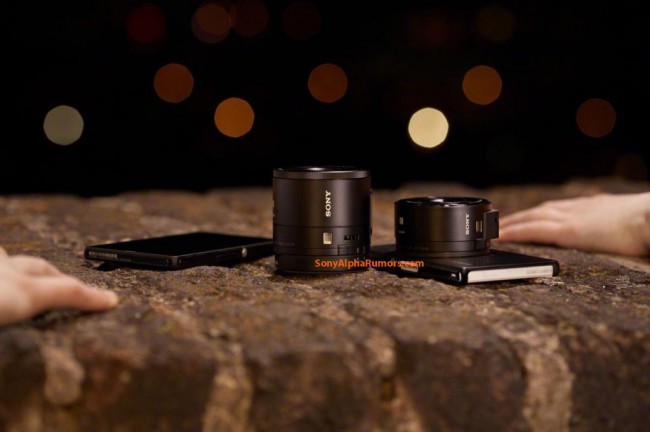 Via: The Verge | Sony Alpha Rumors