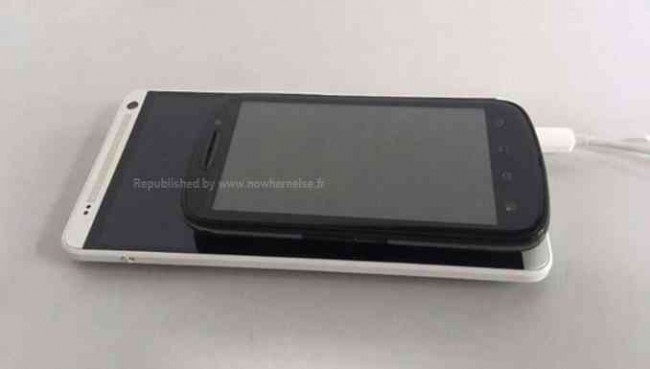 Yesterday, we got a fantastic look at HTC's upcoming One Max smartphone. They were some good pictures that showed off a massive-looking device, but it was still hard to tell just how big this phone was. Thanks to a new leak, we now have it sitting on bottom of another device (an XT882 from Motorola), so we can see a good comparison of the One Max against something else that is already on the market. For your reference, the XT882 has a 4″ display, with dimensions coming in at 4.81″ x 2.46″ x 0.52″.
The One Max is still expected to launch with a 5.9″ 1080p display, a Snapdragon 800 processor, 2GB+ of RAM, an UltraPixel camera, BoomSound, and hopefully HTC will throw in some other goodies to take advantage of that gorgeous display.
Show of hands – who's interested?
Via: NoWhereElse