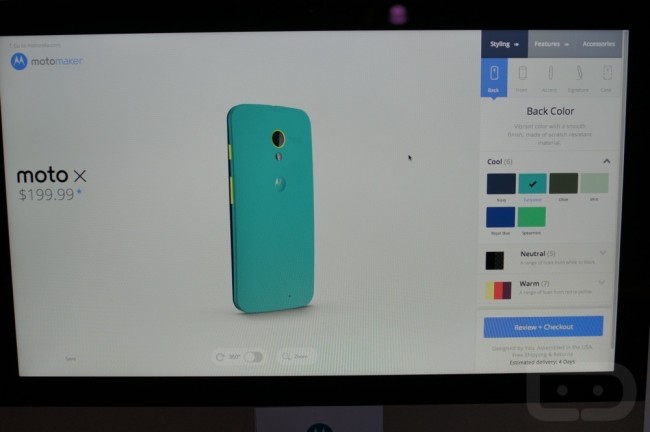 The rumors were true, Motorola is indeed allowing future owners of its new flagship Moto X to customize their phone like never before. The color choices are as wild as Motorola's goals with this new idea, but so far, we're really liking what we have seen.
I spent a ton of time this morning with Motorola's online customizer for the Moto X – it's called MotoMaker. This is where Motorola is truly trying to standout from a crowded smartphone space by allowing users to fully customize the look of their phone. From the front face to the back plate to the accented buttons to the wallpaper to engraving on the backside, there really is nothing like this. All of the customizing happens in Texas, where the phone is made, allowing Motorola to offer customers an insane turn-around time of about 4 days (sometimes less).
At launch, the MotoMaker and all of its customizations will only be available to the AT&T variant of the phone, something we reported a few weeks back. The goal is clearly to make this feature available to all carriers, but Motorola wasn't ready to announce anything just yet. So yes, this is another AT&T exclusive, though it shouldn't be too long before you can customize a Moto X for your favorite carrier.
So how does it work? Let's walk through it step by step.  
From the start screen which will be located at motomaker.com (pictured at the top), this is where you dive into colors for the back of your Moto X. Motorola has categorized them based on some specific palettes of Cool, Neutral, Warm, and Wood (yes, wood). You can quickly click from color to color, all the while seeing a live preview in your browser. You can even go full 360-degree mode if you'd like.
Once you have chosen a back color, you move to the front where you can choose from either white or black. There could be additional colors in the future, but these are the two choices for now. Motorola plans to allow for fans to vote on future colors, so stay tuned for that.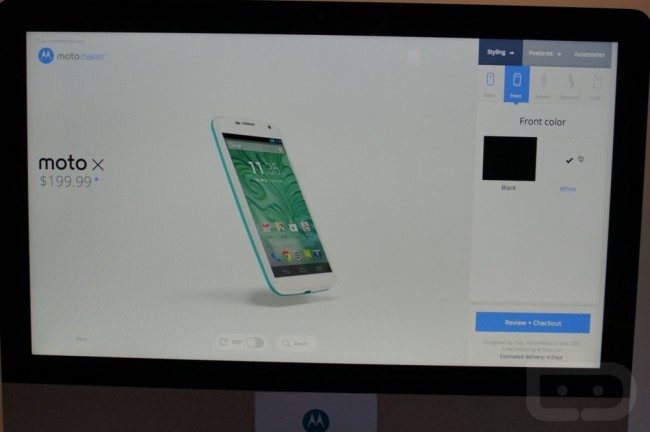 After the front, you get to what may be the coolest part – customizing the accents which are items like the volume rocker and power switch or the ring around the camera. This is where you can really make the phone your own. At this time, there are 7 options for the accents.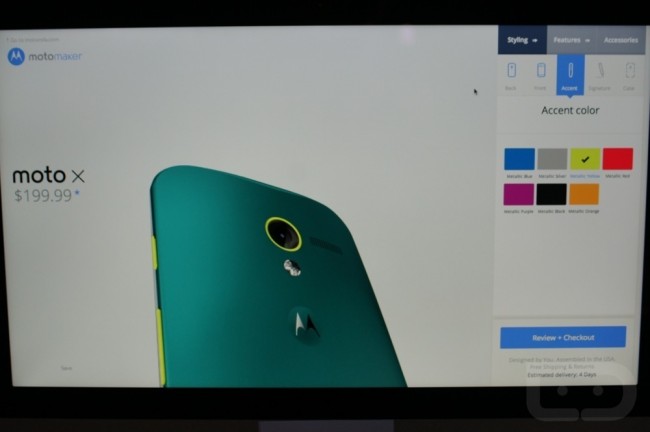 After choosing an accent, Motorola will let you engrave the back with whatever you'd like at no extra charge. They did tell me that there is a filter to stop those who want something like "f*ck" on the back, but almost everything else is fair play.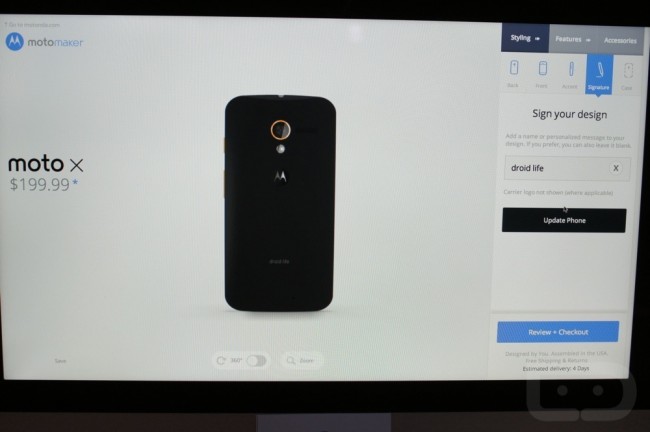 After you have engraved, you can choose from a handful of select cases, one of which is clear plastic as to not hide the color scheme you just picked out.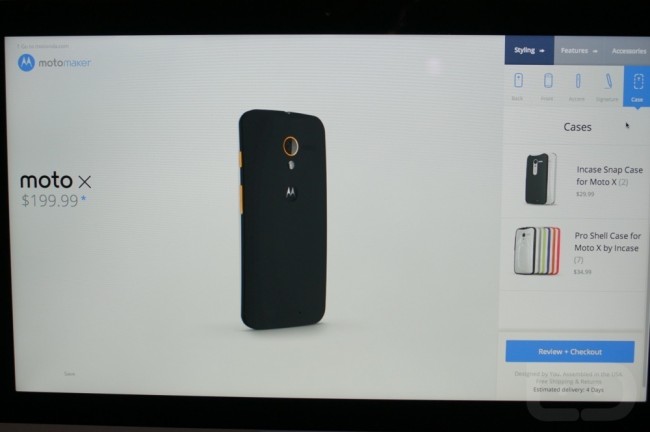 Once you are finished designing the appearance, you get to choose storage amounts in the phone. The two choices are 16GB and 32GB. The 16GB model runs $199 on-contract, while the 32GB model will jump up $50 to $249.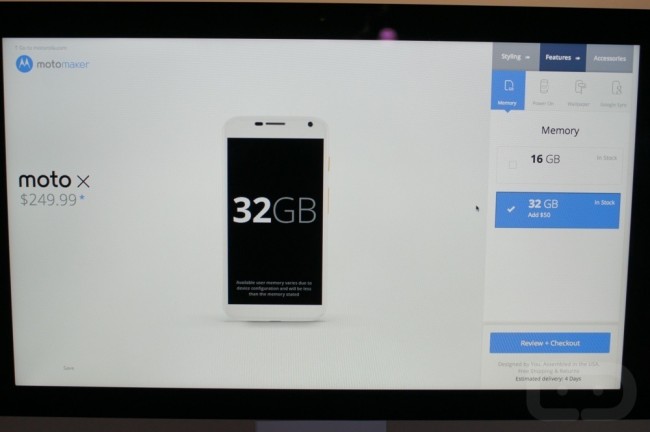 To take it all a step further, Motorola will then let you toss in a special message on the boot animation, similarly to what you did to the back with engraving. It could be as simple as "Hi!" to "Droid Life."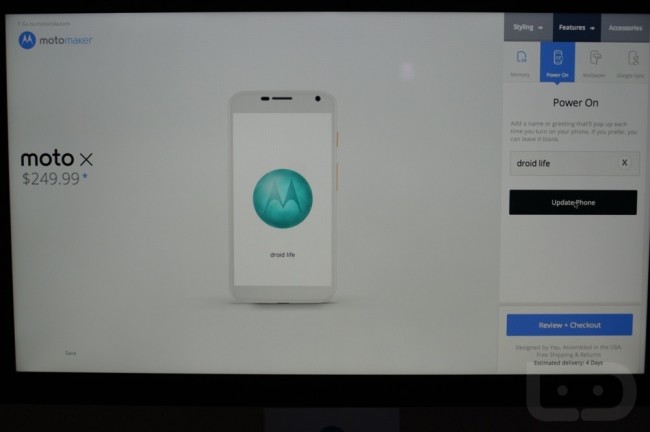 After you choose the boot animation settings, Motorola will bring up a set of wallpapers that you can have default from first boot. They initially select one that matches your color choices on the phone, but you can choose any that they have available.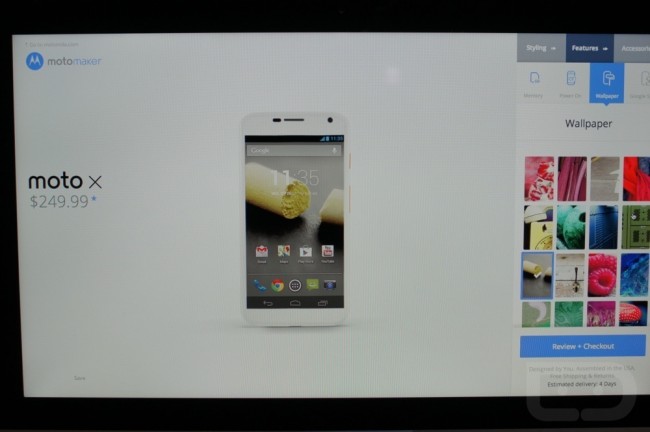 Before moving onto accessories, Motorola will let you sign-in to your Google account on the phone, so that when it arrives, you'll only need to enter your password and then be on your way to downloading apps and other setup processes.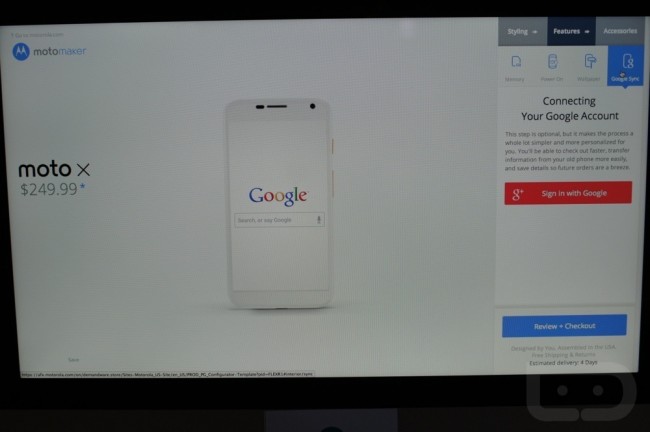 Once setup internally and externally are completed, you get to choose accessories that range from additional wall chargers to SOL Republic headphones that match the color choices Motorola offered during design.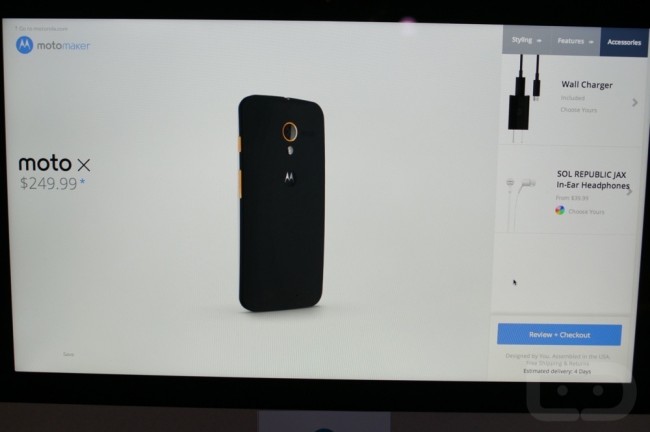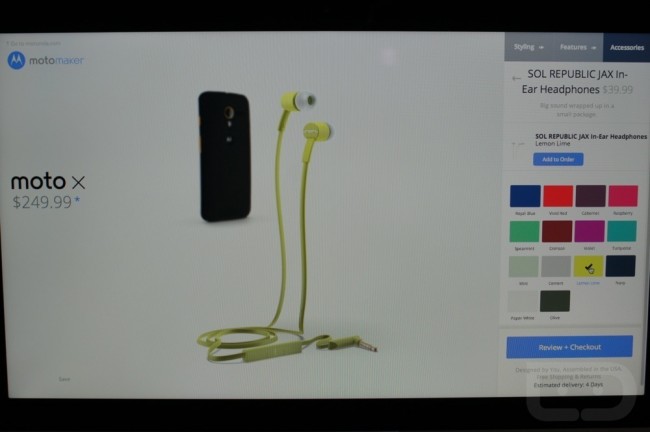 Here is the review screen so that you can confirm your custom Moto X.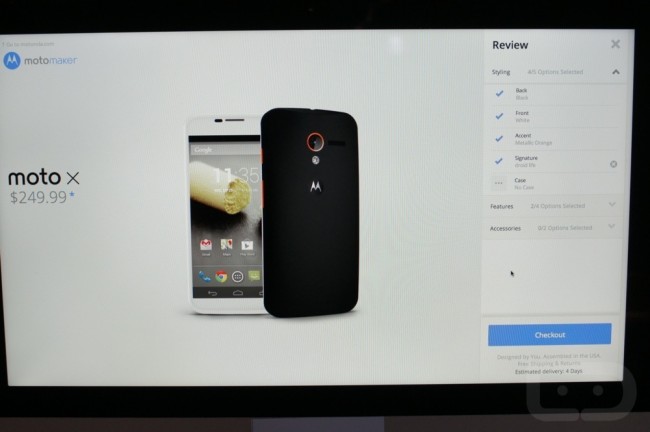 And finally, you get to choose at checkout if you are signing up through AT&T, or if you have a Moto X Card. A Moto X card is like a voucher or gift card that you purchase in AT&T stores that can then be redeemed online. The idea here, is that you might want to walk into a store to get your hands on the phone, but then want to turn around and customize a phone online. Assuming you like the phone, you can sign-up for service with AT&T, purchase the phone on the Moto X Card, and then head home to customize one online. The Moto X Card has a redemption code on the back.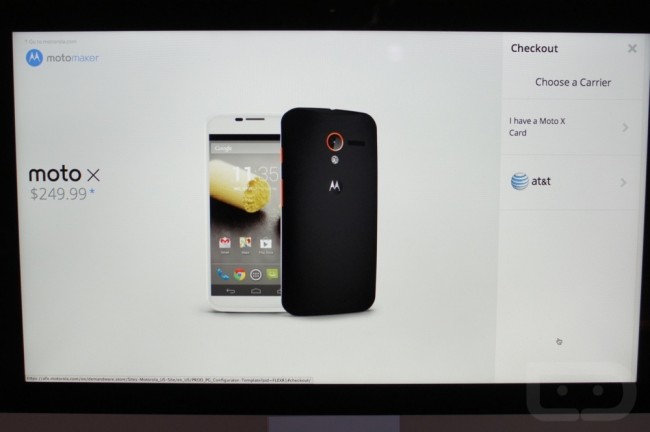 So that's MotoMaker! Again, it will be an exclusive AT&T feature at launch, but it's clear that Motorola is looking to push this to other carriers.
Update:  Here is a video tutorial from Motorola.
http://www.youtube.com/watch?v=HnTvmB44Cec