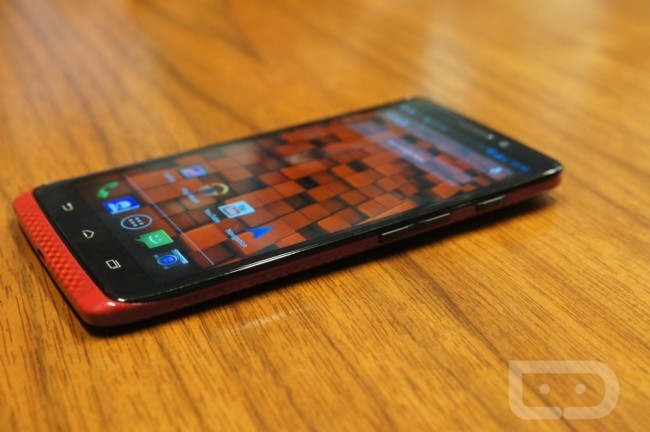 When Motorola took the wraps off its new DROID family of phones last week, one of the highlighted areas involved their new X8 Mobile Computing System that is tied to the dual-core Snapdragon S4 Pro processor inside each phone. They gave us a general overview of this idea that they had an octa-core type of experience inside each device, with cores dedicated to performing low-power tasks. But the dirty details were somewhat missing.
Today, Iqbal Arshad, Motorola's senior vice president of engineering, shared some of the secrets with PCMag on the eve of the Moto X unveiling, since well, the Moto X is expected to carry a similar CPU setup. 
From what we have gathered from Iqbal's comments, the X8 system is a cluster of processors and "then some separate elements of the system," that allow for "intelligent, probabilistic computing." Don't be fooled though, the base is indeed that dual-core Snapdragon S4 Pro clocked at 1.7GHz, but Motorola has done some things to its firmware to make it somewhat of a custom job.
For the chipset geeks in the building, Iqbal said that they have "done additional optimizations on top of that such as optimizing the entire Linux user space to move it to an ARM instruction set, cache optimization, Dalvik just-in-time optimization, and we've changed the file system."
But outside of the Snapdragon processor, they also included a "contextual computing processor" and a "natural language processor" inside X8. Arshad wouldn't reveal where they got these additional processors from, but did mention that they aren't ARM. The contextual computing processor deals with the sensors, display and touch interaction, but also may act as the main processor when the phone is in standby mode. The natural language processor deals with audio, noise estimation and noise cancellation
Arshad mentioned that the combinations of these processors and custom firmware has helped to extend battery life and improve performance, up to 50% better than their competition. He also said that if they didn't have the contextual and natural language processors in place that they "would need two additional batteries."
But maybe most importantly, Motorola can take X8 and apply it to any mobile processor because they have "decoupled" all of their customizations from the legacy CPU. In other words, X8 will show up in devices sporting even newer or more powerful mobile processors down the road.
It's interesting stuff, to say the least. We were once disappointed by the inclusion of a dual-core processor that's a year old, but if Motorola's X8 system can live up to any of this newly built hype, we may not care what CPU is inside.
Via:  PCMag
Cheers Max!