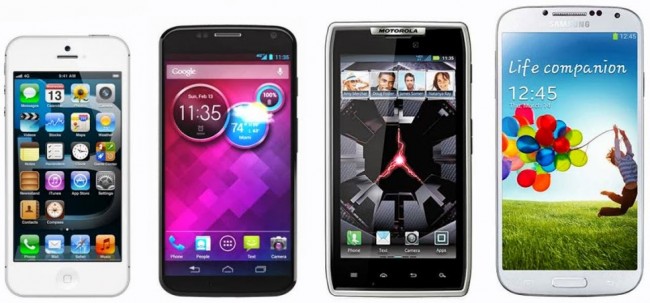 In his latest leak, Taylor Wimberly has posted up a photo size comparison of the Moto X next to the iPhone 5, original DROID RAZR, and Samsung Galaxy S4. We can guess at Moto's intention for letting this picture out, but it seems sort of obvious that they are showing how compact the phone is even with its 4.7-inch display. By comparing to two of the world's hottest phones plus one of their own, I'd say it's safe to assume that design is going to be a key selling point come Thursday. 
Up against the iPhone 5, you can see that it doesn't actually stand that much taller, but the screen size is significantly different at 4.7″ and 4″. Thanks to little bezel on the sides, along with a minimal forehead and chin, Motorola was able to create what appears to be a truly edge-to-edge display. It won't be massive in your hand, yet you'll still be able to enjoy plenty of big beautiful display.
When you compare it to the original DROID RAZR, I think it's obvious that Motorola is showing how far they have come in terms of design. The RAZR sports a 4.3″ display and a ridiculous amount of bezel. The Moto X, again, has a larger display in a much smaller footprint.
And last, against the Galaxy S4 I think Motorola is simply showing that the smaller package of the Moto X is the optimal size of a smartphone. Whether or not you agree with that is up to you, but the design ideas between the two phones are similar. Samsung also produced a device for 2013 that had a slimmer frame but with a bigger display than its predecessor, but it's still slightly bigger overall than the Moto X.
And yes, we can see that the Moto X is showing old ICS icons and the recently banished MotoBlur navigation icons. We'd assume that the photo is either slightly old or Moto got lazy with the screen shot they used for the phone. Taylor has produced solid info on the Moto X throughout its life as a rumor, so we're willing to give him the benefit of the doubt here. Focus on the size, not the icons, people.
Via:  +Taylor Wimberly