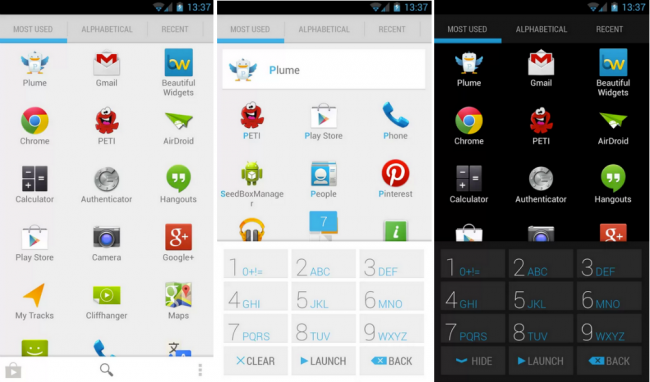 A simple question is raised by the developers of the newly launched Quad Drawer application, the same folks that created one of Google Play's most highly praised applications, Beautiful Widgets – How much time do you spend searching for apps on your device? Well, it may not seem like a long time for most people, but LevelUp Studios has found a way to make the process of locating your apps a bit faster. 
Quad Drawer is not a full launcher, but just an app drawer. It works alongside whichever launcher you use on your device, so it could be the stock Android launcher that comes pre-installed or it could be any number of third party launchers found on Google Play. When you open Quad Drawer, you are shown what looks like a regular app drawer, but there is a built in search function that allows you to type in what app you are looking for. No aimlessly looking through tons of icons. You can set how you want your apps displayed, in a grid pattern or in a list, but you can also organize your apps by alphabetical order or even by most commonly used.
The feature that makes the app very cool is the floating window. When enabled, a semi-transparent icon appears on your device's display. You can move this icon to whichever location you want and it will remain there even when in other apps or playing games. This way, you will always have access to your apps without needing to back out of what it is you are doing on your phone.
The developers placed two different themes for the app, one light and one dark, just in case you are going for a certain feel on your device. Overall the app looks and performs pretty well and is priced for only $1 in Google Play. Go check it out.
Play Link ($0.99)