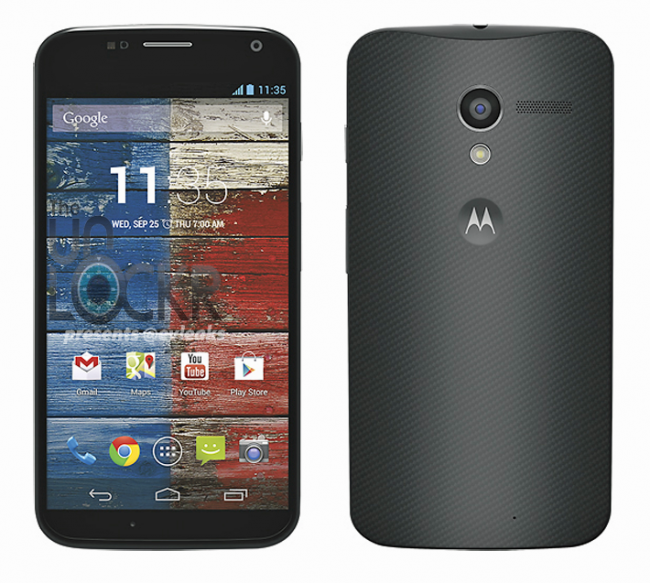 What a sexy device. That folks, is the cleanest image yet of the Motorola Moto X, thanks once again to @evleaks. It's a press render, in case you were wondering, that shows us both the front and back of what may be one of the most minimal designs in recent memory. 
On the front side, we're seeing what is believed to be the phone's 4.5-inch display, with on-screen navigation buttons and what appears to be stock Android. We have a front facing camera in the top right corner, sensors to its left (next to the speaker), and a spot left of center in the chin area that's either a mic or notification light. But since we know the phone will show notifications on-screen, that may very well be just a mic.
On the back, we're looking at what is believed to be a 10MP camera, with flash and Motorola "batwing" logo below it. There is a speaker to the right of the camera, along with a noise canceling mic towards the bottom right area. The headphone jack can be spotted at the very top-center of the device.
As I mentioned at the beginning, the design of this device is something Motorola should be proud of. The front is as edge-to-edge or all-display as it gets. The back, with its sloping body, looks like it'll be a dream to hold, especially if the screen size has been kept under 5-inches. Motorola is keeping it simple, while still adding some style. And how can you not be fan of their choice to not place the word "Motorola" anywhere on the device?
All signs point to this phone not having the most recent and most powerful processor or 1080p display, but everything we've heard from sources suggests that you won't notice or care. The performance is said to be exceptional, but I think it's obvious that Motorola is going for experience rather than specs. I just hope that means an incredibly reasonable price as well.
Update:  Here is the side profile of the Moto X (@evleaks):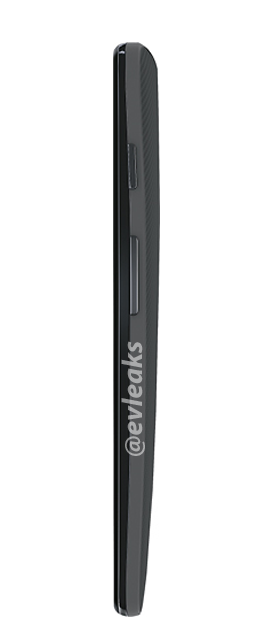 The Moto X will be unveiled on August 1. We'll be there to bring it to you.
Thoughts after seeing the phone like this?
Via:  The Unlockr

Cheers Ahmed, Scott and everyone else!