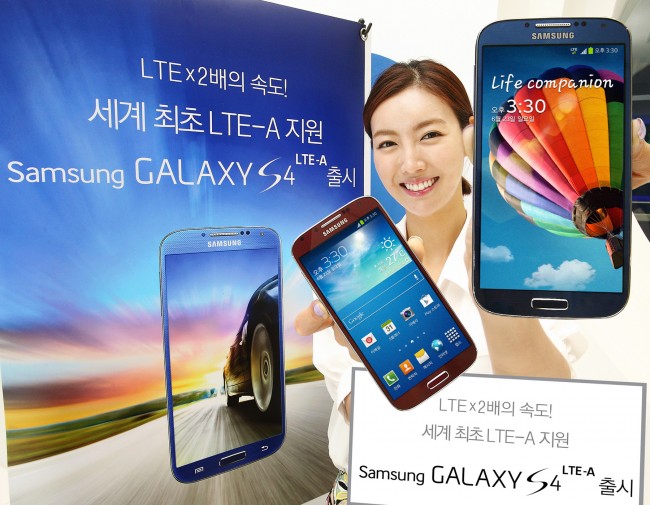 This evening, Samsung and SK Telecom, a Korean carrier that recently finished construction on the world's first commercially available LTE-Advanced network, announced the Galaxy S4 LTE-A. The LTE-A is the world's first device able to connect to an LTE Advanced network, as well as containing Qualcomm's newest flagship processor, the Snapdragon 800. 
Earlier today, a leaked hands-on and unboxing went up on the web of the new Galaxy device, complete with full retail packaging. In terms of what separates this and the regular S4 that everyone knows and loves, inside the LTE-A is upgraded GPUs, the 2.3GHz quad-core Snapdragon chipset and the LTE-Advanced radios. It still features the same 13MP camera, 2GB of RAM, Android 4.2.2 software, as well as all of that Samsung proprietary software.
The device will be available in both red and blue, hitting shelves sometime this summer in Korea. For now, Americans will have to remain patient to see something like this hit our shores.
http://youtu.be/FEMw9hJyn1E
Samsung LTE Leadership and Future-Focused Innovation Produces World's First LTE-Advanced Smartphone

Breakthrough GALAXY S4 LTE-A doubles network connection speeds and reimagines the smartphone multimedia experience

SEOUL, Korea – June 26th, 2013 – Samsung Electronics Co., Ltd., a leader in mobile technology and digital solutions, today announced the GALAXY S4 LTE-A, accelerating smartphone expectations with advanced multimedia experiences and the fastest downloads, web browsing, multimedia streaming and applications loading. The world's first commercially available LTE-Advanced (LTE-A) smartphone, Samsung's GALAXY S4 LTE-A, combines technology innovations included in the highly acclaimed GALAXY S4 with new advanced features and twice-as-fast network speeds to produce an unparalleled multimedia experience.

"Samsung maintains a unique position for delivering LTE innovations as a provider of the parts, devices and equipment required to deliver next generation 4G LTE services," said JK Shin, CEO and President of IT & Mobile Communications Division at Samsung Electronics. "The introduction of the GALAXY S4 LTE-A demonstrates Samsung's desire and ability to provide consumers with technological innovations that take advantage of increased network speeds to deliver richer and fuller experiences."

World's First LTE-A Smartphone

Samsung's introduction of the GALAXY S4 LTE-A, the world's first LTE Advanced-capable smartphone, is the latest expression of the company's efforts in leading LTE technology. Samsung's commitment to driving LTE adoption achieved its first milestone in 2010 with the launch of the Craft, the world's first LTE feature phone, and continued in 2011 with the delivery of the Indulge, the world's first LTE smartphone. In the last year, Samsung has also pioneered efforts to bring VoLTE network capabilities to users with the launch of the GALAXY S III LTE.

Doubled Network Speeds

The GALAXY S4 LTE-A's advanced network enables users to experience substantially faster speeds – double today's LTE speeds – by leveraging carrier aggregation, an approach that combines different frequencies and uses them as one. With this groundbreaking technology, users can enjoy uninterrupted high-resolution streaming of their favorite shows and stronger, faster speeds when playing games, browsing the internet, and downloading files and applications.

Unmatched Multimedia Experience

Featuring a powerful 2.3GHz quad core processor and a long-lasting 2,600mAh battery, and capable of accessing significantly faster network speeds, the GALAXY S4 LTE-A delivers an enriched multimedia experience to users. New features such as ImageON* – which analyzes images that users view, then identifies and plays videos related to the image with just one click – extend access to relevant content on the internet and create new ways to experience and interact with multimedia resources. A high resolution Digital Media Broadcasting* service delivers unparalleled clarity and viewing experiences for on-the-go consumption of live television programs or sporting events. In addition, the GALAXY S4 LTE-A is equipped with the same innovative features of the GALAXY S4 that help make daily life richer, simpler and more fun.

*ImageON and a high resolution DMB are only available for the Korean version.

The GALAXY S4 LTE-A will be available this summer starting in Korea in two colors: Blue Arctic and Red Aurora. More color options will be available at a later date.

Samsung GALAXY S4 LTE-A Product Specifications

Network – LTE-A
Processor – Qualcomm® Snapdragon™ 800 Processor with 2.3GHz Quad Core CPUs
Display – 5.0" Full HD Super AMOLED (441 PPI)
OS – Android 4.2.2 (Jelly Bean)
Camera – Main (Rear): 13MP Sub (Front): 2MP
3.5mm Ear Jack
Connectivity – WiFi HT80, Bluetooth® 4.0 LE, NFC Technology
Memory – 32GB Internal memory (User Memory approximately 24GB)
micro SD slot (up to 64GB), 2GB RAM
Dimension – 136.6x69.8x7.9mm, 131g
Battery – 2,600mAh

* All functionality features, specifications and other product information provided in this document including, but not limited to, the benefits, design, pricing, components, performance, availability, and capabilities of the product are subject to change without notice or obligation.
Via: Samsung | Samsung Tomorrow