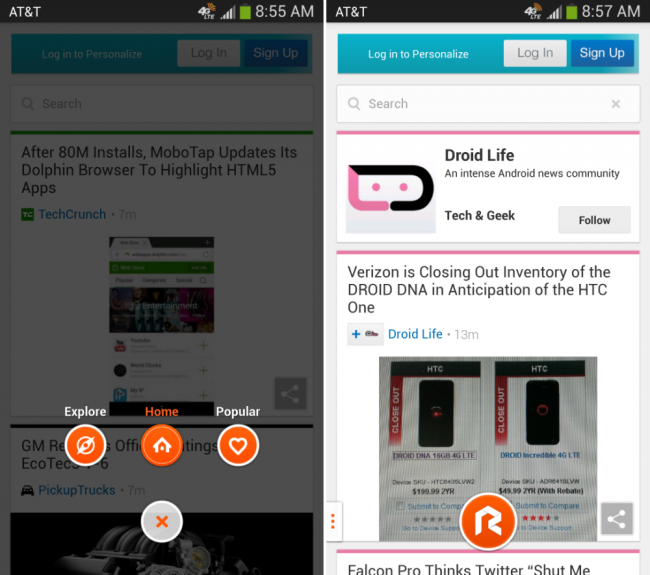 There used to be a web browser I enjoyed before I became heavily involved with Chrome. It was constantly in the beta stage, but it brought Facebook and browsing together, making life easier for someone like myself that was constantly plugged into what my friends were doing. It's called Rockmelt and it most certainly still exists, the only difference is that now there is an Android app. 
Rockmelt brings the "best of the web" and throws random posts from across the Internet into certain feeds. For example, if you look under the Sports feed, you will be greeted with image and posts about how the Spurs let the championship slip through their fingers last night and other sports-related topics. The same goes for Business, Technology, etc.
If you log into the browser, you can then begin to customize the Rockmelt experience, with following certain sites (such as DL), adding friend's social network feeds and things of that nature. For these reasons, I have dubbed this the offspring of BlinkFeed and a web browser. That's essentially what it is.
Features:
Navigation that appears when it's needed and disappears when it's not
Elevator buttons to ensure that you get new content and go right back to where you left off
Landscape and portrait views
Plus all the normal stuff that makes Rockmelt great
If you are interested, give it a whirl and let us know what you think.
Play Link
Via: Rockmelt