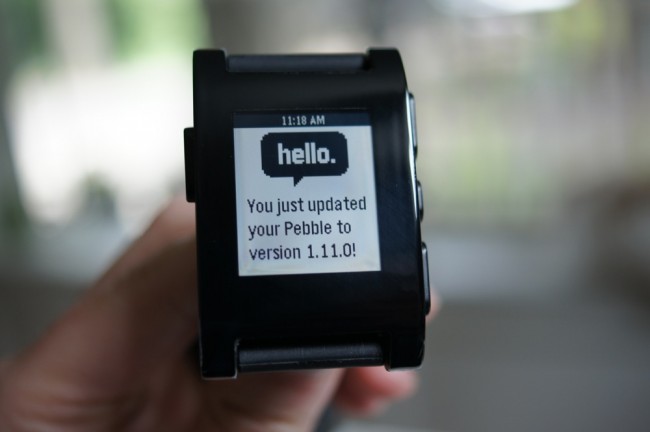 Pebble, the darling smartwatch of Kickstarter, received an update today that makes receiving multiple notifications manageable, finally. In the past, one of our biggest criticisms had to do with new notifications wiping out previously received notifications before you could even finish reading them. In today's update, as long as multiple notifications are received "within a short timeframe," Pebble will allow you to use the up and down buttons to switch between them. This makes the Pebble immediately more functional and useful. 
Outside of the new notification management, they tweaked the UI here and there, swapped music track changing buttons, improved clipped text and graphic presentations, and squashed a ton of bugs.
Here is the full list of changes:
Multiple notifications can now be viewed if they arrive within a short timeframe.
Fix for vibration getting stuck 'on'.
UI changes for Date & Time menu.
Option to show current speed (different than current pace) added in the Sports API.
Next and previous track buttons swapped in the music control application.
Power consumption fix for some Bluetooth connections.
Improvements to presentation of clipped text and graphics.
Fuzzy Time watchface is no longer installed by default and now available in the Pebble watchface list via the Pebble phone app.
Fixed crash while changing windows, generally when setting alarm or setting time.
To grab the update, connect your phone to your Pebble, open the Pebble app on your phone, hit the action overflow menu and chose "Check For FW Update."
Pebble also announced that orange and grey Pebbles are now shipping.
Via:  Pebble