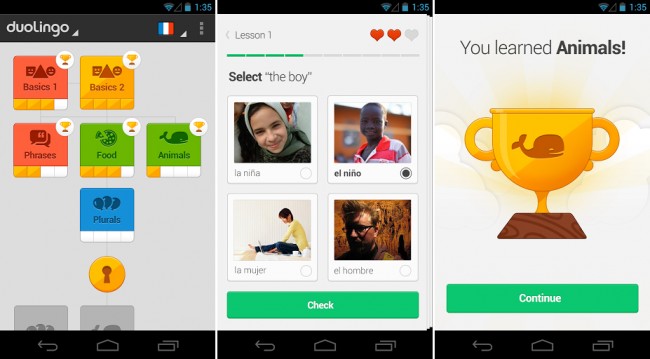 Learning a new language, especially at an older age, is said to be quite a difficult task. There are probably thousands of different services that will teach you a language, all for a pretty hefty price. Well, if you are attempting to learn a new language, but don't feel like shelling out cold cash, you should check out Duolingo. This app, which launched for free on Google Play this week, will teach you either German, Spanish, French, Portugese or Italian for free and it's actually fun. 
I downloaded it to make sure I could speak honestly about it and I must say, it's actually quite good. The app is made very well, as everything is laid out perfectly with large buttons and swipe controls. I started out with German basics, learning nouns and simple sentence structure. If you get a question wrong, the app corrects you, but also takes away one of your hearts. Another advantage to using Duolingo is that you create an account or can log in using Google+ (which I did), so saving progress is a total breeze.
The app is receiving a ton of praise from the Android community already, so that's a great sign. Again, it is completely free to download through Google Play, so check it out and start impressing your loved ones and co-workers. Auf Wiedersehen!