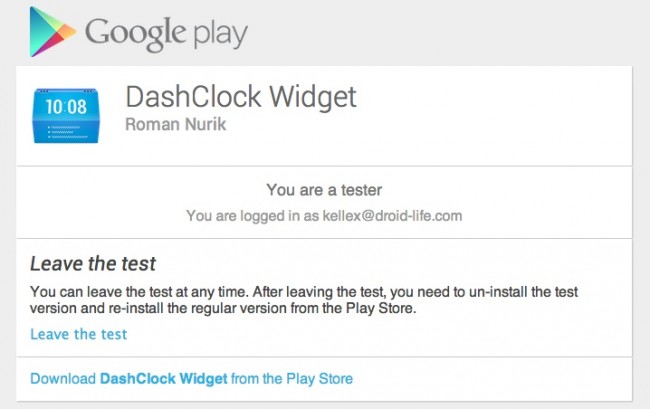 During the 3-hour Google I/O day 1 keynote, one of the few Android-focused announcements that jumped out to us had to do with official beta testing through the Google Play store. Google announced that devs would no longer have to beta test their apps through 3rd party means, and that they would now be able to setup testing groups through Google Play, so that updates could be pushed just like they do with their stable apps. The first (at least that we have seen) to implement this new beta program, is of course a Googler. Anyone ever heard of a little lockscreen widget app called DashClock? We thought so. 
Roman Nurik, the app's founder, has opened up a DashClock community G+ that by joining, will grant you access to new beta builds for the app. At least one beta (1.5 beta 2) is already live and can be had as long as you follow a few instructions and join the program. In this new build, Roman mentioned that there are new DayDream settings, but nothing incredibly major. You may remember that he previously released DayDream functionality to a beta build that was not a part of this new Google Play program. The big deal here is the beta program itself.
1.  Join the DashClock Google+ community.
(If the "Join" button isn't working, go to the Apps section of the community, then click Join.)
2.  Visit this link and click the "Become a tester" button.
(To leave the beta at any time, visit that same link and opt-out.)
3.  Download the newest beta through the DashClock Google Play page.
Via:  +Roman Nurik