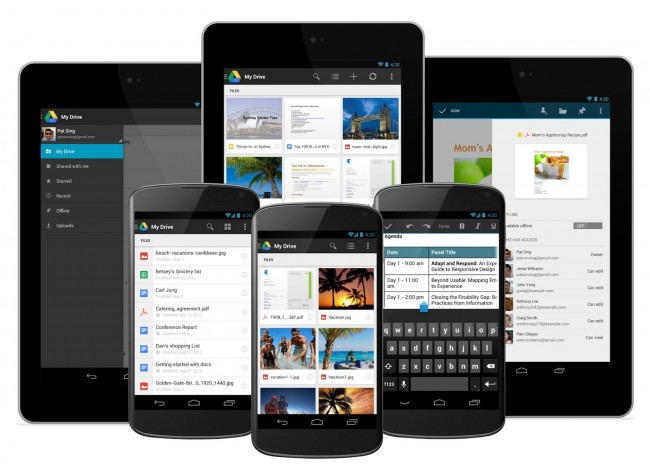 Google Drive for Android is receiving a major update today that includes a new UI, document scanner, and editing improvements. In terms of the UI, Google is introduce a card-style layout, similar to what we are seeing across a number of their apps like Google Play and Google Keep. In this new UI, you get to see larger previews of documents to help you discover information quicker.  
Along with the new UI, Google is introducing a document scanner, which allows you take photos of of documents, business cards, etc. and save them for later. Google will turn them into PDF files, but remember that Drive recognizes text in documents so you can search for items embedded later on.
They improved the editing experience as well. After the update, you'll be able to adjust font types and sizes for a spreadsheet and tweak cell colors and alignment from within the app.
You can also choose to download copies of documents to your device from the action menu inside settings.
Here is the rest of the changelog:
New grid view makes it easier to find your files
New quick preview lets you view photos and other files from within the app
Scan documents, receipts and letters for safe keeping in Drive; then search by contents once uploaded
Download a copy of files to your local device (Honeycomb+)
Spreadsheet editor now supports changing fonts, colors and cell alignment
View properties of files from within the editors
Bug fixes and visual improvements
Via:  Android Blog