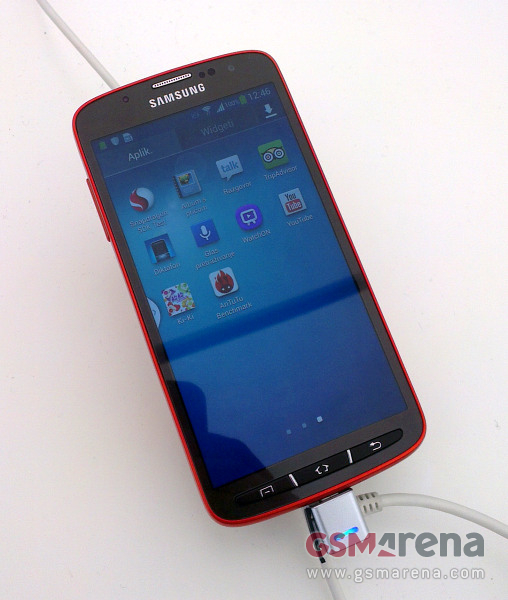 Take a look at what could very well be the first shots of the Galaxy S4 Active from Samsung. This device has been an interesting one to follow, ever since the first reports of a water and dust-resistant Galaxy S4 hit the web back in April. It's been reported that the device could launch as early as July, and with no word from Samsung yet, it's interesting that they are allowing buyers to still gobble up the Galaxy S4 without presenting them with options first.
According to the benchmarks in the shot, the device should come shipped with what we see listed. There is a 1.9GHz quad-core processor (most likely the Snapdragon 600), 2GB of RAM, a 5″ 1080p display at a pixel density of 480 and a Adreno 320 GPU.
The phone's exterior is quite different however from the regular Galaxy S4. It appears that all front-facing buttons are physical and slightly protrude from the bottom, a move that might have helped Samsung make it more resilient to the elements. As for that red backing, the four screws in the top and bottom corners add a nice rugged touch, but it does appear that the back is still removable if you look closely in the top left hand corner.
All in all, I think it's a pretty handsome albeit tough looking device. Excellent for all of you weekend warriors out there.
What do you think?
Via:  GSMArena
Cheers Open1Your1Eyes0!