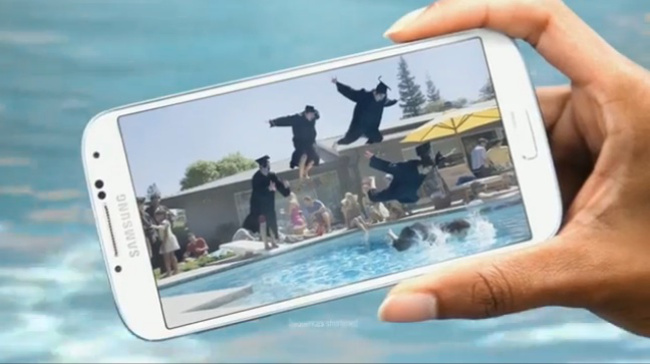 Last night during TNT's NBA broadcasts, Samsung's new "Pool Party" ad for the Galaxy S4 popped up at least a couple of times. The ad is long, like a minute and a half long. If there was any doubt that their marketing budget is practically unlimited when it comes to their flagship phones, this should change that permanently. You almost have to feel a little bad for their competitors, because there is no way they can keep up with commercials played during special events at peak hours that are pushing almost two minutes in length. 
In this spot, the setting is at a graduation pool party. Throughout the ad, the graduate shows off all of the Galaxy S4's new features (Air Gesture, Air View, TV remote app, S Beam, and more) to his parents who are constantly impressed by the things it can do. Of course, all of the young, hip, and attractive attendees at the party all have the Galaxy S4 already, while the older crowd including grandparents, carry iPhones that aren't quite as "smart" as their GS4s. You'll see new camera features highlighted, jokes about missing NFC technology in Apple's products, and even the idea that the Galaxy S4 can capture smells with its camera (which it can't). Silly, but you'll get the point.
Don't forget to read our Galaxy S4 review too.