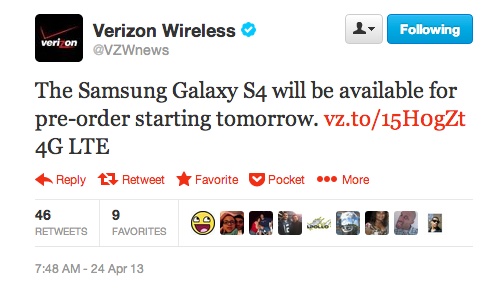 With retail availability for the Samsung Galaxy S4 coming to a handful of America's top wireless carriers in the coming days, Verizon is finally ready to at least announce a pre-order date for their version. Starting tomorrow, April 25, you can slap down some cash for Samsung's newest flagship, to guarantee yours for a later, yet-to-be-determined launch date. We don't know pricing, though we'd expect there to be $199 and $249 models available on contract.
If you haven't already, be sure to check out our full Galaxy S4 review that dropped last night.
Update:  According to a Verizon PR rep, the phone arrives May 30 for $199 after $50 mail-in rebate.
Via:  @VZNews