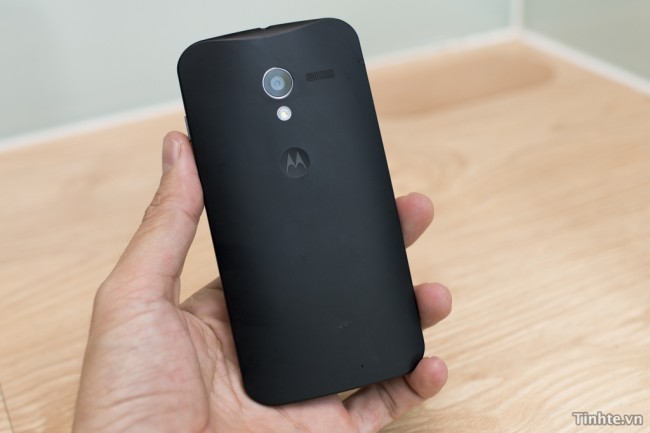 During a conversation with PCMag, Motorola's design chief Jim Wicks opened up about the future of their products, most importantly, those influenced by the newly formed Google exec team. Wicks make it sound as if the current state of the mobile industry, one that focuses on specs and a "bigger is better" mantra, isn't where they are headed. They want stock Android devices that are updated quickly, phones that are the right size instead of oversized, and that reach all carriers. 
According to Wicks, Motorola has spent the last eight months working on their next generation of phones that will arrive in the second half of 2013 (that could be July or November for all we know). More importantly, he stressed that if you are into smaller form-factor devices or stock Android, that you are going to be very excited. And when he says "smaller," he means "just-right" in terms of size. If you look at the leaked Motorola device from early March, we're talking a 4-4.5″ display size, which isn't necessarily small, it's just not following the massive trend by today's standards. He also mentioned that while devices may be smaller, the display won't be as they continue to work on slimming down bezels, much like they did with the RAZR M. Wicks acknowledged that "When you buy a TV, your're not wanting a frame," and that smartphones should be the same.
As far as his comments on stock Android are concerned, Wicks talked about how consumers "love what the Android OS can do for them," and that they want to have the most recent releases faster. Motorola's strategy is to embrace Android and make it the "best expression of Android and Google on the market." It will be the "unadulterated" version of Android with as little bloatware as possible.
Last, while Motorola has seen success with its DROID brand on Verizon, they will attempt to mimic Samsung and HTC's push to get their single flagship phones and form factors on all carriers. They will attempt to build new cross-carrier brands outside of those exclusive brands that are carrier-specific.
After hearing Eric Schmidt call Motorola's next lineup of phones "phenomenal" this morning, this news has to bring you nothing but joy. Well, assuming you are fine with sub 5-inch phones.
Via:  PCMag