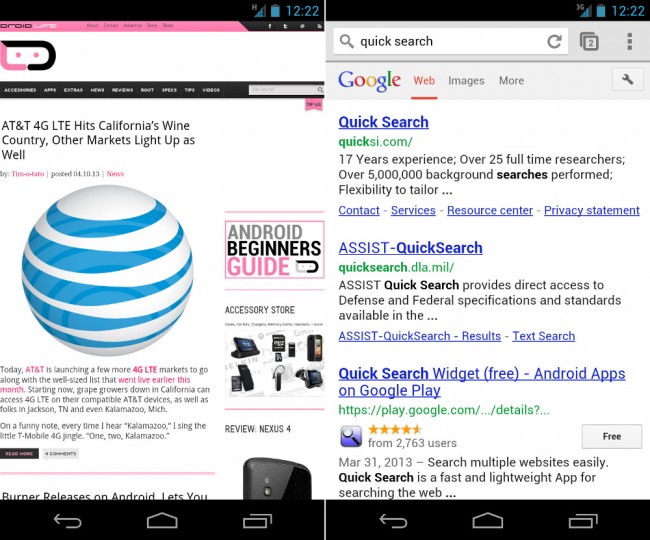 Chrome beta for Android received an update today that introduced two minor features that actually change the user experience in a semi-major way. For one, as you scroll down web pages, the toolbar will disappear so that you get a fullscreen view. All you need to do is swipe back up ever-so-slightly and it will then reappear, so that you can type in a new search query, change tabs, etc. Second, the omnibox (search box) now holds onto your search queries after you press "enter." So when search results appear, you can quickly edit or add-on to search queries much easier. Previously, your search queries would show up in the Google Search box of the actual Google website – now they stay in the omnibox.
The rest of the new features and known issues are below. 
New features:
Fullscreen on phones – Scroll down the page and the toolbar will disappear.
Simpler searching – Searching from the omnibox will keep your search query visible in the omnibox, making it easier to edit, and show more on your search result page.
Client-side certificate support – You can now access sites that require you to use a certificate and Chrome will allow you to select an installed certificate
Tab history on tablets – Long press the browser back button to view your tab history
Known Issues:
Noticeable lag in text entry on some text fields
chrome://history sometimes show duplicate items
Opening tabs is sometimes slow
Pages may flicker sometimes, especially during navigation
______________________
Some of our best videos.