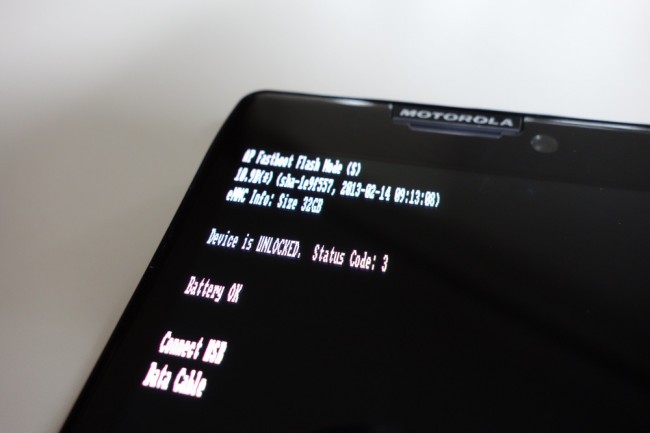 Yesterday, Dan Rosenberg published the first Motorola bootloader unlock method in history. It was an epic moment for the rooting and development community on Android, as no one had been able to accomplish anything close to this for what seems like an eternity on a Motorola device since they started locking them down back in 2010. There was one problem though, the bootloader unlock worked on devices like the DROID RAZR HD, RAZR M, and Atrix HD as long as you were rooted before you updated to Android 4.1.2. For many of you, especially those with a RAZR HD or RAZR MAXX HD who received the most recent 4.1.2 update, you were out of luck. 
Well, Dan has returned again with another present – root for Android 4.1.2 and more. This method not only works on the RAZR HD, RAZR M and Atrix HD, but it should work on a variety of Motorola devices (until Moto patches it). So for those of you who were unable to unlock bootloaders yesterday, you now have the option to.
Keep in mind there is all sorts of risk involved, namely in relation to warranties. If you unlock the bootloader of your phone, your warranty is gone.
The instructions were posted up at DroidRzr.com, but we have included them below for you as well.
Instructions:
Download this file to your PC.
Extract the entire contents of the zip file.
If you are using Windows, ensure you have installed the latest Motorola USB drivers available for your phone.
Ensure USB Debugging mode is enabled on your device.
If you are using Windows, navigate to the extracted directory and execute "run.bat". If you are using Linux or OS X, navigate to the extracted directory in a terminal and execute "./run.sh".
On a related note, Dan has announced that he is done trying to find exploits in Motorola devices as they have become increasingly difficult and time consuming. He urges you to consider your future purchasing decisions based upon the dev-friendliness of phones rather than waiting or expecting methods like his to be released by the community.
Via:  DroidRzr