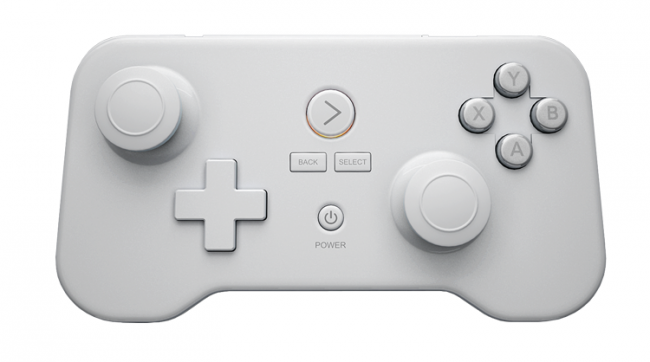 During a press event yesterday at GDC in San Francisco, GameStick developers announced the system's first content partners and pre-installed launch titles. To kick it off, GameStick will be shipped to backers with Madfinger's ShadowGun and Hutch's Smash Cops. On top of that, GameStick owners will have access to a separate game store to make sure the games they download will be perfect for the portable unit. 
You can still pre-order these little guys for just $80, which also includes that neat looking controller.
GameStick Announces First Round of Content Partnerships and Pre-Install Titles at GDC

GameStick Prototype is demonstrated for the first time at GDC

Hundreds of indie developers register titles for launch of GameStick

GDC – San Francisco; March 28th, 2013; During an exclusive event at GDC yesterday for press, developers and investors GameStop, Adobe & Endeavour Ventures, Playjam unveiled the GameStick Storefront running on dev units due to ship out shortly to it´s Kickstarter backers and content partners.

To support this demonstration, which will be replicated for GDC attendees on the ARM booth at the exhibition today and tomorrow, Playjam showcased a number of launch titles and announced exciting deals with Madfinger and Hutch that will see both Shadowgun and Smash Cops pre-installed on the device ensuring GameStick users have free, quality content ready to go out of the box.

"GameStick offers a direct route to TV for our games", says Marek Rabas, CEO at Madfinger. "The format lends itself perfectly to carrying many of our hit mobile titles, marrying portability with truly big screen entertainment. The prospect of this micro-console bringing a wide genre of games to TV is extremely exciting and one which we are keen to support fully."

"It´s not often that we see new products emerge around games hardware capable of disrupting what has up until now been a relatively closed space", says Shaun Rutland, CEO at Hutch Games. "GameStick is one such product and we´re excited at the opportunity to work with the PlayJam team in bringing our titles such as Smash Cops to their platform."

Support for GameStick is quickly gaining momentum from the developer community with open recognition that the micro-console represents a significant opportunity to widen distribution of their content via a medium that until now had been closed to many – TV.

Says NiqueFajors, Co-founder at One Spear Entertainment, "What´s more exciting than industry disruption and delivering exceptional customer value? Nothing! And GameStick is nailing both"

Games will be available for purchase and download from within the GameStick UI via a dedicated store. The GameStick Developer program has over 500 participants from a broad cross-section of the developer community that will see games such as Riptide, R-Type, Another World, Raiden Legacy, Ski Safari, Meganoid, Ground Effect, CatchaCatcha Aliens, Gunslugs, AfterMath, Shaqdown, Towelfight 2, and Reckless Getaway feature at launch.

"We are thrilled to have some phenomenal titles to showcase what GameStick is all about – amazing games" says Charles Tigges, CCO at PlayJam. "I am delighted to see many of the top selling iOS and Android titles now finding their natural home on the big screen through GameStick. Stay tuned for more exciting announcements ofnew games coming to the platform "

Additionally, at the opening of GDC this week, PlayJam announced a partnership with Pivos to bring official support for XBMC to GameStick thereby adding media servicesto the content mix.

Those wanting to see the demo in action are invited to visit the ARM booth (#1124 -South Hall) at GDC in San Francisco this week where the GameStick storefront, some launch titles and a dev prototype of the device will be on show.

Developers and Publishers – to publish a title please visit www.gamestick.tv/dev or email us at [email protected]

To pre-order your GameStick go to www.gamestick.tv now.
To apply for access to the GameStick SDK, go to www.gamestick.tv/dev

Follow GameStick on Facebook, Twitter and YouTube.