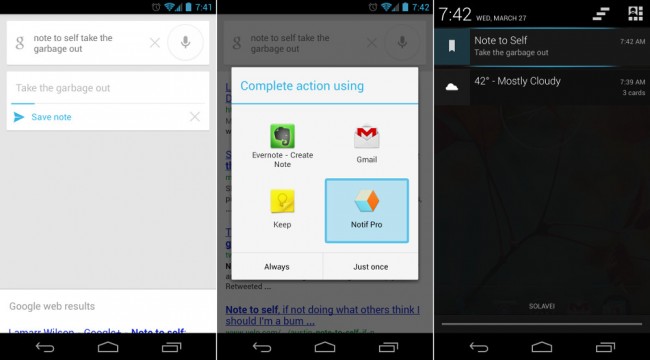 Notif, one of our favorite apps of the last year because of its simple yet powerful note taking abilities, that we've already written up a couple of times, received a new feature last night thanks to a recent update. In Google Voice Search, as you tell Google to begin a "note to self…," Notif (pro version only) will show up as one of the options after you have spoken your note. Should you choose Notif, your spoken note will then appear as all Notifs do, in the notification bar until you swipe it away. 
For those not familiar with Notif, think of it as the easiest way to create a quick note, list or image reminder that you'll want to tackle later on in your day. It's not a traditional note taking app in the sense that you have this massive list of notes to categorize and weed through over time. Notif is all about now or the very near future. You create a list or note and it appears immediately in your notification bar. The notifications can expand or shrink, you can set priority levels, add special icons, make items ongoing notifications, and even voice dictate notes from within the app.
There are pro and free versions available, but as one would expect, all of the new features go pro.
Play Link ($0.99)