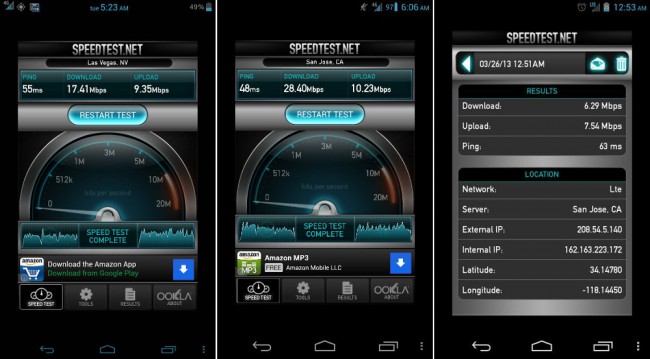 Remember how surprised we were to see the Nexus 4 attaching itself to random 4G LTE networks (AWS band) shortly after release in places like Canada? And how we were simultaneously holding out hope that T-Mobile would launch their AWS LTE network so that we wouldn't miss out on all the fun? Well, before that ever happened, Google updated the device to Android 4.2.2 and essentially killed off those chances. But, thankfully for us, there is still hope now that T-Mobile has officially launched their AWS LTE network in seven cities. 
As one would expect from the amazing Android tinkerer community, users are already finding T-Mo's 4G LTE in places like San Jose, Houston and Las Vegas, all of which are a part of the seven city launch. How are they doing it, you ask? Custom ROMs and the old .33 radio/baseband from before the 4.2.2 update, which brought .48 and killed LTE.
According to the lengthy XDA thread we linked to below (start around the 100-page mark), users are finding success with both CM and AOKP ROMs. Keep in mind that they are also having to update APN settings on the device and make sure they have the .33 radio flashed.
If you live in any of the new T-Mobile LTE markets and own a Nexus 4, LTE speeds are only a ROM flash away.
Via:  XDA
Cheers @iAmAButta!