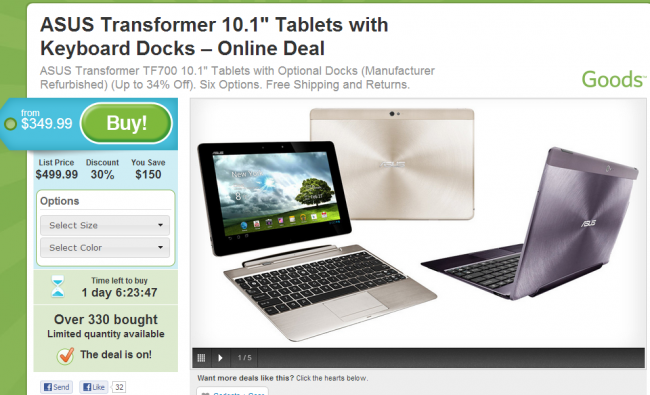 Been looking for a pretty sweet deal on a new tablet? How about a tablet packed with a quad-core Tegra 3 processor and a 1920×1200 HD display? Well, Groupon has just the thing for you. For a limited time, you can pick up refurbished ASUS Transformer Pad Infinity tablets (review here) starting at $350. You can choose between either the 32GB or 64GB storage options, plus can choose if you want the matching dock as well, for an additional $80. Considering this device was $500+ at launch, plus more for the dock, this deal is pretty tempting. 
For anyone that wanted a larger display than what the Nexus 7 offers, plus wants a super crisp display, the Infinity has always been a tablet I recommended. Follow the via link if you feel like dropping the dough.
Note:  Post was update to include actual pricing of tablet with dock.
Via: Groupon