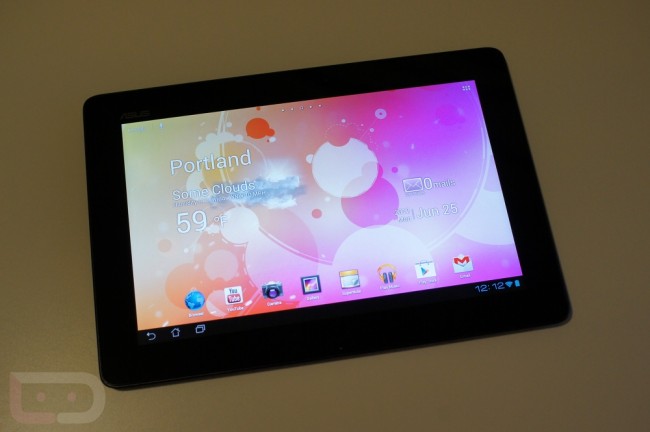 Asus is back this month with another Android tablet entry that looks to build upon their ever-expanding line. This new release is called the Transformer Pad Infinity, a slightly beefed up Transformer Prime-esque device with an incredibly high display resolution of 1920×1200, newer NVIDIA Tegra 3 processor, and a revised 8MP camera. It still runs Ice Cream Sandwich with Asus' minimal tweaks, docks in the same keyboard dock as the Prime, and even lasts about as long on a single charge. Is it a big enough jump from any of their other tablets to stand out though? Let's talk about that. 
The Good:
Specs:  The hardware and specs of the Transformer Pad Infinity are about as good as it gets for the tablet game. With its new Tegra 3 T33 processor clocked at 1.6GHz, there aren't many devices that can keep up with it. It also packs in a 1920×1200 display which is only matched by the new iPad, leaving every other tablet in the dust. Along with processor and display, the Pad Infinity rocks 1GB of DDR3 RAM (clocked at 1600MHz), Bluetooth 3.0, micro-HDMI out, Gorilla Glass 2, an 8MP rear camera with new F2.2 aperture, 2MP front camera for HD chatting, expandable microSD card storage, a 25Wh battery that lasts about 8 hours, and is only 8.5mm thick. It's a beast, people.
Display:  The display on the Transformer Pad Infinity is the big selling point here and it delivers. Not only has the resolution been bumped to 1920×1200 to give you full HD fun, but this sucker can be cranked up in the brightness department (600 nits) to give you a great outdoor experience. The viewing angles at almost 180 degrees are impressive, it has Gorilla Glass 2 for extra protection, and weighs in at 224ppi. It has 11% more pixels than a 1080p display, which should give you sharper text and beautiful photos, assuming you can take them. Check out the screen tech comparison below to understand exactly what we're talking about.
Design:  In terms of design, the Transformer Pad Infinity is close to being on the same level as its predecessor, the Transformer Prime. Asus kept the same color options – Amethyst Gray and Champagne Gold – along with the circular, metallic finish to the back side. The only difference is a plastic housing up top that holds the camera and switches, which we aren't the biggest fans of, but wouldn't call this area a deal breaker by any means. It's still crazy thin, has enough bezel to make it easy to hold without accidental screen presses, and only weighs 1.31lbs. It also looks killer in the keyboard dock.
Benchmarks:  The new Tegra 3 T33 processor inside packs a punch. Below, we ran the standard benchmarks to give you an idea of the performance jump that you will see even over the previous Tegra 3 chipset that was in devices such as the HTC One X and Transformer Prime. In some of the benchmarks it clearly outperforms, while in others it falls back a bit. The dip in scores likely has to do with that crazy high resolution, so to think that it surpasses some of these other devices in a few should impress you.
Performance:  And speaking of the new NVIDIA chipset inside, we need to talk about actual real life performance and not just numbers. When you put a finger or ten on this display and move around or attempt to accomplish anything meaningful, you will be blown away at the speed and responsiveness. Part of that amazing performance is the display tech used, but after jumping from apps to games to home and back again, it's clear that we should thank both the Super IPS+ display and the processor, together. I have spent some quality time with almost every major tablet that has been released over the last 2 years, and this easily felt the smoothest.
Accessories:  To us, Asus has been the king of Android tablets for some time now, but I don't know that we have ever mentioned why we believe that. Oh who am I kidding, it's obvious, isn't it? It's the keyboard dock coupled with cutting edge tablet tech. For those not familiar, Asus created this amazing mobile keyboard dock that feels as good as any netbook out there with one of their tablets docked into it. Couple that with all of the performance that we saw on the Transformer Pad Infinity and you almost can't beat it as a mobile powerhouse. For me personally, it would be tough for this to replace a laptop as a daily driver, but it certainly works wonders in a pinch. Oh, and let's not forget that the Transformer Prime's dock works flawlessly with the Pad Infinity, so for those upgrading from a Prime, you do not have to go out a buy a new dock.
Battery Life:  While I have to admit that I have yet to fully put the Pad Infinity through any serious battery testing, I will say that after 4 or 5 days, today was the first day that I had to slap it on a charger. Now, that's not from steady use by any means, but it is with a little play time here or there followed by a bunch of idle time. Asus is claiming that it can last up to 9.5 hours on a single charge, with real time usage at around 8.5 hours. If you want even more, you can dock the tablet into the keyboard dock to tack on another 5. Thanks to the NVIDIA Tegra 3 processor inside, battery life isn't much of a concern. Through some of their custom software tweaks, Asus also threw in 3 different power management modes:  Power Saving, Balanced, and Performance.
Gaming:  Since the Pad Infinity is a Tegra-powered device, the gaming experience will be unlike any other Android device. NVIDIA and the crew have partnered with numerous gaming companies to create special edition titles with better graphics and experiences, built specifically for devices like this one. Games like Shadowgun THD and Riptide GP have extra PC-like polish that most devices can't take advantage of. If you are a serious mobile gamer or simply want the best experience, devices like the Pad Infinity should be topping your list.
Price:  At $499 for the 32GB model and $599 for the 64GB model, you are looking at identical price points to the Transformer Prime. At those prices though, you are getting a revamped camera, faster processor, faster RAM, and a screen with an unmatched resolution. We hope this means that the Prime will drop to an even lower price point, but this is quite the deal for an Android tablet that few compare to.
Software Tweaks:  Normally we aren't fans of tweaks to stock Android, but Asus seems to know how to improve upon certain things while leaving the core alone. One example would be the control panel that you can get to by tapping on the notification area. Asus added shortcuts to their performance modes and better brightness controls without mucking things up. They also let you take screenshots by long-pressing the recent tasks button and manage to show you which screen you are on through a slight UI tweak at the top of home screens. What's even better is the fact that most of this stuff can be turned off to give you a fully stock experience if that's what you would like.
Availability:  Asus is expecting the Transformer Pad Infinity to be available around the week of July 16.
The Not-so-Good:
Build:  I don't have a ton of negative things to say about the Pad Infinity, but one that has stood out from the minute I unboxed it was the build quality. The device looks almost identical to the Transformer Prime aside from the top back piece which seems to be made of a cheap plastic. It houses both the lock switch and volume rocker which are also made of some type of cheap plastic. You'll notice in the unboxing video below that I couldn't even get the volume rocker to adjust the volume after pressing it numerous times. The lock switch feels similar and often takes a couple of presses in order to get a reaction out of it. I don't know that the cheap feel of either of these should deter you from purchasing this device, however, I can't imagine they would be easy to replace should one break or stick permanently. Also, I somehow managed to add a handful of tiny scratches to the back of the device and can't recall it ever being in a situation over the last few days that would warrant them. This tablet has gone from my wooden coffee table to my wooden desk to the couch, none of which have ever scratched any other device of mine.
Android Tablets in General:  Look, we review Android tablets all of the time and with each new one, we find it harder and harder to do. There just aren't things that really make you say, "Wow! That's so awesome!" anymore. The Pad Infinity has a great screen, is ultra-powerful, very thin, and is the top dog in the Android world at this time, but the software experience is exactly the same as you would get on every other Asus tablet which will likely be priced lower. OEMs and chipset manufacturers continue to innovate on the hardware front, when that hasn't ever really been an issue to begin with. It's the software experience that sucks on Android tablets, and when we say that, we are admitting that it's no different here on the Pad Infinity. The total package isn't bad, but again, why is this one better than the Prime? Is it the slight uptick in processor? Is it the higher resolution screen that nothing has been built to take advantage of yet? Is it the revised camera that people still won't use since taking pictures and video with a tablet looks ridiculous? You tell me.
 Unboxing:
Overview:
http://www.youtube.com/watch?v=s7YvXgHe5UY
Gallery:
Verdict:
The Pad Infinity is a solid tablet. It has the best display of any Android tablet around and probably crushes all of them in performance thanks to its shiny new Tegra 3 processor. Couple it with a keyboard dock and you essentially have a device that can embarrass most netbooks as well. So it's a dream device, right? Eh, maybe. It's still an Android tablet, which for many, still means it lacks something. What exactly that "something" is, I can't pin point, so I'll simply throw out a few scenarios that may help you decide if the Pad Infinity is for you.
If you are a serious tablet gamer, this is your best option on Android. If you need a tablet that can act as a laptop in sticky situations, this would meet your needs. If you want a device that can give you a stunning media experience thanks to a gorgeous display, then you can't lose here. If you have yet to purchase your first Android tablet and are looking for an all-encompassing piece of tech, this may be it.