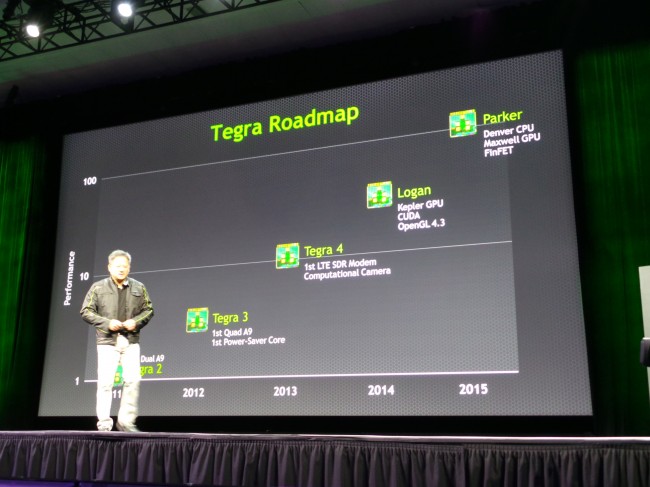 This morning at GTC, NVIDIA's CEO unveiled an official roadmap for their mobile processor line, Tegra. Currently, many devices feature a Tegra 3 processor, known as the world's first quad-core processor for mobile devices. At this year's CES, NVIDIA announced the Tegra 4 with a built in LTE modem, although we have still to see the Tegra 4 hit mass production in phones and tablets. 
We now have two new future chipsets to think about, Logan and Parker. The Logan will feature a Kepler GPU, full CUDA 5 computing platform, and OpenGL 4.3. As for Parker, it will showcase a Maxwell GPU, Denver CPU (CPU+GPU combo), and FinFET 3D software technology. Although they didn't give official names, one could assume these are the Tegra 5 and Tegra 6.
As we can see at the bottom, we see the years 2014 and 2015 on the timeline, so we don't have to hold our breath just yet. There will be lots more to come from GTC, as the floor opens up today, so stay tuned.