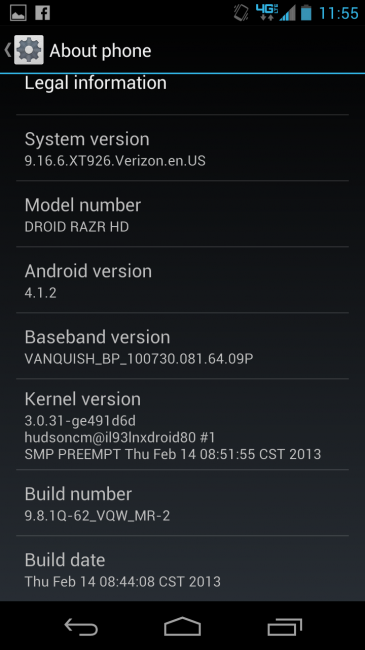 At the end of last week, Verizon approved a new update of build 9.16.6 for the DROID RAZR HD. That update is slowly trickling out to users now, but if you'd like to manually upgrade this minute, you can do so with the update file below. In order to update with these instructions, you'll need to be 100% stock. I'd bet that you can keep root by using Voodoo Rootkeeper, however, I was not able to test it.
The update improves connectivity, camera, video streaming, and more. The file is roughly 96MB in size, jumps your phone to Android 4.1.2 and works on the RAZR MAXX HD as well. 
Instructions:
*You have to be running the official Jelly Bean (Android 4.1.1) update of build 9.1.41. You also have to be completely stock.

*Hearing from Matt Groff that you cannot downgrade once you update to this new build.
1.  Download the update file here:  Download Link [mirror]
2.  Drop that file on your SD card, not internal storage.
3.  Turn phone off, and reboot into recovery.
*Hold both Volume Up and Down along with Power until you see the boot menu. Use Volume Down to hover over "Recovery." Press Volume Up to select it.

*Once you see the Android and Exclamation point, press both Volume Up and Down at the same time.
4.  Select "apply update from external storage."
*Use Volume keys to highlight, Power button to select.
5.  Then select the file you downloaded from above. It should already be on your SD card.
6.  Watch as the update applies.
7.  Once finished, choose the "reboot" option and enjoy!